Adulthood is here, and it's not all about responsibility just yet. There's still a ton of fun to be had and memories to make as you celebrate an 18th birthday. A group of your favorite friends and some clever 18th birthday ideas are all you need for an unforgettable milestone celebration.
Plan a Fun Outing
It's a classic 18th birthday idea, but it's one that teens on the cusp of adulthood have chosen for decades. A day or night of fun on the town is just one way to step into some of the perks of being a grown-up.
A Coffee Crawl With Friends
You may still have a few years before the bar crawls are legal, but there are no laws on caffeine consumption—some of us would be in serious trouble if so. A day spent in all the best coffee spots with friends is what every teenager—and many adults—would consider a perfect celebration.
The Free B-Day Goodie Roundup
Did you know that many retail and food service spots give free gifts on your birthday? There are probably too many to enjoy on your own, but there are plenty to enjoy with friends. Make a day of gathering your birthday freebies.
Photo Shoot With Friends
Selfies are going to happen either way. But some candid and professional photos will capture the memory of this milestone in a special way. A professional photographer and your besties are all you need for this memory-making celebration.
Hit Up a Comedy Club
You're finally 18 and that means you can gain admission to most comedy clubs now. Round up your fellow of-age pals and spend the evening laughing until you cry.
An Unforgettable Concert
The artist you've dreamed of seeing for years can help you mark this milestone with music. Tickets to an unforgettable concert with friends is the hope of many upcoming 18-year-olds.
A Night at a 5-Star Hotel
This is what we all thought adults did all the time, right? Rented 5-star hotel penthouses and spent their days brunching, shopping, and doing what they please. Twenty-four hours of such an experience might be fitting for a new adult.
Celebrate With an Adventure
Adulthood will come with countless new experiences. Why not kick it off with a grand adventure?
A Daring Skydive
Once you're 18, you can legally go skydiving. What better way to celebrate the milestone? Grab some daring friends and make the leap together.
A Weekend Road Trip
An 18th birthday is a big deal for parents, too—it's the milestone that marks the start of truly letting go. A weekend road trip to a fun destination is one way parents can start that process and demonstrate some serious trust in their now adult child.
Camping With Friends
If a road trip isn't possible, maybe a couple of days and nights of nature are in order. Camping with friends can be affordable, exciting, and a true test of those adult survival skills.
Destination National Park
If travel is on the 18th birthday agenda, national parks are a must. Getting there is fun and finally seeing why these spots are so beloved by a nation is a plus.
Beach House Getaway
The beach, the lake, the stream on the mountain. Basically any body of water near a relaxing rental is perfect for an 18th birthday weekend away with friends.
Travel Abroad
This one might take some parent convincing and a bit of saving, but the memories made are well worth the effort. In this transitional time between childhood and adulthood, international adventure might help you discover so much about yourself.
Take a Ride in a Hot-Air Balloon
Seeing the view of your hometown from a hot-air balloon is just the thing you need to make your birthday special. A couple of your closest friends level up the memory-making qualities of this birthday celebration.
18th Birthday Ideas for the Girl Gang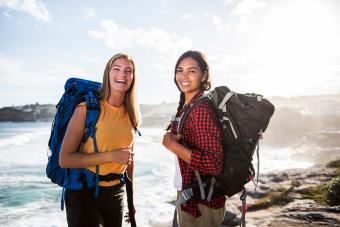 Want to celebrate with your beautiful besties? These 18th birthday ideas are perfect for a gang of girls.
A Day of Pampering
This isn't your typical mani-pedi. This is a full day of spa treatments, beauty regimens, and plenty of conversation in between. Wrap it all up with an evening out to celebrate your refreshed complexions.
Axe Throwing
This one's for the girls! The girls who love to blow off a little steam, that is. Axe throwing is a heart-pumping rush, and it's extra fun with your girl gang in tow.
Stay in & Make Mocktails
Calling all introverted ladies! This celebration is all about sitting back, sipping on mocktails, and enjoying animated conversation with your closest girls.
Horseback Riding
This birthday event will make quite a few girls' dreams come true. What better way to step into adulthood than spending the day with the most beloved animal of your childhood?
Take a Hike
Your best girls, your hiking boots, and Mother Nature. This birthday activity might not feel particularly special, but it's more about doing something you love on your big day. A hike with your friends is a laid-back way to welcome your young adult years.
Book a Jump Park
Girls just wanna have fun, right? What's more fun than bouncing at the jump park? Many establishments have after-hour jump times for adults only, and they might even let you rent the entire space for your group of besties to bounce your birthday away.
Have a Fancy Picnic
Girls love fun and any excuse to enjoy charcuterie and a meal outdoors. A fancy park picnic gives you a reason to dress up a bit, enjoy a relaxing afternoon, and snack on your favorite picnic foods.
Celebrate an 18th Birthday With the Boys
Quality time with the guys is a must for taking that first big leap into adulthood. These birthday activities are fun for every guy on your list.
A Major Sporting Event
Pull out all the stops for the sports fanatic being celebrated. A trip to the bustling city, an afternoon at the stadium, and watching a game in person with all the guys is a laid-back and exciting way to celebrate.
Rent a Boat for the Day
A few hours on the water with the whole guy gang in tow, and that sweet feeling of freedom that seems to come with this milestone birthday. Renting a boat for the birthday boy—preferably with an actual captain aboard—makes for an unforgettable 18th.
Ride the Party Bus
Speaking of rentals, a party bus is a rental that teen guys will never forget experiencing. Since the bus will need a driver, this is an easy way to ensure there is still some sort of supervision present for the evening.
Beach Bonfire
Here's a laid-back celebration for the laid-back young man. A warm bonfire on the beach with pals might be his idea of the perfect party. Pack a few snacks for the group, but otherwise you may not need much planning for this outing.
Speed Off to the Track
The racetrack, that is. An afternoon of watching or participating in a race is exhilarating. No matter the vehicle of choice, this birthday activity is an adrenaline rush for the whole crew.
Try an Escape Room
Nothing says male bonding like working together to escape a spooky room. Figure out the mystery as a team or split into groups to see who can escape the fastest. Either way, you'll emerge an entire year older.
Exciting 18th Birthday Party Ideas
A weekend trip and a night on the town are exciting, no doubt. But sometimes what we really want is a party held in our honor. These 18th birthday party ideas will have the guest of honor feeling like the star of the show.
Show or Movie-Themed Party
Plan a birthday celebration around their favorite television series or movie lineup. The trick here is to make the party a sophisticated take on their favorite show. You don't want the party to look like it's meant for a child—unless, of course, you're going for irony.
Murder Mystery Party
Speaking of sophisticated, a murder mystery party feels grown up, but it's still loads of fun. This one might involve a good bit of planning, but it's a theme that most teens will enjoy.
A Black-Tie Occasion
Teens may love sleeping in and keeping things as casual as possible. But the new adult might appreciate a black-tie party with all the fancy details. Plus, we all love an opportunity to sport our best attire from time to time.
Celebrate Like an Influencer
TikTok or Instagram—influencers rule the world. So why not party like one? Host an influencer-inspired party for the teen that hopes to make it big on the Gram someday.
Casino Night
Finally old enough to gamble (in some states at least), and that's a reason to celebrate with a casino-themed party. A few card tables, cocktail attire, and a buffet of appetizers should make for an exciting 18th birthday casino celebration.
Fun Things to Do When You Turn 18
These simple but exciting activities are great for celebrating an 18th birthday, no matter how many friends you plan to bring along. In fact, some of these are activities you can do completely on your own.
Get a Tattoo
So many options open up when you finally turn 18, and legally getting a tattoo is one of them. This may still require some careful consideration, but it's definitely a memorable way to celebrate.
Tour an Open House
Turning 18 doesn't automatically mean you'll be in the market for a new home or an apartment rental. But, it means you can start thinking about it. It's fun to tour open houses and get an idea of what your dream home might some day look like.
Find a Meaningful Cause
Adulthood brings new experiences and responsibilities, sure. But it also brings the ability to decide on how you prefer to spend your time. Discovering a cause or organization that means a lot to you sets you up for a lifetime of practicing gratitude and investing in the things you value most.
Redecorate Your Space
The 18th year is one of changes and discovering so much about who you are. That calls for an update to your environment. Whether it's a bedroom, a dorm, or an entire apartment, a birthday refresh of your space just feels right for such an important milestone.
Find a New Wardrobe
The new you is 18 and due for a makeover. A closet makeover, that is. By now, you've probably discovered many of the aspects of your personal style, and it's time to grab your friends and work together on a wardrobe overhaul.
Welcome to Adulthood!
Turning 18 is a big deal, and it's a wonderful reason to celebrate. Coming into adulthood is the beginning of many joyful experiences and discovering the person you truly want to be. Live it up on your 18th because it's a milestone that matters.