Having a baby shower is one of the most fun activities to engage in during the nine months of pregnancy. A shower is a fun day where the parent-to-be gathers with friends and family and is showered with gifts, love, and affection. It is certainly an event to remember, so make sure that your baby shower is one that you will cherish for years to come.
Crafty and Creative Baby Shower Themes for Girls
These creative baby showers themes for girls are stunning, interesting, and will make for a most memorable experience for the parents-to-be and guests alike.
Breakfast at Tiffany's Baby Shower
For a beautiful brunch baby shower, use the Breakfast at Tiffany's theme. Play on the vibrant blue color that has become synonymous with the iconic jewelry store. Make sure everything is dripping with diamond-like strands of stones and fill flower vases with big and bold blue hydrangea blooms. Pile up shiny crystals at the bottom of the vases to make flowers look like they were sitting in diamonds. If possible, hang some stunning, glittering, antique chandeliers about the venue.
Set out a brunch spread that will leave no one hungry. Pile up croissants, danishes, muffins, egg souffles, and don't forget to pass out the mimosas!
Mermaid Baby Shower
If you are expecting a baby girl, then throw an under the sea, mermaid baby shower. Use lots of blue shades, pinks, and deep purples in the decorative elements. Add tons of balloons to give the effect of bubbles, use coral and shells to fill vases, and drape lovely netting over the table coverings. For a glittery effect, glue crystals all over the nets so that they sparkle when put in place.
Stay with the under the sea theme for food and drink. Whip up blue and purple punches and consider putting out crab cakes, shrimp cocktail, or even a sushi or raw bar!
Boho Chic Baby Shower
Boho fashion is very trendy, and it's easy to see why. It's eclectic and interesting without being over the top. Use different wood elements, rattan materials, fun Moroccan poofs and lanterns, and lovely, soft foliage, like eucalyptus branches and succulent plants. Drape linens about for a dramatic textural addition to any room, use strings of beads, and add feathers to flower vases. In no time flat, you will have a bohemian palace to hold your shower at. For your guests, create feather and floral headbands for everyone to wear. So. Stinking. Cute!
Food should stay in line with the vibe, so keep everything low-key. The great thing about a boho shower is any food will do. If you really want to tie the theme in, paint mandalas on cookies or fashion a cake with faux feathers as decor.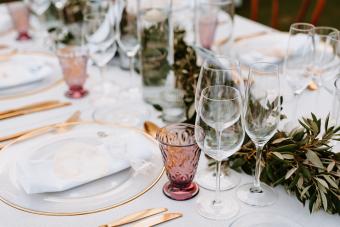 Garden Fairy Baby Shower
The warmer summer months are ideal for throwing a gorgeous garden party full of fairies and magic. Set your ethereal baby shower in a woodsy or garden setting. Fill the table with plenty of greenery, florals, and fairies, of course. String stunning fairy lights from awnings or branches and consider holding the shower in the evening hours so that the party literally glows.
Create a menu of delicate items fit for a fairy herself. Tiny treats and dainty snacks will complement the theme of this party perfectly.
Pretty Parisian Baby Shower
Celebrate your baby shower in the city of lights. While a shower in Paris, France would be divine, it isn't practical. Recreate all that is Parisian for a girlie baby shower. Use light pinks, greys, and whites for your colors. Work in Eiffel Tower decorations, some Chanel and berets.
Set out several sets of cheese trays and plenty of French baguettes to dine on. Design a dessert table that will leave guests salivating. Include croissants, macaroons, eclairs, and lots of chocolate. No one will leave this party hungry!
Rainbow Wonder Baby Shower
Use all the bright colors of the rainbow to create a baby shower full of love, life, and happiness. Nothing is off the table with this theme, and when it comes to creativity, the sky really is the limit. Fashion a rainbow out of balloons to display behind a gift table. Use streamers and multi-colored fabrics to decorate spaces. Fill funky-shaped bowls and containers with rainbow-colored candies and make rainbow-colored cupcakes for a sweet treat.
For couples expecting an actual rainbow baby, this theme holds great significance. It could be a beautiful tribute to their rainbow baby and their journey in parenthood.
Welcome, Little Wonder Woman
Strong parents raise even stronger babies! If you know that your little lady is destined to be a superhero someday, and you know that it takes super strength to raise a child, then host a Wonder Woman baby shower. Based on the Marvel Comics, use plenty of fun "POW" and "BAM" pop-up sayings as decor. Utilize balloons, fabrics, and other decorations in red, yellow, and blue colors, symbolizing Wonder Woman's unmistakable outfit. Red roses and gold accents will pair well with the theme and turn it into a classic lady's affair and not a child's party.
Beautiful Ballerina Baby Shower
To celebrate your tiny dancer, create a ballerina baby shower. Use soft pink tones, whites, and silvers, or golds. Display ballet shoes, tutus, and cutouts of ballerinas, Everything with this theme should be on point (wink, wink.) Design a dessert table that is classy, pretty, and pink. Pile confections high, including delectables in white and pink. For background music, play the soft sounds of popular ballets, like The Nutcracker, Swan Lake, and Cinderella.
Whimsical Unicorn Baby Shower
Recent years have seen everyone turn to unicorns for parties, so why not throw a unicorn baby shower? With a unicorn theme, you can go wild with colors and spare not a speck of glitter. This theme is playful and whimsical, and guests will enjoy the fun vibe. Unicorn decorations are easy to find, thanks to the growing popularity of parties using this theme.
No unicorn baby shower could be complete without colorful, twisty lollipops and a show-stopping unicorn cake.
Beautiful Baby Showers for Boys
A bouncing baby boy is on his way, so celebrate him with one of these beautiful boy baby shower themes.
Dinosaur Theme Baby Show
Use a catchy theme like "Hatching a little buddy" to go with this theme. You can go with natural colors like greens, browns, and tans or kid-friendly colors like oranges, blues, and greens. Gather up plenty of streamers, balloons, jungle decor, and large faux eggs that you can decorate with fun polka dots. Hang balloons from your mailbox to signal that this is where the party is, and use stencils and chalk to create dinosaur prints on your sidewalk leading to the front door.
Set up two areas in your food station. Pile one high with meats and cheeses and label it "for the carnivores." In the other area, focus on fruit trays and veggies and label it "for the herbivores." Design cookies with little dinosaur foot imprints and have a dino-tastic cake made for the special occasion.
Cowboy Theme Baby Shower
A wild, wild west, or cowboy-themed baby shower is a unique concept and is perfect for equine and country-loving parents. Decorate the venue space with lots of hay bales, bandanas, red and white checkered prints, cowboy hats, and rope. Hang the saying, "It's a "cow-boy" from a banner using burlap lettering.
For food, go with cowboy-inspired dishes. Serve ribs, fried chicken, or pork sliders. Make coleslaw, corn on the cob, and cowboy caviar. A talented baker can likely create a cake to use as a centerpiece for a dessert table that will wow everyone.
The Little Prince Baby Shower
A baby shower inspired by The Little Prince will be elegant, regal, and sweet. Use deep royal blue and gold tones for decorative accent colors. Include plenty of sparkle, twinkling stars, and crowns in your designs. Hang heavy dark blue draping fabric and loads of balloons to add texture to the space.
Stick with the blue, gold, and white colors for the dessert table. Include cookies with stars on them, cupcakes adorned with tiny crowns, and a beautiful cake fit for a true prince.
Mustache Baby Shower
The mustache theme has become wildly popular over the last few years. It's funny and playful and ideal for anyone throwing a baby boy shower. Mustache decor is easy to score as the theme has become trendy. Play with blue and black and use silly mustache decor wherever you can. Gather up old ties from those you know or get them cheap at a resale shop and use them to hang on a banner that reads: Welcoming our little man.
Airplane Baby Shower
Host a sweet airplane baby shower for a little aviator in training! Go with vintage planes, aviator glasses, red and blue colors, and lots of white balloons to represent clouds. If you can score some vintage suitcases, use them in designs. At your gift table, create a sign that says "baggage claim." Florals are easy to work into this theme since so many botanicals come in red and blue. Pair red tulips, roses, or coneflowers with big blue hydrangeas.
Star Wars Baby Shower
May the force be with you, parents. When it comes to raising boys, there are days where you will definitely need Jedi strength to make it through. If you are a huge Star Wars fan, create a party that plays on one of the most popular films of all time. Use lots of white, black, and Star Wars-themed decor, of course! Hang lightsabers over a buffet table and consider purchasing Star Wars-inspired onesies to display on a clothesline.
Gender Neutral Baby Showers That Will Woo
Not everyone wants to know if the baby will be a boy or a girl. Gender-neutral parents-to-be have so many colorful and creative options when it comes to baby showers.
Harry Potter Baby Shower
Everyone knows Harry Potter, and if you are a Potterhead, a Harry Potter theme baby shower will be fun and memorable. Make everything wizard wonderful and use the trademark colors of Harry himself, black, red, and orange. There are tons of words in the Potter vocabulary that can be worked into menu ideas. Consider setting your guest tables up to reflect the different houses represented in the books: Gryffindor, Hufflepuff, Ravenclaw, and Slytherin.
Out-of-This-World Baby Shower
The parenting experience is totally out of this world, and sometimes new parents might find themselves feeling as if they have just stepped onto a whole other planet! Use space and the solar system to throw an out-of-this-world baby shower. Go dark with your colors. Use black table coverings, fabrics, and backdrops. Then bring in lots of colors with bright gold stars, white moons, and colorful planets. Make cosmic cake pops, a cake shaped like a star or a planet, and cookies to represent all that is space-related.
Rubber Duckie Baby Shower
Rubber duckies are probably the most common bath toys for kiddies. Throw a rubber duckie baby shower that will work for either a little girl or a little boy. Use white and yellow to inspire your design. Decorate guest tables with bowls of blue stones or crystals (found in most craft stores) and place a classic ducky in each one. Set the bowls atop blue table covering (ducks in water...so adorbs.) Make yellow ducky cupcakes and a batch of blue punch. Don't forget to float some ducks in the punch bowls!
Hawaiian Luau
A Hawaiian luau is a fun party to throw no matter the occasion, so why not work it into a baby shower? Use bright colors for decor and set out tall vases of tropical flowers and palm fronds. Make or buy your guests Hawaiian leis, play hula music, and feast on classic luau dishes.
Whip up some fun Hawaiian drinks, like Mai Tai cocktails. Include virgin options for the non-drinkers! Roast a pig or cook pork dishes in a crockpot. For dessert, treat your guests to a pineapple upside-down cake.
Sweet Storybook Theme Baby Shower
Golden books are a treasured collection of children's stories for so many people. Throw a Golden Book baby shower for your bun in the oven. Use bright yellow and blue for decor colors. If possible, take a few of the classic books to a printer and have covers of stories enlarged. Frame them and place them all around the venue. Take a few of your favorite stories from the popular vintage series and create a theme around each book for every guest table at your party. Make a Little Red Hen table, a Three Little Kittens Table, An Ugly Duckling Table, and more!
The Velveteen Rabbit Baby Shower
The Velveteen Rabbit is a classic children's tale, and you can create an entire baby shower around the story. Aim for a vintage feel with this party. Use lace and muted color tones for decor accented with pops of green and orange. Have plenty of stuffed bunnies and cutouts to work into displays.
No bunny party could be complete without a carrot cake! Talented bakers can also create cookies in the shape and design of carrots.
Do a Donut Theme
If you are planning on a brunch or morning baby shower, do a "donuts and diapers" theme. Hang large donut balloons everywhere. Consider creating a donut wall that serves as part treat and part visual element. Use sprinkles anywhere you can. Pair a day of sugary snacks with a cappuccino or coffee bar.
Spa Day Baby Shower
Sure the baby shower is about showering the little baby-to-be, but the expectant parent needs a little loving too! Invite the ladies over for a day of pampering. Hire a manicurist to do nails or toes or a masseuse to rub tired muscles down. Send guests home with gift bags full of facial masks, lotion, nail polish, and essential oils. Enjoy this "me" time while you can because, in a few months, days of pure pampering will feel like a distant memory.
Things to Keep in Mind When Throwing a Baby Shower
Throwing someone you love a stunning baby shower can feel like a hefty order to fill. Paying attention to shower tips and tricks and spending extra time in the planning stages of shower-throwing will help the host throw a party that will go off without a hitch!
First, make sure that you are in constant communication with the parent-to-be. Get their thoughts and wishes regarding the baby shower. Ask them about theme and decor preferences as well as menu ideas. While you might be hosting the shower, the event is in their honor, so include them in all things.
Make sure to start the planning well in advance, especially if you are hosting a large baby shower. Guests will need ample time for responding to invitations, and with everyone these days leading busy lives, they will need plenty of time to work a weekend shower into their schedules.
Consider out-of-town guests. If you have many guests living out of town, consider the fact that they may not be able to make it to the big day in person. Figure out a way to FaceTime or Zoom the shower or consider holding the baby shower virtually.
Enjoy the Day
Remember, this day is about the parents, the baby, and everyone who loves and supports them. Don't get all caught up in the frivolous details of decor and desserts. If some elements don't come out Pinterest perfect, that is okay! Chances are, even with mild mishaps and blunders, the day will turn out to be one of the most magical and memorable days of the expectant parents' lives.