Send that party planning stress into extinction. A Jurassic World party is dangerously fun and full of nostalgia. Host a roaring celebration for kids or adults with these Jurassic World party ideas that everyone will want to clone.
Use Jungle-Inspired Decor
Jurassic World wouldn't be the same without all the chases through the trees and foliage. Bring some of the dinosaur island greenery to your party with faux plant decorations. Palm leaves, vines, and jungle-inspired plants will have your guests peeking around corners for a lurking T-rex.
Add Caution Tape to Everything
Let partygoers know that this celebration is full of dangerously fun surprises. Caution tape will add the nostalgia of all the movies to your party in a clever way. Wrap it around your table, tape it to your front door, and cut small sections off to wrap around paper cups or secure napkins with cutlery.
Serve Green Raptor Punch
Dig for Tasty Dinosaur Bones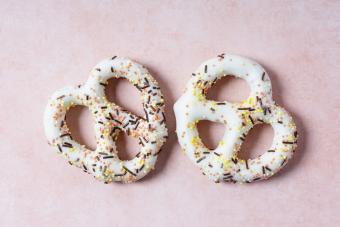 Make the snack bar at your Jurassic World party an interactive one. Bury yogurt-covered pretzels in a dish of graham crackers crumbs to encourage guests to dig for their treats like dinosaur bones. Throw in a few chocolate "dinosaur" eggs for an extra fun Jurassic food experience.
Dish Out Dirt Cake
A classic childhood movie celebration calls for a classic childhood party dessert. Cups of dirt cake are fun for kids and nostalgic for adults. Hide a few toy dinosaurs in each cup so guests can make their own dangerous discovery.
Feature a Prehistoric Birthday Cake
Even if the guest of honor is too young to remember the first installment of the Jurassic World series, they still deserve an enormous cake with all the dino details. Feature the scariest dinosaurs on your Jurassic World cake like a huge T-Rex topper or a scattering of raptor toys. Whether it's an island-inspired cake or a Jeep replica cake, just make sure it's as delicious as it is daring.
Make It a Movie Marathon
Maybe you're looking to host a Jurassic World party just because you need a good excuse to enjoy your favorite movie series. Look no further than a movie marathon party featuring the entire lineup of Jurassic Park films. Tell your guests to come with monstrous appetites and their comfiest movie-viewing clothes for a day of cinematic celebration. Amp up the adventure and show your movie marathon outside with a projector.
Make a Dinosaur Dig Site
If kids loved digging for their snacks, they'll be thrilled with a realistic dinosaur dig party activity. Fill a sandbox with dinosaur action figures, Jurassic World merchandise, and big dino eggs full of treats. Give little guests a shovel, a sifter, and a safety hat and send them off. Their dig finds double as exciting party favors.
Host a Trivia Night
Whether it's a birthday bash or just an excuse to get together, a Jurassic World trivia night is roaring good fun. Split into teams - maybe the lifelong fans versus the newbies - and see who knows the most about the dinosaur movie phenomenon that's been captivating viewers for 30 years.
Have Some Laughs With a T-Rex Game
Get on your feet and march around with giant T-Rex shoes in this hilarious dinosaur party game. Kids and adults will laugh their tiny T-Rex arms off as they attempt to gather the most plastic balls for their team.
Pack Prehistoric Party Favors
After an exhausting fossil dig and all that traipsing around like a T-rex, send your guests home with a well-deserved swag bag. This party favor pack calls for a prehistoric safari tool kit complete with a canteen, sunglasses, binoculars, and a hat. A dinosaur or fossil cookie completes the package for a party favor bag of epic proportions.
The Party Finds a Way
Hold on to your party hats. This Jurassic World bash will be one for the history books. With clever food ideas and hilarious party games, your guests might be talking about this party long after the movie credits roll.