It's no secret unicorn birthday party themes have been taking over the party scene, and children who are in love with all things magical and sparkly don't seem to mind at all. Whether you are planning a unicorn party to celebrate a birthday milestone or just to keep your child's dreams of rainbows and unicorns alive, these trendy birthday ideas will definitely help you throw a unique party and celebrate in style with family and friends!
Send a Delightful Unicorn Birthday Party Invitation
The birthday invite should convey the tone and style of your party. Select a unicorn invitation that reflects your vision and design idea you have planned for your event. Make it shine and impress your guests by sprinkling some unicorn dust and confetti into the envelope.
Set the Party Scene
Create a magical unicorn birthday party atmosphere by incorporating a colorful garland using balloons in all colors of the rainbow. To add different textures, consider adding mylar foil unicorn, rainbow, and star balloons to the mix. Since there's no need for helium, you can create your unicorn party balloon backdrop ahead of time and check it off your list.
Create a Magical Tablescape
A unicorn themed tablescape should be inviting and bring the party theme to life through unique party supplies, such as plates, cups, napkins, and utensils. Staying consistent with the style and color palette is important to tell a story and offer a one-of-a-kind experience. Holographic and iridescent partyware have been popular choices for a cohesive unicorn birthday party look.
Opt for a Unique Birthday Cake Idea
Layered cookie cake is a thing. And, it is a great departure from the usual fondant or buttercream cakes. It can be done in any shape, size and beautifully decorated with mini sugar cookies, French macarons, sprinkles, colorful meringues, and even edible flowers to match your party decor. The possibilities are endless when it comes to this unique idea. If you consider yourself more traditional when it comes to your child's birthday cake, there are plenty of beautiful unicorn cake ideas to choose from.
Serve up Hot Cocoa Bombs
Whether it is cold outside or not, a good cup of hot cocoa is always a great idea and it makes the perfect comfort drink to serve to guests. Hot cocoa bombs took the party scene in 2020 and undoubtedly, they are here to stay. The idea of creating unicorn hot cocoa bombs for a unicorn birthday party seems daunting, but it is worth the effort for your child's special day.
What's a hot cocoa bomb? It's a chocolate sphere filled with mini marshmallows and hot cocoa powder. Place the hot cocoa bomb in a mug and gently pour hot milk over it. Watch the kids squeal with delight as the chocolate sphere melts and releases its content.
Instructions:
Using a sharp knife, finely chop chocolate bar and transfer to a microwave-safe bowl.
Microwave chopped chocolate for no longer than 30 seconds. Stir it with a spatula from the edges to the center to heat chocolate evenly.
Place bowl back in the microwave and heat it in 15-second increments, stirring each time until chocolate is completely melted with no clumps.
Using a paper towel, clean your chocolate molds to make sure there's no residue.
Paint a thin layer of chocolate on the inside of each mold using a paintbrush. Place mold in the fridge for about 5 minutes.
Add a second layer of chocolate and place it back in the fridge for an additional 5 minutes.
Remove chocolate from molds and start assembling. Note: Use gloves to avoid fingerprints on your chocolate.
Fill up one half of chocolate sphere with hot cocoa powder and marshmallows (about 3/4 full).
Pipe melted chocolate onto the edges and place a second half of chocolate sphere on top of it. Gently pressed them together to seal. Wipe the edges to smooth out the chocolate.
Add melted chocolate to chocolate bombs using a piping bag or paint brush. Roll bombs in sprinkles and secure unicorn sugar decorations immediately.
Paint-Your-Own Unicorn Cookie Activity
Let your guests' creative juices flow with a fun paint-your-own unicorn cookie activity. What's a paint-your-own unicorn cookie? It's a sugar cookie with a unicorn stencil design. The kids will use a thin brush and edible paint to color it. This wonderful activity is definitely a winner as it doubles as a take-home party favor. Bonus? The kids can eat their own creations.
Hire an Epic Face Painting Company
Add extra sparkle to your party by hiring a reputable entertainment company that provides a one-of-a-kind face painting service and specializes in creating the most magical and safest experience for your event. Be sure to secure a date in advance as most face painting companies can accommodate special requests and even customize airbrush stencils to match your theme.
Summer Unicorn Pool Float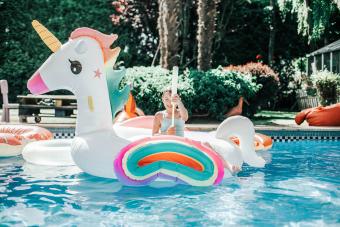 If your child is a summer baby, a giant unicorn pool float will add extra excitement to a day spent soaking up the sun, playing pool games and sipping on refreshments with friends.
Have a Unicorn Piñata
A handcrafted unicorn piñata is a party decor element that is also an exciting activity for the kids. It will test their strength and agility once they bash it, break it and have candies flying everywhere.
Get Your Craft on With Unicorn Headbands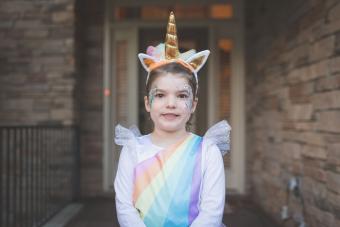 Encourage imaginative play with fun unicorn headbands. You can easily purchase them online, but if you are feeling extra crafty, you can impress your guests with handmade headbands.
Make Unicorn Popcorn
Popcorn is always a crowd-pleaser and when it coordinates with the party theme, it is even more impressive. Make magical popcorn for your unicorn birthday party by using microwavable popped popcorn dipped in tinted melted chocolate. Add fun star sprinkles, mini marshmallows, and meringue kisses in different pastel colors.
Create Magical Slime Party Favors
Kids get super excited about slime. You can make unicorn slime ahead for take-home party favors or turn this opportunity into a party activity.
Plan Awesome Rainbow and Unicorn Games
Keep the kids happy and entertained with fun rainbow and unicorn party games. There is a great variety of wonderful party game ideas, ranging from Pin the Horn on the Unicorn to Rainbow Rush Relay Race, that will sure make your event a success.
Unicorn Indoor and Outdoor Fun
Unicorn parties are magical no matter what season. Whether your event is taking place in the summer or winter, these unicorn birthday party ideas are perfect for indoor or outdoor fun!