April is a busy time of the year, but with people glued to their phones, you can slip in a great April Fools' text prank for some mischievous fun. Text pranks rely on believability, and whether you're pranking your boyfriend, girlfriend, parents, or other people in your life, all you have to do is commit to a realistic bit. Set them on an emotional roller coaster this April 1st by sending them one of these great April Fools' pranks over text.
Rile Your Parents Up With These Hilarious April Fools' Text Pranks
Whether you're living under their roof or spend vacations back at your childhood home, being around your parents will stir up you and your siblings' mischievous toddler energy in no time. All's fair in love and war, and when you have parents or parental figures that love you unconditionally, you can make war whenever you want.
There's no better time to give your parents a few extra gray hairs than April Fools' Day. But, when you're stuck in school or live far away, there's only so many ways you can pull a prank. Thankfully, there are some gut-busting prank texts you can send to them on April 1st.
Paying for Air Prank
Make your parents question your common sense and where they went wrong with this hilarious faux pas prank.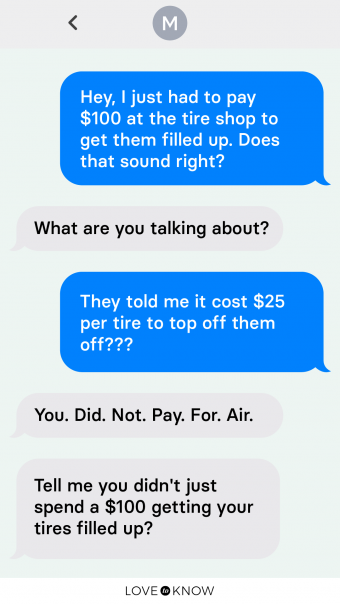 You: "Hey, I just had to pay $100 at the tire shop to get them filled up. Does that sound right?"
Them: "What are you talking about?"
You: "They told me it cost $25 per tire to top off them off???"
Them: "You. Did. Not. Pay. For. Air."
Them: "Tell me you didn't just spend a $100 getting your tires filled up?"
Car Warranty Scam Prank
Most people know about the "your car warranty is about to expire" scam calls that circulate your number every couple of years. Well, make your parents sweat a bit with this car warranty scam prank you can do over text.
You: "Did you know my car warranty was about to expire? Thankfully, they called, and I got it renewed."
Them: "Who called you? What did they say?"
You: "Some random number called saying my car warranty was about to expire and they helped me set up a new renewal."
Them: "Please tell me you didn't give them your credit card information. [Your Name] PLEASE."
You: "Uhhhh…."
You: "Yea."
Failing Grade Scare
If you're still living with your parents, they probably keep up with how you're performing in school. Give them a little scare by sending them a fake picture of a failed test and see how long it takes for them to raise the alarm bells.
You: [Sent failed test picture]
You: "At least you got double digits [eyes emoji]"
You: "Oh my gosh. That wasn't for you."
April Fools' Text Pranks to Pull One Over on Your Girlfriend or Boyfriend
Some of the best relationships are full of joking and laughter. If you think your sweetheart is up to it, test to see how your partner will react to these harmless, if not heart-skipping, text pranks. April Fools' Day is made for pranking and tomfoolery, but you can toss one of these out anytime of the year.
Getting Fired Prank
No one wants to hear from their partner that they've been let go from their job. It dredges up all sorts of emotions, and you can put your partner through the emotional wringer by sending them a text that's a clever play on words.
You: "Hey babe, I'm definitely fired…"
Them: "What???? What happened?"
Them: "Are you okay?"
You: "I accidentally put your dry-clean only outfit in the drier. I'll understand if you don't want to hire me to do the laundry again."
Them: "BABE [angry emoji]"
Picture-Posting Mistake Prank
In some of our most inebriated or compromised states, we're compelled to take a thousand pictures. But, with just a click of the button, you can accidentally send out the wrong picture to everyone on the internet. And when you've got a partner whose embarrassing moments might be implicated too, the fear is real. Play on that fear with this harmless social media inspired prank.
You: "I'm so sorry, I told them not to post that picture of you [sinking face emoji]."
Them: "Who posted what picture?"
Them: "What are you talking about?"
You: "I sent them a whole batch of pictures from the last time we hung out, but didn't look through all of them. I'm sure no one's seen it yet."
Them: "What picture? What's going on??"
Them: "Honey, how bad are we talking?"
Break-Up Text Prank
When you're in a happy relationship, there's nothing like getting a surprising break-up text that can derail your entire afternoon. Take a page out of opposite day rules and tell your partner you're breaking up with them, but make them wait a few hours for the twist ending.
You: "I think we should break up"
Them: "What are you talking about?"
Them: "What's going on?"
Them: "You can't just send that and not pick up the phone."
Them: "Where are you?"
About 30 minutes to an hour later
You: "OH, I'm so sorry [crying, laughing emoji]. Got distracted and didn't finish typing. I meant I think we should break up all the pictures we have on our accent wall. They're looking a little cluttered."
April Fools' Text Pranks Your Can Pull on Anyone
Maybe you're looking to pull a fast one over on someone else in your life. Try one of these ideas to be a trickster if you're texting cousins, siblings, neighbors, friends, or even a co-worker that can take a joke.
Misplaced Wallet?
If someone comes over to your place before April Fools' Day and left their purse or wallet lying around, snap a picture of it when they're not looking. On April 1st, text them the picture and say "Hey! I just found your purse/wallet over here!" They might feel like they are going crazy. Once they realize it's a prank, you'll both get a good laugh.
Text About Discontinued Products They Love
Text them one of their favorite products has been discontinued. This will be especially funny if you can get them to buy into this for a big name (like Pepsi or something from the Nestle chocolate line). If they fall for it, they might be bummed, but you can ease their pain by admitting the prank and letting them know their next treat is on you.
Text Prank About a Fake Giveaway
Text them one of their favorite restaurants is giving away something for free. For example, text: "Hey, did you know [insert name of restaurant] is giving away [name of a dish or drink they like] today?" You can even make up a free promotion or gimmick to make it more believable.
When they respond with something like "Thanks! Really?" You can text back - "Nope, Happy April Fools' Day!"
New Pet Text Prank
This one will work if someone in your life isn't quite ready for the responsibility of a furry friend or other pet! First text the person a message that says: "You'll never believe what I got you!" Then text a picture of a random adorable cat, dog, or other pet. Make up a short story to text about how you got the pet and "remind" the other person you know how much they've wanting this particular type of animal.
As they get more confused, you'll continue texting things like "You've been telling me you wanted a cat for months!" Just make sure to let them know it's a prank before they totally lose their mind.
Keep People on Their Toes With Fun Pranks
As we get older, our daily responsibilities can get in the way of celebrating the silly holidays that we loved so much as kids. Let loose this April Fools' Day and cause a little ruckus with your loved ones by sending them a mischievous April Fools' prank text.