Show your family a little love with some fun Valentine's Day dinner ideas your kids will actually eat. Save the rare steak and lobster tails for another night and try out one of these kid-friendly options instead. You can make Valentine's Day a special celebration for the whole family just by making some simple changes to your dinner plan!
Feed Your Family Heart-Shaped Burgers on Valentine's Day
Everyone loves burgers, especially when they're homemade. For this Valentine's Day family dinner idea, form your favorite meat or veggie crumble into a heart-shaped patty and grill or fry it as you usually would. Instead of a bun, use bread cut into heart shapes (yay cookie cutters!). Add your favorite toppings and serve with chips and veggies for a complete meal.
Celebrate With Valentine's Day Pot Pie for Dinner
Pot pie is always a hit, even with picky eaters. If you have a recipe everyone enjoys, you can give it a Valentine's Day spin simply by carving a heart on the top crust. What's great about pot pie (what isn't?) is that you can make it to suit anyone's taste or dietary needs. Create a vegetarian version if your family doesn't eat meat, or make a gluten-free pot pie if your kids can't have gluten.
Make Valentine's Day Special With Pasta Hearts and Sauce
Pasta is a kid-friendly Valentine's Day dinner idea that's a proven winner. After all, it's what most people have on hand for their kids when they need something they'll be guaranteed to eat. Pick up some heart-shaped pasta and serve it with your favorite sauce (or just butter if your kids aren't into pasta sauce). You can add a little red food coloring the water as you cook the pasta to turn it pink too.
Quick Tip
Start with food your kids already love and add a Valentine's Day flair if you want something they'll really enjoy.
Serve Up Heart-Shaped Dumplings for Everyone
Make steamed dumplings with tofu or pork, or create your own ravioli or other stuffed pasta. Any recipe you like will work, as long as you can cut the dough into two heart-shaped pieces and stuff the dumpling with your kids' favorite filling. Serve them with a dipping sauce and a salad for a hands-on Valentine's Day meal.
Warm Up With Soup and Cornbread Hearts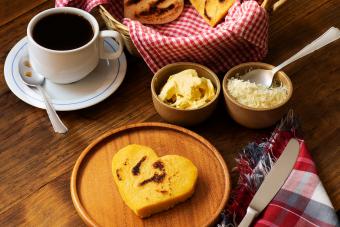 Do you kids love soup? If they do, serve up your favorite recipe with heart-shaped cornbread to go with it. You can make the cornbread in a muffin pan with hearts or simply cut heart shapes out of a flat pan of cornbread.
Try Hot Dog Heart Frittatas for a Kid-Friendly Meal
You can't beat hot dogs for the ultimate winning kid meal, and putting them on top of a simple egg frittata is a great way to bring some extra love to your Valentine's Day family dinner table. Mix cheese and egg to make the frittata and then top it with a hot dog heart while it's cooking. Simply slice the hot dog lengthwise and use toothpicks to hold it in a heart shape until the egg cooks around it. Don't forget to remove the toothpicks before you serve it.
Make Custom Valentine's Day Sandwiches for an Easy Dinner
Grab that heart-shaped cookie cutter and let the kids make their own sandwiches for dinner. You can have all the best sandwich fixings and let them experiment with new flavor combinations or try their old favorites. Have chips and veggies to make it a meal.
Serve Caprese Salad With Extra Love
A Caprese salad with sliced tomatoes, basil, and fresh mozzarella feels like a special Valentine's Day treat, and the protein in the cheese can make it a nearly complete meal. Add some soup or a loaf of bread to make it more filling. For the extra twist that will make it super charming, use a cookie cutter to make the fresh mozzarella into heart shapes.
Give Grilled Cheese a Cute Twist for Valentine's Day
Maybe you've never thought of grilled cheese as romantic before, but the truth is, all you need is that trusty heart-shaped cookie cutter to make it super cute and special. You can make the entire grilled cheese sandwich in a heart shape or just cut a heart out of one of the slices of bread. Either way, serve it with tomato soup for a classic meal that the whole family will love.
Make It Sweet With Watermelon and Cheese Salad
Watermelon cut into little hearts is the perfect Valentine's Day treat, especially when it's paired with cheese and a kid-friendly oil and vinegar dressing. You can serve it with bread and soup for a light dinner that has plenty of charm.
Serve Heart-Shaped Pepperoni Pizza
The ultimate Valentine's Day dinner idea for the family is a crowd-pleasing heart-shaped pizza. Pick up some pizza dough and sauce at the grocery store and form the pizza into a heart shape instead of the standard circle. You can cut the pepperoni into hearts too if you want bonus points!
Give Them Chicken Nugget Hearts They'll Love
Heart-shaped chicken nuggets? Yes, please. Chicken doesn't cut super easily with a cookie cutter unless you make the chicken very thin. Roll or pound your chicken breasts until they are less than half an inch thick. Then cut them into heart shapes and use your favorite bread crumbs to coat them. Serve with a salad and a dipping sauce.
Make Valentine's Day Breakfast for Dinner
There isn't always time to linger over Valentine's Day breakfast, but dinner can be a lot more leisurely. Take your time and please the whole crowd with heart-shaped pancakes and plenty of fruit. Just make your favorite pancake recipe (or let's be honest, use the box mix) and pour the pancakes in a heart shape as you cook them. You can add a little red food coloring to the batter for even more festive fun. For some added protein, try topping a heart-shaped pancake or waffle with eggs for a delicious and adorable meal.
Win Them Over With Heart-Shaped Paninis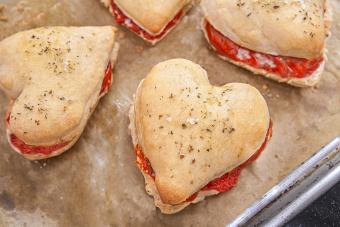 Use a countertop grill or a panini press to make your own heart-shaped paninis for dinner. Just choose the fillings you love and cut the bread into heart shapes. It's extra fun to use red and pink fillings like bell peppers, sundried tomatoes, pepperoni, ham, and anything else you like.
Dinner Is Just One Way to Show Your Love on Valentine's Day
They're only little for a few years, and it's super fun to enjoy this time with a special Valentine's Day dinner your kids will love. Don't stress about making everything perfect, though. What your kids will see is the effort (and the tasty food they love), and they'll know you worked to make the day fun and festive for them. It's just one of the many ways you can show your love on Valentine's Day.