From traditional hymns to more contemporary Christian wedding songs, using Christian wedding music is a wonderful way for a couple to show their faith. Choose a beautiful song for every aspect of your wedding that is appropriate for your religious views.
Church and Ceremony Wedding Music
Christian couples may choose music selections praising God, celebrating His creation of marriage, favorite Christian songs about love, a beloved family or traditional church hymn, or some other choice.
Prelude Music
Many couple have music playing before the ceremony begins. Select something that's slow and quiet, so it's obvious when the processional starts. Generally these will be instrumentals only, and it's the perfect time for a traditional classical song or hymn on an organ or by a string quartet. Consider:
Ceremony Music
Select a song with a wonderful message as part of your ceremony.
Christian Wedding Recessional Songs
These songs should have an upbeat tune with a celebratory note since you're now husband and wife. They can be general worship songs of praise as well as love songs.
Christian Reception Songs
If you're employing a band, discuss their repertoire in advance to ensure they have the songs you want. With a Christian DJ, you may be able to compile various songs and artists that you want played for specific events at the reception. You can also compile a song list to play on your favorite music app.
Specific Dance Song Suggestions
Select a song for special dance that has Christian meaning as well as meaning for the dance itself. For example:
General Dance Songs
You'll also want to have a few good tunes that will get everyone out on the dance floor. A few additional reception songs include: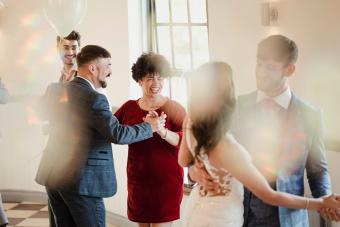 Wedding Song Selection Tips
Follow these tips to help you pick the right tune at the right time:
Medium tempo hymns for worship, Christian weddings, or love songs are great for a pre-ceremony or prelude music.
For the wedding processional, a slower tempo song that focuses on the love between a bride and groom as part of God's design works well. It may surprise some couples that one of the most common traditional wedding songs is actually not permitted in some parishes. This song is the Bridal Chorus, also known as Here Comes the Bride by Richard Wagner. Check with your church before planning to play this song.
During the ceremony sermon, a worship or praise song by the congregation about God's love or a praise or Christian love song sung by a soloist can be the perfect touch.
For other events during a ceremony that might require music, such as a candle lighting memorial or other activity, a more somber song or Christian instrumental might be most appropriate.
The Christian wedding music you choose for your ceremony will likely be more subdued, while the reception is the place for high energy Christian dance mixes, contemporary Christian music, and more love songs.
Before making your final song selections, double check with the music director, your musicians, and the pastor at your church. You may need to incorporate specific songs, like those used in a Catholic wedding, per your church's guidelines.
Choosing the Perfect Wedding Songs
There are many different ways you can incorporate Christian music into your wedding and reception. Whether you want traditional Christian songs playing at your wedding or are looking for more modern music with Christian influence, it is important to find songs that speak to you personally and deliver the type of Christian message you want for your wedding.