Gowns for Mothers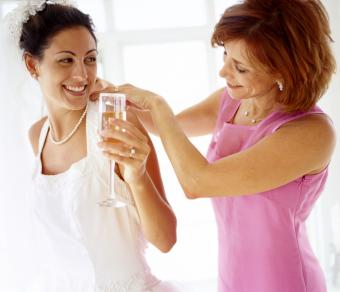 Shopping for dresses that are appropriate for the mother of the bride or groom is easy when these two women coordinate with each other. There are many options for each mom to ensure she's happy with how she looks on this special day.
Gowns on the following pages are all available for purchase by clicking on the "More Details" button at the top of the photos. Double check the company or manufacturer's sizing chart to ensure the one you order is correct, as formalwear is often sized differently than street clothing and will vary from dress line to line.
Tie the Knot
More Details
In honor of true love and making commitments try this curve-accentuating style that cinches in at the waist with a knot. It's available in black, bright blue, deep teal, magenta, navy, and plum in 1X to 3X. The ankle-length style and three-quarter sleeve length make this great for weddings when it's cool outside. It's priced under $60.
Trend Appeal
More Details
If it's a casual summer wedding for your son or daughter (or it's just unseasonably warm) and you love to rock the trends, try a cold shoulder dress like this one, available in black or Moroccan blue in sizes 1X, 2X, and 3X for about $70. Pair it up with some strappy nude sandals and minimal jewelry and let the dress garner all the attention in your outfit.
Sheer Elegance
More Details
This three-quarter-sleeved eggplant dress is a wonderful choice for fall and winter weddings. It's available in sizes 4 to 16 and features sheer sleeves and a jeweled neckline. Beading along the bodice and sleeves will add an extra flattering glow and sparkle under the low lights of an evening event. The dress regularly sells for less than $150.
Classic Dress and Jacket Pair
More Details
Most skin tones will look gorgeous in this black cherry sleeveless dress and jacket set, available in sizes 8 to 18 for less than $110. This is a great option for ladies who want something modest but don't want to wear a maxi dress. Wear the jacket or leave it at home if the wedding is somewhat casual. The sparkling top of the dress and sleeve accents on the jacket give this outfit a little something extra without demanding too much attention.
When You Want to Shine
More Details
You don't want to outshine the bride, of course, but there's no reason your outfit can't shimmer a little (or a lot) under the lights. The beading from shoulder to hem on this Pisarro Nights dress ensures that you'll be a standout guest. Regular and petite sizes are available from 2 through 16, and you can get it in colors like blue (shown), navy, plum, light lavender, gunmetal, and more. Pick it up for less than $200.
Formal and Flowing
More Details
If the wedding is formal, the mother of the groom or bride is sure to love this lace bodice gown with a flowing chiffon skirt. It's available in beige, navy, and silver, in sizes from 2 to 16 in regular and petite sizing. The neckline is lined with crystals for subtle shine. The shape and materials of this gown combine to make it flattering on most body types. It's priced around $250.
The Perfect Wine
More Details
Wine is a go-to shade for fall and winter weddings, and as the mother of the bride or groom, there's no reason you shouldn't wear it with a little extra pizzazz. This sequined lace poncho dress combines the perfect shade of merlot, a classy amount of sequins for shimmer, and elegant layering. Bonus: It's designed to be comfortable so no matter how late the wedding reception goes, you probably won't be dying to get home and change. Get it in sizes 14 to 24 for about $60.
Simple Blush
More Details
This is an elegant, simple choice that's perfect for warm skin tones and weddings held on spring and summer evenings. Layers of chiffon combine with subtle jewels around the neck and the surprise of a high-low hemline to create a dress that falls somewhere between classic and trendy. Get it in sizes 6 to 28 (under $140) and wear it with a great pair of understated nude sandals.
Short Sleeves and Pullover Style
This dress is about as no-fuss as wedding guest attire can be. It's a simple pull-on style with short sleeves, V-neck in front and back, and enough beading to make it interesting. Get it in sizes 6 through 18 in this gorgeous deep teal. It will make an excellent choice for almost any type of wedding. It costs about $260.
Sophistication and Femininity
More Details
If your child is having a formal wedding, a dress like this will fit right in. It's available in dozens of shades, so you can coordinate with the wedding party as much or as little as you'd like. The lace, long skirt, neckline, and draping work together to create an exquisitely graceful and feminine silhouette. Get this dress in size 2 through 26W for $265 or less.
Asymmetrical Glam
More Details
Asymmetrical hems and bold colors are always attention-grabbing. With over 30 colors to choose from in this dress, you're sure to find one that will make your skin tone look radiant so you look wonderful from head to toe. Get this dress in size 2 through 26W and enjoy its figure-flattering v-neck (front and back) and A-line shape, then add the wrap for an extra touch of glamour. Sale pricing can run as low as $140.
Classic Tea-Length Style
More Details
This sleeveless tea-length style, available in blue and black in sizes 6 through 10 (under $160), is quietly graceful and elegant. It will flatter your figure and can be worn to other events due to its timeless style, lack of embellishments, and simple shape. The black dress will work well for most weddings, regardless of season, holiday, or wedding colors. The blue could be especially lovely as a complement to the specific wedding colors, like blue and brown. If you love statement lipsticks in bold reds or burgundies, this will be the perfect time to wear one.
No matter which dress you select, you're sure to look stunning when you smile with happiness and pride for your child.