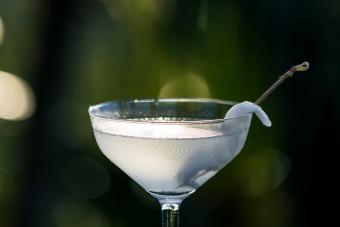 Variations and Substitutions
Whether you want your martini a bit sweeter, more coconut forward, or you just want to explore your options, and there's a way to get there.
Instead of plain vodka, use coconut vodka to punch up the tropical flavor.
Use lemon just in place of lime for a brighter citrus touch.
Add a splash of simple syrup for a sweeter martini.
Include coconut liqueur. You can use this in addition to the cream of coconut or skip the cream of coconut altogether.
Garnishes
Like many cocktails, there's more than one way to finish the drink's look.
Use a lime wheel, wedge, or slice to add extra citrus and a pop of color.
Similarly, a lime twist, peel, or ribbon adds that pop of color without too much added citrus.
A lemon wheel, wedge, slice, ribbon, twist, or peel also adds a bright citrus touch. Likewise, an orange can be used and won't add any tart flavors.
A dehydrated citrus wheel makes for a unique citrus garnish.
About the Coconut Martini
You don't need to be a professor stuck on a stranded island to find an excellent way to use coconut. But it can be hard to see past the forest and towards the individual coconut trees when you think of coconut and alcohol. More often than not, you'd think of a piña colada, coconut daiquiri, margarita, or even a painkiller cocktail.
However, when you're looking to scratch that coconut cocktail itch, it can be discouraging to run down a long list of ingredients. That's where the coconut martini runs to the rescue. One beauty of this martini is its simplicity; the other is its room for creativity. It doesn't matter how you customize your coconut martini, the best way is your way. Skip any added fruit juices to avoid crafting a coconut cocktail.
A Desert Island
You don't need to find yourself marooned on a desert island to enjoy a coconut martini. But it does go well with a binge of some classic television when you're waiting for summer days.