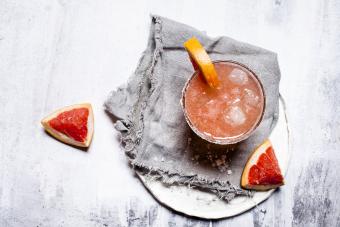 A little more than herbal but not as outlandish as a brothtail, savory cocktails are a staple you may not have thought of in their own category. A tomato spritz or classic Bloody Mary fits the bill, or try a dirty martini or even a timeless Lion's Tail. Let's explore the savory side of cocktails.
Savory Lion's Tail
The timeless lion's tail, it's a bourbon drink that falls just outside of the usual suspects when it comes to bourbon drinks. But this bourbon drink is different: it's savory, it's spiced, it's a touch sour, and it is perfectly balanced.
Ingredients
Instructions
Chill a coupe glass.
In a cocktail shaker, add ice, bourbon, allspice dram, lime juice, simple syrup, and bitters.
Strain into the chilled glass.
Garnish with an orange twist, if desired.
Tomato Spritz
A lighter, and less boozy, savory option than the Lion's Tail or usual bloody Mary, the tomato spritz is a crisp and savory dream.
Ingredients
2 ounces dry vermouth
½ ounce gin
1 ounce tomato juice
1 ounce flat water
Ice
1 ounce prosecco
Club soda to top off
Lemon wedge for garnish, optional
Instructions
In a rocks or highball glass, add ice, dry vermouth, gin, tomato juice, and flat water.
Stir briefly to mix.
Add prosecco.
Top off with club soda.
Garnish with a lemon wedge, if desired.
Savory Bloody Mary and Tomato Cocktails
Beet Negroni
Gin and beet juice, that signature combination of herbaceous and earthy, unites into the perfect marriage with Campari to make a memorable and savory negroni.
Sub the beet-infused gin for an ounce and a half of gin and half of an ounce of beet juice.
Ingredients
1½ ounces beet-infused gin
1½ ounces sweet vermouth
1½ ounces Campari
Ice
Orange twist for garnish
Instructions
In a mixing glass, add ice, beet-infused gin, sweet vermouth, and Campari.
Stir rapidly to chill.
Strain into a rocks glass over fresh ice.
Garnish with an orange peel.
Earthy and Savory Beet Cocktails
Salty Dog
Pair gin with a little salt and bitterly sour grapefruit juice, and you have a refreshing albeit salty but savory cocktail.
Ingredients
Grapefruit wedge and salt for rim
2 ounces gin OR vodka
Ice
Grapefruit juice to top off
Grapefruit slice and lime slice for garnish
Instructions
To prepare rim, rub the rim of the glass with the grapefruit wedge.
With the salt on a saucer, dip either half or the entire rim of the glass in the salt to coat.
In the prepared glass, add ice, gin, and grapefruit juice.
Garnish with grapefruit slice and lime slice.
Savory Martinis
Irresistibly Appetizing Savory Cocktails
You've heard of dessert in a glass, but probably not a snack in a glass. Okay, that doesn't quite work. But these savory cocktails work when you're looking for something to itch that spot for a cocktail that's a little earthier, a little saltier, and a little richer than all the rest.