For less stress the day of a big celebratory or holiday meal, try roasting your turkey at a lower temperature overnight while you sleep. You'll still have to bake your turkey (for a short time period) again right before you serve it, but your oven and counter space will be free. With the right instructions (and a good alarm clock), you can rest easy knowing your turkey will be baked to perfection when you wake up.
The Method for Cooking Turkey Overnight Safely
The USDA doesn't recommend cooking a turkey at a temperature below 325°F, so it's not a good idea to use a low oven temperature and cook your turkey longer. Instead of turning the oven down, you can use the method below for getting your turkey cooked to perfection while you snooze. This works best with a large turkey (22 pounds or more), since big turkeys require longer cooking times. Plus, there are so many things to do with the leftovers!
1. Set Your Overnight Turkey Schedule
A 22-pound turkey will take about five hours to cook at 325°F, but the last part of the cooking can happen right before you serve it. Think about when you want to serve the turkey and how you want to break up the cooking time. Here's an example schedule to consider:
10:00 pm - Prepare turkey for cooking and put it in the fridge.
1:00 am - Put turkey in the oven and turn it on.
6:00 am - Remove turkey from the oven and put it back in the fridge.
11:15 am - Put turkey in the oven to finish cooking and heat up.
12:00 pm - Eat the turkey.
2. Gather Turkey Ingredients and Supplies
One whole turkey (24 pounds or more), thawed
Water for rinsing the turkey
4-6 tablespoons butter
4 cups water
Aromatics, such as onions, bay leaves, garlic, and celery
Salt and pepper, to taste
Poultry seasoning (or other seasonings of your choice) to taste
Large roasting pan
Aluminium foil
Meat thermometer
Basting brush
Additional butter and seasonings for final basting prior to mealtime
3. Prepare the Turkey
Make sure your turkey is thawed ahead of time.
Preheat your oven to 325°F.
Remove giblets and neck from turkey.
Rinse the turkey with water and drain it.
Pat the turkey dry with a paper towel.
4. Season the Turkey
Rub the outside of the turkey with butter.
Place desired aromatics inside the turkey.
Sprinkle the turkey with salt, pepper (optional), and seasonings of your choice.
Place the turkey on a large roasting pan with a rack and fill the pan with 4 cups of water.
Wrap the pan and turkey tightly with aluminum foil.
Place the turkey in the fridge so it's ready to go when cooking time arrives.
5. Set Your Alarm
Before you go to bed, set an alarm for when you plan to start cooking the turkey. It's a good idea to give the turkey about five hours of cooking time overnight, so work backward from when you plan to go to bed.
6. Start Cooking the Turkey
When your alarm goes off, set the oven to 325°F. There's no need to preheat.
Place the turkey in the oven to roast while you sleep.
Cook the turkey for five hours.
Remove the pan from the oven and place it in the fridge.
7. Reheat Before Serving
If you're not serving your turkey until later in the day, store it in the refrigerator until one hour before serving time. Then pull it out and let it come back to room temperature for about half an hour before reheating; do not let it sit too long.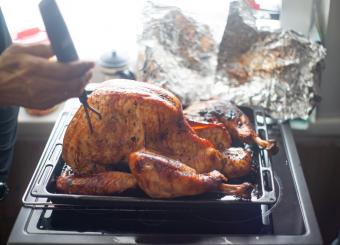 Heat your oven to 300°F.
Leave on the aluminum foil, but baste the turkey once again to avoid dryness.
Roast the turkey in the oven until it reaches an internal breast temperature of 160°F (about 15 to 30 minutes) and the skin has browned. If your turkey is cold (has been in the refrigerator) when it goes into the oven, roast it for at least 30 minutes; then check for doneness.
Cool the turkey (let it rest) for about 20 to 30 minutes, carve, and enjoy!
Tips for Success
Follow these tips for overnight success. Your turkey will be delicious and safe to consume if you keep these things in mind.
Adjust Oven Times for a Smaller Turkey
If you're cooking a smaller turkey overnight, you'll need to adjust your schedule. Use these times as a guideline:
12 pounds - About three hours
14 pounds - About three and a half hours
16 pounds - About four hours
18-20 pounds - About four and a half hours
Check for Automatic Oven Shut Off Features
Before cooking your turkey overnight, check to be sure your oven doesn't shut off on its own after a specified time period. Some ovens shut off after 12 hours, for example, and this should be fine for overnight roasting. However, if your oven shuts off on its own sooner than 12 hours of continuous activity, check your oven owner's manual to override this feature, so the oven shutting off doesn't interrupt your turkey's overnight roasting process.
Start Your Turkey Later
If you want to avoid refrigerating your turkey after roasting it the first time or if you have a smaller bird and are worried about dryness, you should put it in the oven later at night so it will be done closer to serving time.
Don't Cook at a Lower Temperature
Cooking a turkey overnight at a very low temperature is a recipe for illness. The USDA says that if you cook the turkey at any temperature below 325°F, it will spend too much time in the temperature range where bacteria can reproduce and potentially make people sick. You may have to set your alarm to wake up in the middle of the night to get the turkey in the oven, but doing so may make things easier for you on the day of your feast and will help make sure your turkey is safe and delicious.
Turkey With the Trimmings
A roast turkey is often reserved for special occasions, but with an overnight method, you can easily serve it anytime. Plan your favorite side dishes, and your Sunday lunch or Saturday meal is now a festive feast!