American Empire furniture represents an important period in history and is easy to identify once you understand its characteristics. American Empire style furniture reached peak popularity in the United States around 1820, but its influence is easy to see in many of the subsequent eras of furniture design. Learn how to spot American Empire pieces and what makes this furniture design period so special.
Background on the American Empire Style
American Empire is an interpretation of the French Empire style, which was especially popular in Europe from 1800 through 1815. American furniture makers found the French Empire style inspiring and began to adapt it to the tastes of consumers in the United States. The American Empire period in furniture design began in about 1815 and lasted through 1840, but it was most popular during the 1820s. It overlapped with Federal style furniture, which had simple lines and delicate shapes, but American Empire was much more substantial.
Notable American Empire Furniture Characteristics
Certain characteristics define American Empire furniture and make it easy to identify in antique shops. If you're looking at an American Empire sofa, dresser, table, or other piece, it will have many of these features.
Heavy and Substantial
Many American Empire furniture pieces are crafted in a way that feels heavy and substantial. These are not delicate, fragile-looking items. You'll see thick columns and pillars, sturdy feet, and heavy drawers and shelves.
Symmetry and Simple Lines
Sweeping curves and bold lines are an important part of this furniture style. Additionally, most American Empire furniture pieces rely heavily on symmetry in their design.
Ornate Carving
American Empire furniture often includes ornate carving, especially on the feet. There are antique claw-foot tables, dressers with ornately carved pillars, and other fine details. Look for egg-and-dart molding, star carvings, Greek key patterns, and many other highly worked elements.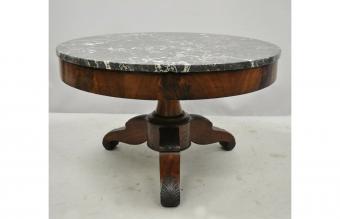 Gilt and Brass Details
Some pieces from the American Empire period include details of inlaid brass banding. They can also have gilding that adds a warmth and sparkle to the dark wood. Antique furniture hardware from this period will sometimes include carved wood knobs and pulls, but you'll also see brass and bronze pulls with ornate backplates and rings.
Glass and Raised Panels
Cabinetry from the American Empire period often features glass panels on the doors, especially if the piece is an antique china cabinet or other display item. Other cabinets may have raised panels that are expertly carved to show off the workmanship of the time.
Fine Woods and Veneers
Many antique American Empire furniture pieces are crafted from dark, rich woods. Cabinetmakers favored mahogany and walnut, and they also used veneers of fine woods to create more affordable pieces.
Important Manufacturers During the American Empire Period
The American Empire period in furniture design saw some regional differences. There were slight variations in style between 19th century cabinetmakers in Boston, Baltimore, Philadelphia, and other important cities. According to Buffalo Architecture, two cabinetmakers also made names for themselves for their contributions to this era in furniture.
Duncan Phyfe
This noted American cabinetmaker was at the height of his popularity during the Empire period. He specialized in symmetry and proportion, as well as interpreting European trends like the Empire style for an American audience.
Charles-Honore Lannuier
Working mostly in mahogany with other fine woods, Lannuier was a French immigrant who brought the Empire style with him from Europe. His American interpretations of the Empire style were incredibly popular.
Understanding the Different Eras of Furniture
American Empire is just one of many famous antique furniture styles from different periods. Knowing how to recognize these styles can help you tell the age of antique furniture and even identify pieces you may not know much about. The more you learn about the history of furniture, the more you'll be able to tell at a glance as you walk through an antique shop or flea market.