Anyone who had an apartment when they were in their 20s knows that the top of the fridge is the honorary place to store every bottle of liquor you own. Maybe it's time to upgrade your cocktail storage with an antique bar cabinet.
Whether you're an intrepid young adult interested in starting your first home bar or you need more room for your at-home set up, the classiest way to economize on space is reusing stuff from the past. Antique and vintage cocktail cabinets are built to last and will be a way cooler statement piece than the two aluminum cooking racks you have set up right now. Party as hard as your grandparents used to with these useful pieces of the past.
What's a Bar Cabinet?
Unlike the modern bar cart, bar cabinets are sturdy, isolated pieces of furniture that can hold all sorts of ingredients and tools related to mixology. The most important feature of a bar cabinet is that it has doors to hide the tools and ingredients from view. Two distinct styles emerged throughout history.
Cellarettes
Before conventional bar cabinets were a major feature of 30-somethings' apartments everywhere, cellarettes were used to keep wine and liquors chilled. In the period before refrigeration, these lead- and tin-lined decorative boxes were the perfect way for upper crust households to serve their guests. These wooden boxes were highly decorative and regionally styled, stretching the length of all 13 colonies and beyond. Nowadays, there's not much need for these small pieces of furniture, so you don't see many people with them.
Bar Cabinets
There's no concrete date for the earliest bar cabinets, but examples of multi-purpose liquor cabinets started appearing in earnest during Prohibition. These wooden cabinets easily cloaked illegal alcohol from curious cops, and they evolved throughout the following decades to become a seminal piece of an entertainer's living space.
Traditionally, these cabinets hold spaces to fit drinkware, ingredients, and tools, as well as providing a place to do the actual drink mixing. These dry bars without the seating or counter space don't include sinks, so they're not made to be used for large parties and serving situations. By the 2000s, bar cabinets had fallen out of fashion, with metropolitan people favoring simple bar carts because of their industrial, minimalist style and the increasingly smaller size of living spaces.
How Much Are Antique Bar Cabinets Worth?
Furniture is a big money-maker in the antique world, so if you're interested in selling, you're a lucky duck. But, if you've got buying on the brain, you're going to have to prep yourself to drop some serious cash for your favorite piece. Crafted out of luxury woods, these (often large) pieces of furniture are usually worth about $1,000 at the very least. Of course, that's for those kept in good condition. The more elaborate and larger it is, the more it'll be worth.
Currently, the square, geometrical, and low-to-the-ground mid-century modern cabinets are making a comeback. So, buyer demand for these will continue to drive high prices. Take, for instance, this simple rectangular bar cabinet from 1970 that's currently listed for $2,245 on 1st Dibs. Or this small beautiful mirror-lined walnut bar cabinet from the 1950s that's listed for $2,472 online.
Size is also a huge factor in pricing old bar cabinets. The bigger the cabinet, the bigger the price tag. Harp Gallery sells a collection of antique and vintage furniture, bar cabinets among them. Recently, they sold an Arts and Crafts style oak bar cabinet that's under 3 feet tall for $1,075, as well as a 6 foot wide teak wood 1960s bar cabinet for $2,250. With a difference of a little over a thousand dollars, it's clear that size does matter for antique and vintage bar cabinets.
Pick the Perfect Vintage Cocktail Cabinet for Your Style
Instead of buying an overpriced aluminum bar cart from your local home goods store, you could invest in an antique or vintage bar cabinet that's going to last a lot longer and offer you more space to work your magic. But, like any piece of furniture, you need to pick the best style to fit your personal taste.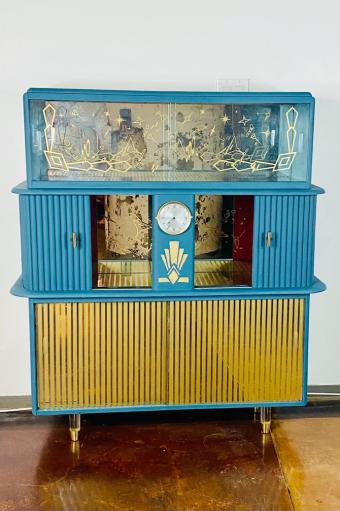 Stock Your Vintage Bar With These Must-Haves
Putting together your first at-home bar can feel a little overwhelming; there are just so many ingredients and tools available that amateur mixologists may not know where to start. Thankfully, you can't go wrong with stocking up on the basics for any cocktail cabinet.
The Bar Is Open for Business
Get your home bar ready by hunting down the best antique or vintage bar cabinet for your unique sense of style. Although they're an investment piece, they're well worth the cost because they'll last a lifetime and are always in vogue. After all, we all have to grow up sometime, and the top of your fridge can't be your liquor cabinet forever.