If you're shopping for a new dining set at the antique store or simply trying to learn about a family heirloom, these tips for identifying antique chair styles will help. Use pictures and detailed descriptions to learn what makes a Hepplewhite different from a Chippendale, a Shaker distinct from a Sheraton, and many more.
Pilgrim Slat, Shaker, or Ladderback Chairs
Pilgrim slat chairs were popular during the American Colonial Era, according to Buffalo Architecture and History. Also called Shaker or ladderback chairs, these streamlined pieces have become a classic antique chair style. During the 1600s, this simple style featured turned stiles and spindles and flat slats on the back of the chair. A variation was the ladderback, which had a back that looked like a ladder. Furniture makers constructed the wooden chairs out of oak, walnut, or pine, and the chairs often featured rush seats. Not all chairs had arms, but they were common.
Fiddle-Back and Queen Anne Chairs
Ski Country Antiques reports that the Queen Anne style often featured chairs with a fiddle-back. This means that the back included a center column that looked like a fiddle or a vase. In chairs of this era or in the style of this era, you'll see sweeping curves and gracefully shining wood. Some chairs have carvings in the shapes of fans or shells, and most feature cabriolet legs. Common woods include walnut, cherry, mahogany, and maple. The seats could made of rushes, solid wood, or embroidered fabric. Some chairs had arms.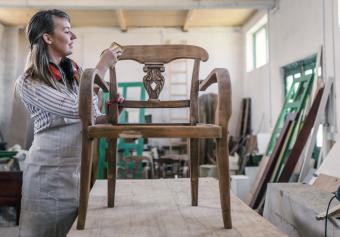 Chippendale Chairs
A variation on the Queen Anne style, Chippendale furniture is named after famed cabinet maker Thomas Chippendale. According to The Antiques Almanac, many Chippendale pieces are constructed of mahogany or cherry. Chairs often feature cabriole legs and fiddle backs, but they have more elaborate carving than Queen Anne pieces. The original pieces date from around 1750, but the style had a number of revivals over the years. Chairs sometimes have arms, and they have solid wood seats or upholstered seats.
Windsor Chairs
Another popular style of the 18th century that has endured as a classic is the Windsor chair. According to The Magazine Antiques, Windsor chairs originated in the Thames valley in England, but they were also popular in the United States. This simple style features a distinctive hooped back, many spindles, a wood seat, and wide-splayed legs. Furniture makers crafted them from many woods, including cherry, maple, and imported woods. You'll see Windsor chairs with arms and without, and this is also a popular style of antique rocking chair.
Hepplewhite Chairs
One of the most enduring antique chair styles is the Hepplewhite. Antique appraiser Dr. Lori reports that this classic furniture style is named after designer George Hepplewhite and has been popular since about 1780. These chairs feature graceful lines and simple, straight legs and feet. In contrast to the simplicity of the legs, the back of the chair could be oval or shield-shaped. Many pieces include veneers and inlaid designs of satinwood on a mahogany base. Some chairs have arms, but armless styles are more common.
Sheraton Chairs
According to Nimbus Antiques, Sheraton furniture is named after designer Thomas Sheraton, whose designs inspired the movement. The style overlapped in popularity with Hepplewhite, starting in 1790, and it also shared some characteristics like straight, simple legs. However, Sheraton-style chairs are much more elaborate. They often have rectangular backs and beautiful contrasting veneer inlays. You'll see floral designs, as well as motifs inspired by Greek mythology. The woods are frequently light colored and highly polished. Some chairs also feature delicate painting, and arms are common. Seats are usually made of wood.
Rococo Revival Chairs
From about 1850, the Rococo Revival movement dominated parlor furniture styles, including chairs. The Met Museum reports that these often came in a set featuring two sofas, two arm chairs, and four side chairs - all with matching upholstery. You can still find these pieces in sets, although it's also common to find the chairs alone. Many have been reupholstered and restored. The wood often features delicate carvings, and many pieces were polished rosewood, mahogany, or walnut. Some chairs were gilded. This is the antique chair style many people picture when they think of Victorian furniture.
Eastlake Chairs
In contrast to the Rococo style, the Eastlake style is much more geometric. According to Collectors Weekly, designer George Eastlake hated the Rococo style and created furniture designs that were a dramatic departure from it. From about 1880, the Eastlake style was the height of fashion in Victorian homes. These wood Victorian chairs had strong, often rectangular lines. There were carvings of natural motifs and geometric forms, which were softened by plush upholstery. Many chairs had arms.
Press-Back Chairs
As demand for carved and decorated furniture increased, manufacturers responded by creating chairs in factories. Discover Vintage America reports that press-back chairs featured elaborate designs like florals, animals, and even mythological creatures. Instead of being carved, the designs were etched into a metal plate and then pressed into the wood. These chairs may or may not have had arms, and they often had a caned or wood seat. Oak was a popular wood, but you'll find these in other species as well.
Mission-Style Chairs
During the early 1900s, Mission-style furniture came into popularity in response to the "fussy" styles of the Victorian era, according to Vermont Woods Studios. Also called Prairie Style or Arts and Crafts Style, these chairs featured simple vertical wood slats, heavy legs, geometric shapes, and clean lines. The traditional wood for these chairs was oak, but you'll also see them in cherry and maple. The seats were usually wood or upholstery, and they came with and without arms.
Understand Antique Chair Styles
Understanding the key features of many antique chair styles will help you identify what type of chair you have. From there, you can research antique chair values for your style of chair. Many of these styles also apply to antique rocking chairs and other types of furniture, so you can apply your knowledge to identify other types of antique furniture.