Determining an antique chair's value can be quite difficult, and you might have to pull out your magnifying glass and a detective's cap to get to the bottom of it. However, once you familiarize yourself with the furniture market and the historic styles that always sell out fast, you'll be ready to take on the furniture section of any antique store with confidence.
Clues to Help You Identify Antique Chairs
Before you can begin to determine the value of an antique chair, you first have to identify its style, manufacturer, and age, as these characteristics all impact the piece's value. If you already know some, or all, of that information, you're off to a great start. If you don't have this information, then you should check out the following tips on identifying antique furniture to help get you going.
Look for Maker's Marks
Look for any sign of an identifying mark from the manufacturer; these are potentially located on the bottom, inside drawers, or on the backside of the piece.
Look at the Joints
Different types of joinery were used during different time periods, and identifying what type of joinery you see can help you get a ballpark time period on a piece that's otherwise impossible to identify.
Look for Saw Marks
Straight saw marks generally indicate that piece was made before 1800. Circular saw marks indicate the piece was made after 1800 thanks to changing technologies.
Check Price Guides
Sometimes, you'll come across a piece that you don't even know where to start, and looking at pictures or price guides to determine the visual style of the furniture can give you a place to start.
Popular Antique Chair Styles and Their Values
Market values are so dependent on demand that even the most exquisite antique chair can have very little monetary value. But, if you're looking to make a quick buck, then you should keep an eye out for these ever-popular historic chairs.
Queen Anne Wing Chairs
Wing, or wingback, chairs are most at home in a cozy sitting room or lounge with their high upholstered backs and sloping arms. While you can find examples of these chairs from nearly every period of history, some of the most valuable come from the Queen Anne era.
Thanks to their beautiful upholstery and continued popularity, vintage examples of these chairs can sell for anywhere between $1,000-$3,500, on average, with pristine antique examples selling for upwards of $10,000. Here are some recently listed authentic examples on 1st Dibs to give you an idea:
Chippendale Chairs
Thomas Chippendale was a legendary 18th century English furniture maker whose works are world-renowned today. Spanning Rococo to Neoclassical styles, his pieces exhibit innovation and evolution. For instance, according to the famous auction house Christies, many of his chairs feature 'cramp cuts.' These can be found inside the seat rail and show how Chippendale tightened the legs onto the chairs as they were being glued together.
Because of their incredible popularity, Chippendale's style has been copied for hundreds of years, meaning it's all too easy to find reproductions of his pieces before you come across an authentic one. Although it's incredibly difficult to find authentic examples from Chippendale's workshop, those from the 18th century that emulate his style can easily sell for $10,000-$20,000, such as these recent listings exhibit:
Hepplewhite Chairs
George Hepplewhite was a famous 18th century English cabinet and furniture maker, well-known for his straight lines, inlays, and the rich woods like rosewood and birch that he used. Unfortunately, pieces in the Hepplewhite style had a resurgence in the 20th century, meaning that there're a lot of reproductions on the market that might be priced far higher than their actual value.
Yet, you should keep an eye out for authentic Hepplewhite chairs, with their embroidered seats and open wood backs, since they can sell for impressive amounts. Generally, these pieces are sold in the upper hundreds to low thousands, as you can see from these eBay listings and sales:
Tub Chairs
Tub chairs have an immediately iconic shape, defined by their low-to-the-ground, recessed seats that emulate the curves at the back of a porcelain or cast iron tub. Furniture historians have traced these tubs back to the 18th century, with accounts of them being used in the royal courts of monarchs like Louis XV. They have a decidedly masculine history, usually finding their ways into gentlemen's clubs and society halls.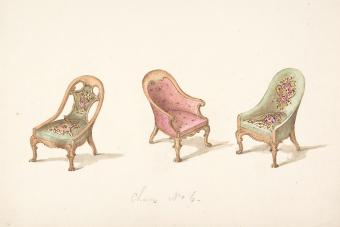 However, the tub chair is a style that's still being manufactured today, only in interesting prints and bold fabrics. While many of the earliest tub chairs were crafted out of a wooden framework, later iterations clung to the plush and tufted fabric options in an attempt to make them more comfortable. That being said, 18th and 19th century tub chairs are harder to find than modern iterations, and you're going to pay a few thousand dollars for them at auction. More recent tub chairs from the 20th century you can find in the upper hundreds at the lowest and a few thousand at the highest.
For example, here are a few recently sold antique tub chairs:
Victorian Balloon-Back Chairs
These quirky chairs from the Victorian period feature a decidedly blown balloon-shaped back and often an embroidered, brocade, or velvet upholstered seat. These chairs were created as a new development to the previous colonial balloon dining chairs, and were most popular between the 1830s and the 1850s. At one time, these chairs were rather popular collectors' items, but have since fallen slightly out of favor in the current market.
Yet, this decline in demand can work in your favor as it means you can buy antique balloon-back chairs for significantly cheaper than their previous estimated values, as well as get the jump on a product that might fall back into favor again soon. Generally, these chairs go for anywhere between $100-$1,000, on average, as you can see from these online sales:
Shaker Chairs
Shaker furniture is a product of the United Society of Believers in Christ's Second Appearing--more commonly referred to as Shakers. These Shaking Quakers refuted excess, and their utilitarian sentiments are reflected in their supremely hand-crafted wooden furniture. Most famous are their ladder-back chairs, with their multiple rungs of wood planks spread across the tall backs of their wooden dining room chairs.
Thanks to their simple design, these chairs are easily reproduced. This means that you're going to get what you pay for, and the higher quality craftsmanship, the more expensive the piece is going to be. However, it's not very often that these ladder backs are worth more than a few hundred dollars, thanks to their abundance and lack of decoration.
For example, these Shaker chairs recently sold on eBay for less than $500.
Morris Chairs
The Morris Chair is an early predecessor to the ever-popular recliner. La-Z-Boy has the Morris, Marshall, Faulkner, & Co. furniture firm to thank for inventing this low-seated and reclined chair. First designed in the mid-19th century, these chairs continued to be produced by the original company until the early 20th century.
These oddly proportioned chairs with their off-kilter appearance might not be the first antique chair that comes to mind, but they'll probably be the most comfortable ones that you ever buy. In fact, you can find these chairs being sold between $250-$750, with most costing about $350. However, the rare piece from a renowned furniture maker or of high-quality materials can be valued in the low-thousands.
Here are the prices of a few Morris chairs that've recently sold on eBay:
Factors That Affect Antique Chair's Values
Once you've properly identified the chair and gotten an idea of where it came from, its style, and its popularity in the market, there're several variables to consider that can affect its value, including:
Condition - Condition is such an important factor to valuing antique furniture because restorations can often lower values, and so those in naturally well-preserved conditions can fetch significant amounts of money at auction.
Manufacturer - As with many branded products, well-known manufacturers and furniture maker's pieces are going to sell for much greater amounts than those that don't have any known markings.
Provenance - Having the documentation to prove where a piece exchanged hands between its conception and its subsequent owners can be a seminal factor that means the difference between a few hundred dollars and a few hundred thousand dollars at auction.
Current market conditions - The market is a fickle beast and its feelings are always changing. What's popular today could very well not be popular in a month, meaning that it's important to know when it's best to buy and sell different pieces to maximize your profits or your deals.
Different Monetary Values Applied to Antiques
There are several different monetary values attached to each antique and collectible that you should be comfortable conversing in, as they might come into play if you're selling a piece yourself, online, or through an auction house.
Secondary market value - An antique chair's retail value is the price it would sell for at an antique shop.
Wholesale value - The wholesale value of an antique is the price an antique dealer pays for the piece. This is typically 30 to 50% less than the retail price of the antique when it is sold in an antique shop or other secondary market venue.
Fair market value - The fair market value of an antique chair is the price that both the seller and the buyer agree upon. Both the seller and the buyer need to be aware of all of the relevant facts and information concerning the chair and neither party must be under pressure to close the sale.
Auction value - The auction value, also known as the open market value or open market price, is the price that the antique would usually sell for if there is no forced sale position for the buyer or seller.
Insurance value - The insurance value of an antique is typically the highest retail price of the piece. It is the replacement cost of the piece if it were stolen or destroyed.
Tax value - The tax value, also called the estate value, is determined by taking an average of the prices realized at auction of items that are the same, or as similar as possible, to the piece being valued, and the value is determined by the Internal Revenue Service.
Additional Resources for Determining an Antique Chair's Value
If you know the kind of antique chair you have, a great way to find its current value is finding similar chairs at an online auction or antique shop, and you can base your estimates off of their previous sales. Make sure the chairs you use for comparison are exactly the same, or incredibly close, as the one you're trying to value, as things like condition and country of origin might significantly impact the price. You can head on over to any of these websites to get a sense of what chairs similar to your own are selling for today:
Antique Furniture Price Guides for Amateur Evaluations
These are a few of the various antique furniture price guides that can help you evaluate the worth of the pieces you have at home or in your family's collection:
Don't Sit on These Deals
Although finding an antique chair's value may take some detective work, solving the mystery can be part of the fun. Who knows, you might have your own Antique's Roadshow moment and find out that your granny's favorite rocking chair is actually worth a serious chunk of change.