Antique food scales are a relatively inexpensive way to add charm and texture to your country kitchen décor. With a nice sanding and a fresh coat of paint, you can easily put these old scales to use. Take a look at why these scales became so popular and how you can go about finding one to add to your own kitchen.
Function Defined the Style
Scales have been used by various cultures for centuries to measure such goods as medicines, foods, and materials. Antique food scales developed out of this history as a professional tool for both butchers, grocers, and bakers to use in their trades. These early scales came in a few different styles; hanging scales best served butchers, while countertop spring scales were best for bakers and grocers. However, by the early 20th century, kitchen scales were beginning to be used in the domestic sphere. In the 1930s, scales had become a widely used technology seen in most of the average homes across the American landscape, and these Art Deco scales were designed to match people's home décor with their pastel yellow, green, and cream hues.
Types of Antique Food Scales
All sorts of foods and ingredients can be measured in home kitchen scales including fruits, spices, and meats. The type of scale used depends on the accuracy of the weight desired. Some scales are so sensitive that they can measure a very small amount of something with incredible precision while other scales are better suited for an estimated weight of a large volume of food. Of these kitchen scales, you're most likely to come across two basic types.
Balance Scales
These scales consist of two platforms which use counterweights to measure the mass of an unknown object. These prepared weights that the ingredients can be measured against range from as little as ¼ pound to as a much as four pounds.
Spring Scales
These scales have either a bowl or a flat platform that sits upon a compressed spring, which when pressed, moves a needle to indicate a weight measurement. The maximum weight for these scales can be anywhere from one pound to 25 pounds.
Antique Food Scale Values
Unsurprisingly, antique domestic kitchen tools like food scales are quite popular with both collectors and average people. Most of the scales can easily be recalibrated and refinished to look brand new. Unfortunately, these items are often listed for higher values than they're actually worth, so you'll want to double check with an authority before committing to any price. Similarly, you can find good examples of well-loved antique food scales tucked away in antique stores and consignment shops for under $40. However, you can purchase very high-quality professional-grade food scales for much higher prices. For instance, one auction has a 19th century country store scale estimated to be worth between $200-$300, while another auction has a beautiful early 20th century glazed porcelain bakery scale listed for $1,250. Another excellent source of information on antique food scale identification and their accompanied values is the International Society of Antique Scale Collectors (ISASC). For just a $10 fee, they will research a particular scale, and provide you with information on the scale's manufacturer, year of origin, type, weighing principle, purpose, and an estimated value. This resource's value is truly immeasurable in comparison to other, more costly, avenues for gathering research and information on antique collectibles.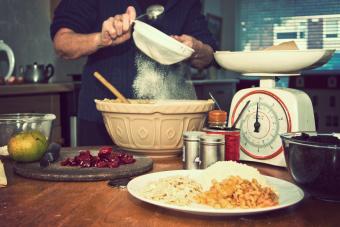 A Fresh Coat of Paint Will Do Wonders
Don't be deterred from buying an antique food scale that shows its age. Small amounts of rust and grime can easily be polished or buffed away to reveal a sturdy mechanism that was built to last. In fact, you can customize these scales by painting them with interesting colors and patterns to match your home's current aesthetic. Of course, you'll want to test out a scale's precision before using it to cook with. Take an item that you know the exact weight of - say, a four-pound bag of sugar - and set it on your scale. If it reads back to you the correct amount, then the scale doesn't need to be calibration, but if it's a bit off, you'll probably need to either re-tighten the springs or have the needle adjusted.
If It's Not Broken, Don't Fix It
Often, the longest lasting items are those made decades ago; what is currently seen as cumbersome can accurately perform its job long after modern technology has been deemed outdated and in need of an upgrade. If you're feeling tired of having appliances that are smarter than you are, think about adding an antique food scale to your modern kitchen. At the very least, it'll be a lovely statement piece that you can feature on your countertops or kitchen island.