For 80+ years, the Avon company has been selling personal care and beauty products, jewelry, and other fine items, often packaging their products in collectible glassware. If your grandparents weren't selling Avon, then they knew someone who was making all of their products (glassware packaging included) very popular with nostalgia-driven collectors. Learn more about Avon collectibles and just where you can find them today.
Their Most Popular Vintage Product: Avon Collectible Bottles
Many collectors begin collecting Avon with fragrances. There are all sorts of different collectible Avon bottles, from special issue bottles such as the glass cars and animals to cutesy decorated ones geared towards kids. Figural perfume bottles, like the car created in 1968, are especially popular, though not particularly valuable. There's an abundance of these on the resell market right now, with most of them selling for about $15-$20. As a new collector, that totally works in your favor.
However, the more valuable and collectible Avon bottles usually come from the 1970s and were a part of a popular or limited series. For example, Disney-licensed Avon fragrance bottles are particularly collectible. From the 1930s Mickey Mouse to the 1970s Small World collection, they're something to keep an eye out for.
Other Vintage Avon Items to Collect
By the mid- 1960s, Avon had embraced collectors' love of their new products, and they began creating more collectibles to charm their fans. Most of the kitschy collectibles aren't particularly valuable; but people keep buying them because nostalgia and joy are powerful feelings. Given how prolific Avon was - we're sure you've heard tales of the Avon salespeople hawking their wares - there's so much more from their vintage catalog to collect than fragrance bottles. This is just a small sampling of all that's out there.
Bells
The Christmas bell is probably one of the most sought-after items for people collecting Avon products. Each year, Avon produces a unique bell with a holiday theme, such as snowflakes, holly, or wreaths. In addition to their Christmas bells, Avon's made many other collectible bells, including:
Metal carousel bells
Ruby red Cape Cod glass hostess bells
Collector's Plates
The first Avon Christmas plate was issued in 1973 and entitled Christmas on the Farm. It has a robin's egg blue band around the outside, and in the center is a primitive illustration of a wintery farm scene. Like every Avon collector's plate that comes after it, the date is written on the band.
Avon has issued a new Christmas plate every year since 73 and along the way has added other collectible and commemorative plates to their catalog. Unlike many other decorative plates, theirs are quite reasonably priced. Even the first collector's plate produced can be purchased for under $50. And if you find yourself looking to add one of these from your thrift shop haul, check it for cracks, repairs, chips, and faded paint. Try to collect those that come with the original box intact, as they're more valuable than plates without it.
Collectible Dolls
Avon hasn't limited itself to just cosmetic and home goods products. No, like any female-marketed company in the mid-century, they jumped on the doll bandwagon, producing collectible dolls. Some of the dolls Avon has produced over the years include:
Cinderella
Rapunzel
American Heirloom
Barbie
First Day of School
Figurines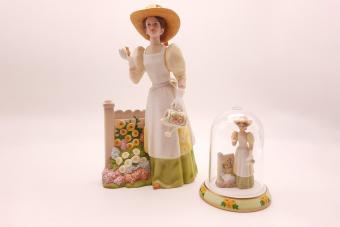 Like Madame Alexander dolls, collectors love to pick up cheap Avon figurines when they find them. Mrs. Albee figurines are particularly difficult to find because they're not produced for the public; instead, they're gifted as awards to Avon representatives. Other favorite figurines are the Scarlett O'Hara and annual Christmas figurines.
Produced in porcelain, pewter, and ceramics, these figurines come in a number of motifs, such as:
Birds
Animals
Movie characters
Nativity scenes
Ornaments
Avon releases collectible Christmas ornaments every year in some of the following popular themes:
First Christmas together
Baby's first Christmas
Precious Moments
Pewter ornaments
Plush Products
Avon has created a line of plush toys that are highly collectible, including these special releases:
1985 Carmichael the Cat
1991 Kangaroo
2000 Radio Rabbit
2000 Lion
2002 Anniversary of the Teddy Bear
Steins
You don't have to collect dolls and perfume bottles to enjoy Avon collectibles. Tankard mugs are a less stereotypically femme alternative and have become very popular items with some collectors. Themes for the steins, tankards, and mugs include these popular topics:
Baseball
Cars
Cowboys
Motorcycles
Ships
Avon Collecting Tips Every Novice Should Know
Although Avon collectibles tend to be affordable due to how abundant they are, it's still a good idea to know as much as you can about the catalog and market. Knowledge is power, and you can avoid buying a fake or wasting your money on a product that isn't priced competitively when you know exactly what you're looking for.
Make Sure Your Avon Products Are Authentic
All of Avon's collectible products will carry the Avon Fine Collectibles logo. Sometimes the company partners with other brands like Cherished Teddies. Precious Moments, or Disney. These items won't be marked with the Avon logo even though they've been exclusively created for Avon. Generally, if they're in the original packaging, the product will have wording that says something to the effect of exclusively created for Avon.
If you don't see the item marked with the Avon logo, think twice about your purchase.
Look for Items in the Original Packaging
As with many collectible items, the original package can dramatically enhance the value of Avon collectibles. These items command a higher price on the secondary market. Keep in mind that items in their original packaging with the certificate of authenticity, if there was one, will be worth far more than collectibles that have lost their boxes. However, don't generally get your hopes up that you've lucked out on thousands of dollars in the thrift store. Vintage Avon collectibles still tend to run low on the price scale.
Understand How Avon Collectibles Are Valued
Before you buy or sell a piece of Avon glassware or another collectible item, you should get a thorough understanding of how they're valued. Although original packaging and the condition of a piece are important, the biggest factor that drives the price of these items is demand. If no one's collecting your item, then it isn't worth as much.
To find out the value of your piece, examine the wares at various Avon shops, and then look at recently sold items on eBay. You'll find out whether these pieces are selling and the amount that collectors paid for them.
A particularly helpful book on Avon value is Bud Hastin's Avon Collector's Encyclopedia, which includes information about and values for a number of collectible pieces. You can also speak with an antique appraiser online or in person for the best sense of a piece's value, but keep in mind that appraisals always cost money and for items that are typically low-cost, it's not always the best financial route to take.
Where Can You Buy Vintage Avon Collectibles?
Whether you're interested in all kinds of vintage Avon products or just the top-dollar ones, you'll find a number of these items at local antique shops, flea markets, and thrift stores. However, if you're looking for the best selection, online is the way to go.
Vintage Treasures A to Z
Vintage Treasures A to Z has a more limited selection of Avon collectibles, but it's still worth checking out for the quality of the items. There are several glassware and china collectibles, as well as Avon beauty products in mint condition and with their original packaging. Prices range depending on the item, but most pieces are less than $60.
Avon Collectible Shop
Offering everything from Christmas ornaments to jewelry by Avon, the Avon Collectible Shop is another great shopping resource. You'll find items priced as low as six dollars, as well as more valuable pieces to add to your Avon collection.
eBay
Perhaps one of the best sources for Avon glassware and collectible items is eBay. With thousands of vintage and antique Avon items, you'll have to be specific about what you want to find. However, you'll have great luck finding items that may be more challenging to locate in other stores.
Etsy
On par with eBay in terms of searchability, scope, and price is Etsy. A modern take on the marketplace format, Etsy has a huge collection of Avon collectibles spanning their entire history for various prices.
Retro Decorating Just Got Easier (and Cheaper)
With granny aesthetics making its way into the mainstream, it's only a matter of time before Avon products get their time in the spotlight. Jump on the trend before it's a thing and get a bucketload of these vintage goods while they're still cheap.