Few glass-making companies have risen to stratosphere status. It's easy to look at the saturated colors of Murano pieces and understand exactly how they became a superstar manufacturer. But the lesser-known Fostoria Glass Company, with their iconic vintage etched patterns, remains one of the biggest names in American glassware. Discover the domestic delights of Fostoria glass and the patterns that people still search for.
Fostoria Glass Company: The Great American Glass Maker
The Fostoria Glass Company ran for nearly 100 years, starting its operations in Fostoria, Ohio, in 1887. The company went out of business in 1986. For decades, Fostoria was the premiere American glass manufacturer. They're best known for making luxurious — but relatively affordable — clear crystal glassware in a variety of etched and pressed patterns. They were such a big name in the glassware game that chances are high if you find crystal glass in a thrift store, it's a Fostoria.
Fast Fact
Every American president from Dwight Eisenhower to Ronald Reagan specially ordered their own Fostoria glassware sets. 
What Does Fostoria Glass Look Like?
Unfortunately, most vintage glassware brands look extremely similar to the untrained eye, and the same goes for Fostoria glass. While they typically made clear crystal pieces, they also introduced colored glassware that tied in with the cheap Depression glass movement. Some popular colors included blue, green, yellow, and amber.
Although they made an array of pieces (such as candlesticks), Fostoria's signature was glass stemware. Basically, these are drinking glasses and dessert cups, etc. that balance on a thin stem. And they made a lot of stemware, so it's an easy thing to look for on your thrifting adventures.
Pattern Matching Is the Quickest Way to Identify Fostoria Glass
For such a prominent glassware company, Fostoria didn't buy into one manufacturing trend. They hardly ever stamped their products. So, this makes identifying the glassware brand a challenge. 
Alas, this means your next best bet is to match patterns. Whether it was etched with sandblasting to create fine details or was molded with patterns in the firing process, Fostoria glass is known for their pattern variety. So, matching pattern descriptions and images to the items you're looking at is the fastest way you can pick out a vintage Fostoria piece.
Popular Fostoria Glass Patterns to Collect
With 99 years of patterns to go through, it's impossible to know every single one. Instead, look for these popular Fostoria patterns that pop up on the market all the time.
American
Fostoria's best-known and longest-produced pattern is American. It's got a sort of rippling ice-cube tray design. It's a really tactile pattern, with peaks and valleys you can run your fingers over. Clear crystal is the most common, but you can find it in other colors, as well.
June
June is one of the company's etched patterns. This gives it a more elegant, expensive appearance in comparison to the molded patterns and their Depression Glass similarities. The June pattern features a repeating series of garlands and tiny flowers held together with a delicate bow. It was produced between 1928-1952.
Rose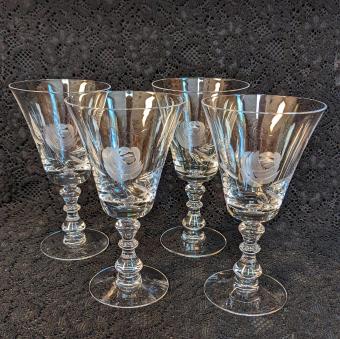 One of the patterns to debut during Fostoria's heyday was Rose, and it features a prominently etched rose blossom in the center. This simplistic mid-century design represents one of the last big hits before their 70s slump and continued decline.
Helpful Hack
If you want to pick up a reference to deep-dive into Fostoria patterns, check out Fostoria Glass Society of America's online bookstore.
How Much Is Vintage Fostoria Glass Worth?
Vintage glassware is one of those collectibles that has a huge value range, which depends on so many factors. Values depend on the patterns, number of pieces you have of one specific pattern, and their color and condition.
That being said, high-quality Fostoria glass pieces will sell for around $20 at the very least, with some selling for closer to $50. For example, this dark blue American pattern relish tray sold for $24.99 on eBay. You'd think with the dark blue color, it would sell for more. But since the American pattern is widely available, it's not super valuable.
Now, completed service trays and glassware sets usually bring in about $100-$500 at auction. People will pay more for the convenience of not having to hunt down every piece of a pattern. For instance, someone paid $350 for a 150-piece collection of clear American glass in 2022.
America's Favorite Glassware You've Never Heard Of
For how much Fostoria dominated the American glassware industry from the 1920s to 1960s, it's fascinating how it has faded from cultural memory. We remember Depression Glass and Fiestaware, but few can connect the dots between their grandparents' etched glassware and Fostoria. But there are dedicated collectors keeping the name alive… and you can, too.