If you're ready to part with your collection, learning how to sell Beanie Babies can help you get the most money for these popular stuffed animals. From figuring out the value of Beanie Babies to learning how to market these furry friends, there are some important skills that can make the difference between getting a few dollars or hundreds.
Know the Value of Your Beanie Babies
Most Beanie Babies aren't especially valuable with sales prices under ten dollars. However, certain Beanies are worth big bucks. Take a moment to determine the value of your Beanie Babies. Then check through your collection to see if you have any of these rare Beanie Babies:
Princess the Bear - This royal purple bear was produced in a very limited quantity to honor Princess Diana after her death. It has a white rose on the chest and a purple neck ribbon. Although some sources list it as worth $500,000, there are no records of anyone paying that much. Princess the Bear did sell on eBay in 2020 for $15,000, though.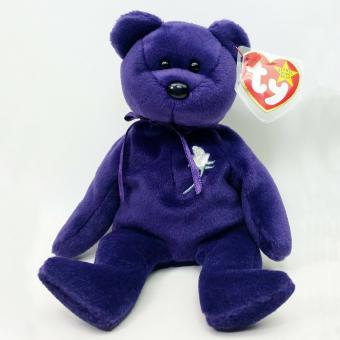 Peace the Bear - This rainbow tie-dyed bear features a peace sign on the chest. It was prone to errors, including misprinted tags and incorrect addresses on the tags. A Peace with several tag errors sold on eBay in 2020 for $60,000.
Bubble the Fish - This 1996-issued Beanie Baby is worth significant money if it has some noted errors, including an incorrect tag, the wrong color thread on the mouth, and more. If you find an error on this black and yellow fish, it could be worth $1,000.
Patti the Platypus - This adorable platypus is part of the original collection, released in 1993 and is prone to tag errors. The errors can add significant value as in one example that sold on eBay for $25,000.
Brownie the Bear - Part of the original collection, Brownie is a sweet and simple brown bear that's difficult to find in good condition. If you have him and want to sell this rare Beanie Baby, he could be worth almost $400.
Consider the Best Time to Sell
While Beanie Baby collectors will want valuable Beanies at any time, you can make more if you time your sale properly. Think about the market for a particular Beanie Baby and then try to list it for sale at a time that makes sense. Keep these tips in mind:
Sell holiday Beanies near their holidays. For instance, Valentino the Bear may fetch more near Valentine's Day. The same goes for Halloween, Easter, and Christmas Beanies.
Consider anniversaries of major events. If the Beanie commemorates a big happening, sell it near the anniversary of that event. For example, USA Today reports that Princess the Bear may bring more money near the anniversary of Princess Diana's death.
Think about current events. If a major sporting event is happening, Beanies that represent the team mascot may be worth more. If there's an election, Beanies that signify a political party may go up in value.
Know How to Sell Beanie Babies Online
Although you can sell Beanie Babies locally, you'll get the most exposure and the most interest from buyers if you sell online. How you write a listing is important, however. These tips can help:
Mention the name of your Beanie Baby in the listing name to make it easy to search.
Tell what makes the Beanie Baby rare or special, including specific errors on the tags.
Describe the condition in detail, noting any damage.
Include great photos that show the Beanie Baby from every angle.
Don't Limit Yourself to Beanie Babies
While Beanie Babies can be valuable, don't limit yourself to them. If you have other Ty collectibles in your collection, such as wearables and even Beanie Boos, they may be valuable as well. Take some time to research them and list them in a way that will interest potential buyers, and you may find yourself with a windfall.