For some, basketball is the best sport out there, but for most millennials, it served as the entertaining backdrop to the iconic 2000s movie, Space Jam featuring the legend himself, Michael Jordan. While you might not have collected sports cards as a kid, you've probably seen tons of the lone binders full of them in thrift stores and second-hand shops. Next time you find yourself drifting through the shelves, don't pass them by because some of those trading cards might be worth an eye-watering amount of money. After all, the most valuable basketball cards have price tags pushing six figures.
The Most Valuable Basketball Cards to Find in Your Collection
| | |
| --- | --- |
| Most Valuable Basketball Cards | Record Sales Price |
| 2009-10 Autographed Stephen Curry Logoman Rookie Card | $5.9 million |
| 2003-04 LeBron James Upper Deck Exquisite Collection Rookie Card | $5.2 million |
| 1996 Topps Kobe Bryant Rookie Card | $1,795,800 |
| 2018 National Treasures Luka Doncic Rookie Card | $4.6 million |
| 1997 Autographed Michael Jordan Upper Deck Game Jersey | $1.44 million |
| 1980 Topps Magic Johnson Rookie Card | $799,500 |
| 1986 Fleer Michael Jordan Rookie Card | $738,000 |
| 1948 George Mikan Rookie Card | $426,000 |
| 1961 Fleer Wilt Chamberlain Rookie Card | $348,000 |
You won't be able to stop yourself from filling up with that special brand of March Madness fervor when you get a look at just how much these highly valuable basketball trading cards are. From worldwide legends like Magic Johnson to die-hard fan deep-cuts like George Mikan, these NBA basketball cards from you and your parent's generations are worth a fortune today.
Autographed 2009-10 Stephen Curry Logoman Rookie
Despite being graded two levels below gem mint at an 8, this Stephen Curry rookie card from the 2009-2010 season sold for $5.9 million in 2021. A millennial legend to grace the courts, Curry has become one of the major faces of the game, so it's only natural that his rookie cards would garner a lot of interest. In particular, this multi-million dollar card gets its value from his gem mint 10 autograph. After all, no one can resist a good-looking Hancock.
2003-04 LeBron James Upper Deck Exquisite Collection Rookie Card
If people were randomly polled to name any famous basketball player, LeBron James would be at the top of many people's lists. With a seasoned career starting in 2003 with the Cleveland Cavaliers, the rookie card that commemorated his first season is a special one indeed. While the Upper Deck Exquisite card series itself sells for about $500 at retail, these highly graded James cards are rare because of how few of them actually come to auction. For one thankful buyer, a mint 9 card appeared in 2021 and sold for $5.2 million.
1996 Topps Kobe Bryant Rookie Card
Manufactured by the iconic sports trading card company, Topps, Kobe Bryant's rookie card offers a dynamic portrait of the basketball legend who was gone all too soon. Yet, his tragic death is what catapulted his trading card values skyhigh, and led to them flooding the auction market. Graded not by PGA but by BGS, one specific card was in such fine condition that it was given the Pristine/Black Label 10 status, making it one of only two cards to ever get the label. In 2021, it sold for $1,795,800, making it the highest selling Kobe Bryant card in history. But, you can be on the lookout for other Bryant rookie cards, as collectors' interest in them hasn't faded yet.
2018 National Treasures Luka Doncic Rookie Card
A real unusual card to make the list is Luka Doncic's rookie card from the 2018-2019 Dallas Mavericks season. From the National Treasure series (a high-powered trading card pack known to have the rarest of the rare cards) and featuring the iconic 'logoman' patch (a super rare addition), it gets a lot of its value from the autograph running along the bottom. On top of it all, it's truly one of a kind. When put to auction, is sold for $4.6 million, beating out the previous record holder - the 1952 Mickey Mantle card - for the most expensive sports card ever sold.
1997 Michael Jordan Upper Deck Game Jersey + Autograph
Sometimes a card company will put out a super interesting, unique card to the market with more appeal to it than just the illustrations on the cover. This is the case for a 1997 Upper Deck card that bears Michael Jordan's signature and a piece of his 1992 NBA All-Star Game jersey. The prospect of having a tangible piece of your hero can make anyone a little irrational, and that's what happened during this auction where the PSA grade 7 card sold for $1.44 million. While you might not find many of these cards lying about, it's a good reminder to keep your eyes peeled for any niche and novelty basketball cards that come your way.
1948 George Mikan Rookie Card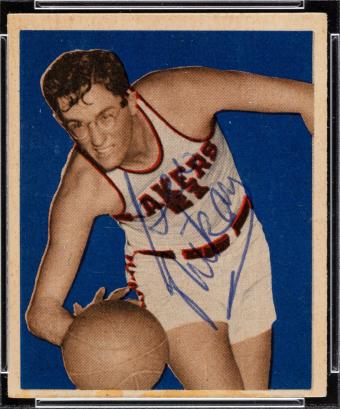 Shooting to basketball stardom with the Lakers before they moved out West, George Mikan is considered by most fans and players to be the first major superstar of the professional sport. Debuting in the NBA in 1949, he went on to carve out a name for himself as a winner, all while wearing the most impractical vintage glasses you've ever seen. Basketball cards from this period are harder to find in good condition, particularly ones of star players, so finding a recognizable George Mikan rookie is lucky. Even low grade cards are worth putting to sale, but the higher ones will bring in the big dollar amounts, like this PSA grade 9 card that sold for $426,000 in 2021.
1980 Topps Magic Johnson Rookie Card
You can follow Magic Johnson's meteoric rise in HBO's dramatic retelling of the Lakers team in the 1980s in Winning Time; the show's release just reminded people of how much Magic Johnson meant to the sport, and so collectors had a renewed interest in getting merch and memorabilia related to this star player. Rookie cards are by far the most valuable of most players' cards, and the same goes for Magic Johnson. His triptych 1980 rookie isn't exactly hard to find, but because so many were produced (and with an immeasurable number of mistakes), finding a gem mint or near mint card is like finding the holy grail. One PSA gem mint 10 card might as well have been the holy grail for how much it sold at auction - an impressive $799,500 to be exact.
1986 Fleer Michael Jordan Rookie Card
Michael Jordan changed the nature of basketball forever when he broke out onto the scene in the 1986-1987 season with the Chicago Bulls. Since he's such a popular figure in the sport, any collectibles connected to his time in the game are highly coveted. One of these is his rookie card, printed by Fleer and featuring him mid-dunk. Of course, you'll find them selling for the highest amounts in the gem mint 10 conditions. For example, in 2021, two gem mint 10s sold for $738,000 each.
1961 Fleer Wilt Chamberlain Rookie Card
Although this card doesn't sell for nearly as high of a price as the top selling basketball cards of all times, there's a big chance that one of your parents or grandparents might have Wilt Chamberlain's rookie card lying around. Premiering in the 1961 season with the Philadelphia Warriors, Wilt Chamberlain quickly made a name for himself as a dominant player, and his rookie card shows an unflinching portrait of his power. As the pop culture interest in all things vintage continues to rise, we'll begin seeing people paying more attention to these mid-century powerhouses. We're already seeing it with the recent sale of a mint 9 card from Heritage Auctions for $348,000.
Tips for Selling Valuable Basketball Cards
When you think of sports trading cards, most people think about baseball, but there's a huge market out there for sports cards of all kinds. Basketball cards, in particular, are some of the more valuable, with some cards selling for millions of dollars. But, if you're browsing through a thrift store or your great uncle's closets and come across a binder full of vintage basketball cards, then you want to make sure you can pick out the ones that might be worth some money.
If you're looking into selling cards, you want to consider a few things first:
You don't have to recognize the player - Unless you've got an encyclopedic knowledge of basketball, then chances are you won't recognize every player's name you see. You're probably tempted to pick up cards with players you know, but some of the most coveted cards can be ones of players you've never even heard of.
Look for the rookie cards - If a player goes on to have a serious basketball career, then their rookie card is worth a lot because it marked their debut into the season and, likely, far fewer of the cards were made than any of their subsequent ones after their acclaim. Unfortunately, not every card is marked rookie or RC, so you might have to look up a player's b-ball tenure to make sure you've got a true rookie in your hands.
The higher the grade, the higher the value - Card collectors want cards that're in the best condition possible, and that means they'll pay the most money for the highest graded cards out there. This means that all the cards you plan to sell have to be graded, but ones with crisp colors, no bending/folding/damage, and so on will get those coveted gem mint and mint statuses.
Autographs always increase value - So long as an autograph's authenticated, it'll always increase a card's value. As you can see with the million dollar cards, autographs can turn a mid-priced basketball card into something legendarily expensive.
Sit Courtside on These Valuable Basketball Cards
Basketball may not be the most popular sport in America, but its fans are just as fevered about their beloved sport as any football or baseball fan is. When it comes to licensed merchandise, basketball cards continue to be a popular item for fans and collectors alike. Although there are far more inexpensive cards than valuable ones, finding that one-in-a-million card makes rifling through the musty piles worth it.