Being a Marvel fan in the '80s and '90s was tough. The biggest pop culture moments of note for the comic book company were animated series adaptations of their best-selling titles, Spiderman and The X-Men. Most of your Marvel memories probably center on kids and teens hiding comics in between the pages of their textbooks, but the comics weren't the only thing the company made at the time. Trading cards were an inescapable fad in the '90s that Millennials still love to reminiscence about. But Marvel's trading cards didn't make a splash like others such as Pokemon or Yu-Gi-Oh!
In 21st century, though, interest in the Marvel Comics Universe has hit the mainstream, making your old Marvel cards worth a second look. Now's the perfect time to try to sell any of those forgotten classic cards that are still pressed in between the pages of your favorite comic books.
Most Valuable Marvel Trading Cards for a Super-Sized Profit
| | |
| --- | --- |
| Most Valuable Marvel Trading Cards | Estimated Value |
| 1990 Marvel Universe Hulk Error Card | ~$15,000 |
| 1980 Terrabusi Wolverine | ~$2,000 |
| 1990 Marvel Universe Spiderman | ~$1,000 |
| 1994 Marvel Masterpiece Gold Foil Wolverine | ~$2.000 |
| 1990 Marvel Universe Signed Stan Lee | ~$2,000 |
| 1990 Holographic Silver Surfer | ~$500 |
| 1990 Black Panther | ~$5,000 |
| 2013 Fleer Retro Blue #5 Spiderman | ~$150,000 |
| 2013 Fleer Retro Green #9 Captain America | ~$70,000 |
| 2013 Fleer Retro Green #16 Wolverine | ~$70,000 |
On the whole, vintage Marvel trading cards aren't worth that much money, mainly because only die-hard collectors look for niche Marvel goods like trading cards. But, the earliest cards from the '80s and '90s can be harder to find in museum-quality condition (aka mint or like-mint), and these cards can sell for a couple thousand dollars to the right collectors. So, if you've managed to hold on to any Marvel trading cards that you or your siblings collected as kids, you should browse through the piles to see if you've got any of these valuable pieces in the bunch.
1990 Marvel Universe Hulk Error Card
There's nothing a collector loves more than finding a card that's been messed up in the printing process, leaving it with wonky pictures, incorrect spellings, and upside-down images. Early Marvel cards didn't have many of these misprints, but their 1990 Hulk card featuring the cover art of a team up between Hulk and Wolverine is known for a printing error. A couple of cards have been found with an upside down blurb about the Hulk on the back. Given that 1990 was the first year that Impel manufactured these Marvel Universe cards, the 1990 Hulk error print is all the more juicy of a collectible. So few of them come up for sale that they're unpredictable when it comes to how much they'll sell for. But recently, one with a near-mint 9 grade from the famous grading company, PSA, is currently listed on eBay for $15,000.
1980 Terrabusi Wolverine
One of the earliest known Wolverine cards doesn't come from a traditional trading card series from the Marvel Universe. If you find this 1980 card, you won't be able to stop yourself from chuckling at Wolverine in his laughably iconic bright yellow jumpsuit. In an odd turn of events, this card was sold inside candy products made by the candy company Terrabusi across Spain. According to PSA, there are only about 15 known copies, with one recently selling on eBay for $2,025. The easiest way to check if your Wolverine card is a rare Terrabusi is to look on the back of the card for a printed ad promoting the Spanish candy.
1990 Marvel Universe Spiderman
First edition cards are majorly popular and usually worth a lot just because they were the first prints in a series. Combine being a first edition with the art for a super well-liked character, and you've got a card worth a good bit of money. The 1990 Spiderman card in Marvel's Marvel Universe card series is one of these special finds. When it's in tiptop condition, this Spiderman is worth about $1,000. For instance, one recently sold for $1,200 online.
1994 Marvel Masterpiece Gold Foil Wolverine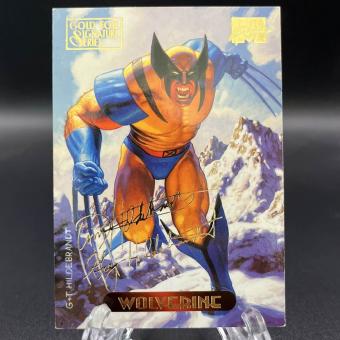 Hugh Jackman may have turned Wolverine into a household name, but the comic book character has been entertaining readers for decades. Immortalized in the Marvel Masterpiece trading card series released in 1994, this gold foil card is a fan favorite. Depicting a holographic Wolverine in mid-fight on a snow-covered mountain, what the card lacks in rarity it makes up for in fan interest. Who can resist a card with a superhero that's got claws like that? One of these cards recently sold on eBay for $2,000, and being in the best condition possible (gem mint 10) gave it the boost it needed for someone to buy it for a good sum.
1990 Marvel Universe Signed Stan Lee
Stan Lee was inserting himself into comic book stuff long before Marvel movies were a thing. In 1990, the Marvel Universe card series's #161 card was Stan Lee, a major writer and creator for the comic book company. The card itself isn't particularly rare, despite coming from this vintage set, but signed cards by Stan Lee have their own appeal. As you probably know, things signed by people who have died tend to draw a big crowd. Granted, you won't make more than a couple hundred dollars off of one of them in a good condition as it's the autograph that really makes the cards worthwhile, but it's a nice chunk of change to bring along on your next vacation.
1990 Holographic Silver Surfer
The Silver Surfer already has an enigmatic reputation in the Marvel Universe, so it's only fitting that their card is just as mysteriously desired. The 1990 Marvel base cards of some of their most famous characters are all valuable in their own right, but this holographic variant of the Silver Surfer card is really sought after thanks to how difficult it is to find one that hasn't been beat up and put through the wringer. Interestingly, you can find the card for about $20-$30 if it's in rough shape, but mint cards usually sell for at least $150, if not more. Take this mint 9 card that sold for $560 in 2022, for example.
1990 Black Panther
An underrated Marvel character, Black Panther burst onto the scene for most people with Chadwick Boseman's electric performance as the Wakandan superhero in the 2018 film. It's Boseman's untimely passing that actually pushed the original 1990 base card to jump up in value in the past few years. Currently, cards with the highest grade (gem mint 10) have a huge fluctuation in how much they sell for. In one month, you can find cards in the best condition selling for $50 and $2,000 at the same time. It all depends on which collector finds the lot first, and how badly they want Black Panther in their collection. Most recently, someone bought one in perfect condition for $4,800 on eBay, which shows that the Black Panther card is definitely one to consider selling right now.
2013 Fleer Retro Blue #5 Spiderman
In a rare departure from the vintage Marvel cards, this specific mint 9 grade Spiderman card from 2013 is one of the highest selling Marvel cards in the past few years. The winning bid in the Goldin auction for the rich electric green and red card was $168,000, a far cry from the usual bids for highly collectible Marvel cards. Due in large part to how popular the Spiderman character is and being the only card with this high of a mint in the collection led to its momentous sale to someone whose spidey-senses were seriously tingling.
2013 Fleer Retro Green #9 Captain America
Featuring Captain America winding his fist up to dole out some serious comic book justice, this base card comes from the beloved 2013 Fleer Retro series. These 'precious metal gems' collectible cards are super saturated and pretty to look at - pretty enough to pay thousands of dollars for, in fact. For instance, one near perfect Captain America card sold for $74,400 in a Goldin auction.
2013 Fleer Retro Green #16 Wolverine
Another popular card from the Fleer Retro card series is Logan Howlett aka Wolverine. Wolverine has a huge cult following ever since Hugh Jackman broke onto the screen puffing on a cigar and releasing razor-sharp claws from inside of his knuckles in Marvel's first big feature film, X-Men. Collectors love these high-quality cards and will pay a pretty penny for them. With only four known cards to be looked at by a professional in this green variant, the rare mint 8.5 green Wolverine was worth a hot $73,200 to one recent collector.
Tips for Finding and Selling Valuable Marvel Trading Cards
Finding the best cards and knowing where to sell them doesn't require any kind of training or special knowledge. In fact, most people who're selling these cards online are average people like you and your friends. Ultimately, the marketplace that'll give you the biggest audience and help you sell it the quickest is eBay. Since Marvel trading cards aren't in high demand, other collectors' sites aren't well-suited for someone just trying to make a little money off of one or two cards.
That being said, when you're looking for cards to sell either in your collection or to buy with the intent of flipping a profit, you want to keep a few key things in mind:
Complete Sets - Complete sets of the different Marvel cards series, such as the Marvel Universe series from 1990, are more valuable together than they are by selling each card individually. These full sets (especially when they're unopened) sell for about $700, on average.
Gem Mint Grades - Most trading cards' conditions are graded through PSA, but no matter what company a card gets graded through, it's almost impossible to sell a card to any collector without having their condition looked over by a professional. So, if your cards haven't already been graded, you're going to want to send them off to be assessed.
Printing Errors - Basically, you want to keep an eye out for anything that seems off on these vintage cards. Images being inverted, noticeable misspellings, double-printed images, and so on are all things that can make a card one-of-a-kind worth a one-of-a-kind price.
Make Your Own Superhero Origin Story
Getting into the trading card business will make either a superhero or supervillain out of you. Collectors can be cutthroat, and what buyers are interested in is always changing. But, the MCU is here to stay, making it the perfect opportunity to bring in a little cash on their vintage trading cards. So, get out there and create your own superhero origin story by slipping a card from your childhood collection into the hands of the perfect collector.