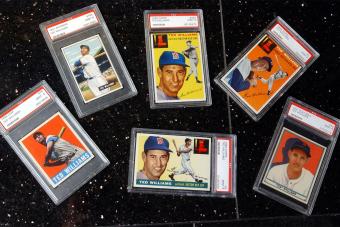 Take me out to the ballgame, where Topps cards are being sold. Buy me some Mickeys and Jackies, too. I don't care 'bout what you have to do! Let me root, root, root for the rarest. If they don't sell, it's a shame. For it's one, two, three strikes, you're out at the old ball game.
Once you realize just how much money the most valuable Topps baseball cards have sold for, you'll be singing along to this updated tune.
10 Most Valuable Topps Baseball Cards
Topps, a Brooklyn based company, got its start in 1938, but it didn't get into the annual baseball card business until 1952. Because of low production numbers, fragile materials, and an adolescent audience, the majority of the extremely valuable Topps cards come from the 50s and 60s. See just which of the old Topps baseball cards could make you a fortune.
| | |
| --- | --- |
| Most Valuable Topps Baseball Cards | Record Sales Price |
| 1952 Mickey Mantle #311 | $12.6 million |
| 2011 Mike Trout "Platinum" | ~$1.1 million |
| 1969 Reggie Jackson #260 | $1.005 million |
| 1952 Jackie Robinson #312 | $960,000 |
| 1963 Pete Rose #537 | $717,000 |
| 1954 Hank Aaron #128 | $645,000 |
| 1968 Nolan Ryan #177 | $612,360 |
| 1952 Willie Mays #261 | $478,000 |
| 1955 Roberto Clemente #164 | $478,000 |
| 1955 Sandy Koufax #123 | $396,000 |
1952 Mickey Mantle #311
In a stunning display of wealth, one collector spent $12.6 million on a 1952 Topps Mickey Mantle card. Mickey Mantle is one of the best-known baseball players in American history, and finding one of his original baseball cards is an accomplishment all on its own.
In particular, the 1952 Mickey Mantle is special because of the specific print run it comes from. According to the auction that sold it, the #311 card (and other high numbered cards) from that season were printed too late to go into production. After sitting for months, they were eventually destroyed, with very few examples making their way into collectors' hands. So, if walk into a thrift store knowing what only one baseball card looks like, it should be this one.
2011 Mike Trout "Platinum"
The 2011 Mike Trout card is the only modern Topps card to break the most valuable list. What makes this Angels card worth so much is that it's a rare 1/1 card. If you don't know anything about trading cards, a 1/1 card means that only one of those cards exists. Naturally, that makes it super rare and valuable.
In 2021, the card sold in a PWCC auction for almost $1.1 million in a combined sale to popular figures like DJ Skee and Carter Reum.
Quick Tip
Always check any trading cards you have for the 1/1 symbol on the front, as these are the rarest trading cards and are always worth something.
1969 Reggie Jackson #260
Reggie Jackson is one of the many hall of famers to make this list. To date, Mr. October's most valuable baseball card is his commemorative cardboard rookie from 1969. Although these cards aren't as hard as some rookies to find, there's only one card that's been graded a gem mint 10 (aka basically perfect in every way). And this perfect baseball card sold in 2021 for $1.005 million.
Quick Tip
Condition seriously matters for baseball cards. The better kept one of your cards is, the more money you can sell it for.
1952 Jackie Robinson #312
Jackie Robinson's impact on America's favorite pastime is almost unparalleled. He was the first Black man to play in the major leagues, helping to break down another racist facet of American society that was trying to uphold racial segregation. Because of how successful he was as a player (winning Rookie of the Year and a World Championship) and his historical significance, his baseball cards are worth a ton.
The most expensive to date is an almost perfect 1952 card. Only eleven of cards with this quality are known to exist, and this one sold for $960,000 in a 2021 auction.
1963 Pete Rose #537
Pete Rose is a man who has devoted his life to the game, formerly as a player for the Cincinnati Reds and Philadelphia Phillies, but also as a team manager. He's won several awards throughout his career, but when it comes to his Topps baseball cards, one stands above the rest - the 1963 "Rookie Stars" card.
A bright yellow, blue, and red card that showcases the top four rookie players from the 1963 season, Topps #537 does quite well at auction. One perfect gem mint 10 card (the only of its kind) came to auction in 2016 and sold for an impressive $717,000.
1954 Hank Aaron #128
Jackie Robinson wasn't the only Black man fighting for his place in the majors, and Hank Aaron was a famous contemporary who showed the world that rules were made to be broken. In 1954, he broke Babe Ruth's home run record, cementing him in the baseball history.
His Topps card from the same year is a worthwhile card to find. He was playing for the Milwaukee Braves, and the orange card shows a side-profile of the young outfielder. Several copies of the vintage card have come up for auction, with an almost perfect one selling in 2021 for $645,000.
1968 Nolan Ryan #177
An iconic mid-century pitcher for several teams, Nolan Ryan, spent over 27 years in the majors. While Topps printed many cards honoring his seasons, the 1968 "Rookie Stars" card, where he shares the spotlight with teammate Jerry Koosman, is the most valuable. One perfect gem mint 10 card (the only one of its kind so far) sold through Heritage Auctions in 2016 for $612,359.83.
1952 Willie Mays #261
Nineteen fifty-two is one of the most sought after Topps baseball card years, due in large part to it being the first of the company's annual baseball card series. Another of these highly valuable 1952 cards is Willie Mays #261 card. Although PSA (a popular grading service) has seen over 1,500 submissions of this card, only one has surfaced in almost perfect condition.
A Mickey Mantle contemporary, any serious collector would take out a mortgage to own a high-quality 1952 Willie Mays. Most recently, an almost perfect card sold for $478,000 in a Heritage Auctions sale.
1955 Roberto Clemente #164
The most valuable rookie card from the 1955 series is Roberto Clemente's. It's an important series for baseball collectors because of the way Topps changed the vertical portrait format to a horizontal portrait featuring the players in action. Of course, only the cards in the best condition could make it in the top 10 most valuable Topps baseball cards. So, the highest selling Roberto Clemente so far is an almost perfect card that sold in 2016 for $478,000.
1955 Sandy Koufax #123
Along with Roberto Clemente's rookie card from 1955 is the only other covetable rookie from the 1955 season - Sandy Koufax. A pitcher for the Dodgers before they made their controversial move to Los Angeles, Sandy Koufax had a relatively short career in the majors. Yet, his Topps rookie card still piques collectors' interests. The most expensive of these rookie cards sold in 2022 for $396,000.
All Bases Are Loaded With These Valuable Topps Baseball Cards
When you think of sports trading cards, you think of Topps. One of the most important names in the game, Topps has decades of cards in circulation. Yet, for all the new cards they produce each year, it's the early post-war vintages that collectors keep coming back to.