Ambiguous images made with colorful swirls in a marbled pattern. Are we talking about the most popular phone case from the 2010s, or are we talking about Nemadji pottery? Invented in the 1920s, Nemadji pottery is a simple and timeless style that continues to bring artistic expressions from the American Southwest into suburban homes and metropolitan apartments everywhere.
Nemadji Pottery's Dubious History
Nemadji pottery is the perfect example of a piece of history that feels like it doesn't belong to the generation that created it. Like how the name Tiffany has Medieval origins, Nemadji pottery looks like something an arsty Instagram girl would've concocted in 2010. Instead, this swirling painted pottery was created in 1929 by Minnesota's Nemadji Tile & Pottery Co., which only stopped production in 2001.
In a move that's very 1920s, the company used an Ojibwe word to name themselves and capitalized on the faux indigenous connections to market their work as coming from native communities. Instead, a white guy named Eric Hellman came up with the pretty idea. And, the huge rise in cultural theft (orientalism in design and fashion, Egyptian-inspired fashion, and literal crushed mummy paint) made people ripe for being interested in non-western products. Thus, Nemadji pottery became a huge staple of the American west's tourist industry.
What Does Nemadji Pottery Look Like?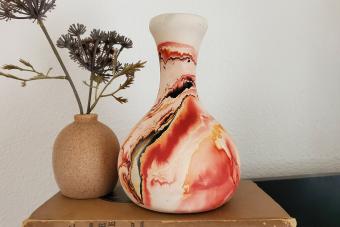 No two Nemadji pieces are the same, but they do have a defining style that you can identify based on looks alone. Their major characteristics are:
They're unglazed.
Usually, they come as neutral toned.
They're decorated with natural swirls.
They're made in round (usually squat) vase shapes.
They have a rather simplistic design look.
How Can You Identify Nemadij Pottery?
Other than by looks alone, the easiest way to identify a piece of Nemadji pottery is by looking at the bottom for a maker's mark that says "Nemadji Pottery." This name, when spelled out, should form a circle. Depending on where they were made, you'll sometimes find them labeled by their region like "Badlands," for example.
Also, keep an eye out for pieces with an arrowhead in the mark, as these are some of the earliest and most valuable available.
Where Do the Colorful Swirls Come From?
If you've ever seen the viral videos of people hydro dipping various stuff (shoes, helmets, water bottles, etc.), then you've got a basic idea of how the Nemadji Pottery company created their iconic swirl patterns.
Basically, after firing the white or neutral-colored clay, the artisans would dip the pottery into vats of water that had paint floating on the top (which was separated by drops of vinegar). As the artisans swirled their pieces around in the water, they created these unique swirl patterns.
How Much Is Nemadji Pottery Worth?
Nemadji pottery isn't particularly valuable in spite of how pretty it is. Typically, these pieces sell for about $10-$200 online, depending on how old they are, their size, and who's interested in buying them.
Most often, Nemadji pottery isn't expensive to collect. You can easily find vases selling for under $20. For example, this simple orange, red, and yellow swirl pot recently sold on eBay for only $14.99.
Larger vases are more expensive, not only because of how much they cost to ship, but because of how big and beautiful they are. For example, this white 18" vase with blue and taupe swirls sold in 2021 for $100.
Similarly, you'll often find Nemadji pottery sold in sets. These whole sets sell for about $70-$120 each. Recently, one eBay seller sold a collection of 29 vases for $300.
Vintage Pottery Perfect for a Modern Interior
With simple, classic designs, it's like Nemadji pottery was made for modern interior design. Despite design origins that stretch back to the 1920s, they read impossibly current. Connect with the western deserts and landscape through pottery made in their mold. And, you won't have to break the bank.