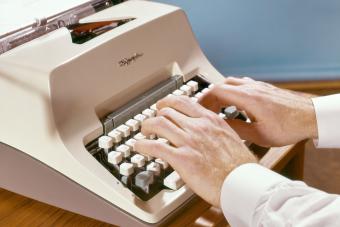 An Olympia typewriter is well-known for its durability and sleek German design. Once referred to as the 'Mercedes-Benz' of typewriters, Olympia's products have lasted for decades and have come to be preferred over other modern means of writing by various famous authors and scriptwriters. As you begin asking yourself which vintage typewriter is the best choice for you, take the best that Olympia has to offer into consideration, and learn the story of how a German industrial business created one of the highest quality typewriters of the mid-20th century.
Olympia Typewriter Origins
Starting in Berlin in 1903, an already established general electric company (AEG) sought to capitalize on the growing typewriter market. Thus, they began producing their own typewriters, starting with the disappointing Mignon. Unfortunately for the company, it wouldn't be until 1921 that they were able to actively compete with other profitable manufacturers when they released their Model 3 typewriter. Yet, as with many European companies, World War II drastically affected their production, and the newly christened Olympia was only saved from the Soviet occupation of East Berlin by former employees smuggling their secrets out of the city and establishing a new branch in West Germany. Olympia saw its most successful years between the 1950s-1970s. However, the company failed to adapt to customer's technological demands and closed in 1992.
Olympia Typewriter Models
When looking to purchase an Olympia typewriter, you'll find mid-century models in the greatest abundance. This is because this company was considered the number one standard for typewriters during the period, and they produced millions of them. Similarly, these are the highest quality typewriters they ever created, so if you're looking for a typewriter to use for more than ornamentation, you'll want to invest in these mid-century models. However, if you aren't interested in one of these mid-century models, you can browse the Typewriter Database to see all of the machines that Olympia created during its tenure.
SM Series
The SM series began in 1949 and is the gold standard of Olympia typewriters. Overall, there were nine different models (SM-1 to SM-9) created, and originally the typewriter came in black, green, dark red, and cream colors. Yet, by the 1960s, they were offering SM models in bold colors like orange, pink, and robin's egg blue. A medium-sized portable typewriter, the SM series was perfect for both professional and personal use, and many contemporary authors swear by their SM-2s and SM-3s.
SF Series
Olympia's SF series was launched in 1956 and marketed as an ultra-portable machine. These compact typewriters make the mid-size SMs look giant and sport the chunky block letters that all early computer users are quite familiar with. An interesting feature of these typewriters is the ability to use the margin release key to have jumbled typebars return to their original location.
Olympiette Series
These 1970s Olympia typewriters stray away from the company's classic rounded shapes and matte finishes. Coming in eye-popping earthy tones, the Olympiette series was designed much boxier than Olympia's previous models were. Since Olympiette models aren't as desirable as SM models are, they're worth significantly less; however, that means you can pick one up for just a few hundred dollars.
How to Evaluate Olympia Typewriters
If you happen to have an Olympia typewriter in your possession, there are a couple of different things you can do to get an early estimate on its potential value. These steps include:
Check for functionality - Most importantly, test the typewriter to see if it works. Are all the keys working, or do just a few not respond when they're struck? Typewriter repairs can be costly, so it's best to see where the machine is at before sending it in to be worked on.
Look for the original case and/or instructions - Any typewriter that comes with bits and pieces from its original sale, like cases, ribbon spools, instruction manuals, and so on can increase a machine's worth.
Assess the design features - Check for cracks in the paint, missing keys, and faint or missing logos, as these things can depreciate a typewriter's value.
Olympia Typewriter Values
Now, if you're in the market for buying one of these superb vintage machines, you'll find that values generally range between $300-$900 depending on the amount of restoration that needed to go into making the machine run again. In addition, Olympia SM typewriters and Olympia typewriters from the 1920s-1930s are going to cost the most. The former because they're the most reliable and popular model, and the latter because of their rarity and art deco design. For example, this working Olympia SM2 is listed for around $550, while this 1958 SM3 is listed for $800 from another seller. Inquire with any antiques stores or typewriter repair shops in your area to see what's in their inventory, and when all else fails, turn to independent sellers online.
Your Story Is Waiting to Be Told
Prolific author, Danielle Steel, wrote in a blog post in 2011 that she had written all of her many novels on a 1946 Olympia typewriter which she had bought second-hand at the beginning of her career. Steel is a testament to how a typewriter can enhance your productivity, not detract from it. So, if you're looking to try out a new writing tool, take an Olympia typewriter out for a spin and see where it takes you.