If you love vintage farmhouse decor, you can easily work this style into your modern home. By using antiques and vintage pieces, you can add a sense of history and beauty to any home. The modern farmhouse style is all about adding character while keeping things neutral and easy to live with. These vintage farmhouse decorating ideas will help you incorporate antiques in a contemporary way.
Vintage Farmhouse Bedroom Ideas
You can use vintage farmhouse decorating ideas to make your bedroom beautiful and stylish. Practice mixing eras and textures and incorporating antiques in creative ways.
Cool Off With a Vintage Fan
It's always nice to have a fan in the bedroom, and you can use a vintage one to add lots of farmhouse style. Select a metal fan that you can place on a surface or hang from the ceiling. Keep in mind, these older fans may not be safe for use in children's rooms, so this is a better choice for an adult bedroom.
Mix Antiques With Playful Touches
Antiques are an important part of the farmhouse style, but it's important to mix them with contemporary touches to keep the mood modern. You can combine an antique bed with fun decorations like banners or letter decorations. Playful posters can also be a good touch. The trick is letting your antique items shine without allowing them to make the whole room feel antique.
Bring in Vintage Accessories
Even if your bedroom furniture is modern and your home is contemporary, you can give your space plenty of vintage style with the right accessories. In a bedroom, you have the option of antique or vintage textiles, such as quilts or blankets. You can also bring in antique vases and glassware, using them to hold flowers or grouping them together on top of a dresser or nightstand.
Farmhouse-Style Storage Ideas
Every home needs storage, and there are lots of ways to use vintage and antique pieces to organize your belongings. Try one of these options.
Use Antique Cabinets for Storage
You can find antique cabinets at flea markets, garage sales, and antique stores, and these older pieces can offer tons of storage in a contemporary home. For instance, you can use antique china cabinets in any room to store everything from craft supplies to towels and linens. You can also use closed cabinets, such as armoires, to hide your television or store board games.
Use Vintage Suitcases for Storage
Vintage suitcases make a great style statement in any interior, and if they are neutral in tone, they are perfect for farmhouse styles. Use them to store everything from board games and extra throw blankets to off-season clothes. You can use them in a living area to store your knitting or sewing too, allowing you to keep your home clutter-free.
Vintage Farmhouse Wall Decor
The walls of your home are the perfect place to display vintage farmhouse decor. From mirrors to paintings, there are tons of ways to add personality and historic charm to your modern home.
Reflect History With Antique Mirrors
An antique mirror adds an instant sense of history to any interior. For a farmhouse style, skip the ornate frame and go with something made of wood. Natural materials are an important part of vintage farmhouse decor, and a wooden mirror frame lets you incorporate this element with ease. You can find wood-framed mirrors at antique shops or on classified sites. Don't worry if the finish is worn or the silvering is coming off; a little patina adds to the vintage appeal.
Display a Reclaimed Clock
Clocks from old schoolhouses or other industrial buildings can feel right at home in a farmhouse-style interior. You can mount the clock on a wall between two rooms so it can add a vintage touch and serve a practical purpose in multiple spaces. You can find vintage reclaimed clocks at architectural salvage stores, antique shops, and flea markets.
Hang Antique and Vintage Art
Nothing contributes more to antique farmhouse decor than vintage and antique art. You don't need to pay a fortune for huge or important pieces. You can frame any vintage painting or print you like and get an instant vintage feel. Small antique etchings are a good choice because they are affordable on auction sites and are neutral in color. You can hang small pieces as a grouping to give them more impact.
Use Rustic Shelving to Display Collectibles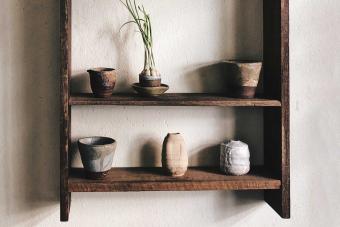 Reclaimed wood shelves and other worn display pieces can give your walls an instant sense of history. The vintage farmhouse look involves mixing textures, so having some rough wood is important. It also makes an excellent backdrop for showing off antique glassware and pottery or displaying photographs or paintings.
Hang Vintage Sports Equipment for a Sense of Fun
If you have an extra tall wall in your family room or other space, display vintage sporting equipment to give your home a sense of retro fun. Oars from rowboats, old skis and poles, or any other vintage pieces can bring instant appeal and act as a focal point. To maintain the farmhouse style you're after, it's nice to stick to sports equipment made of wood or other natural materials.
Group Antique Etchings on a Wall
Antique etchings are affordable to collect, often selling for about $25 each. You can choose a specific subject or type and then group them together in similar frames for a wonderful wall decoration. The neutral colors of etchings make them perfect for the modern farmhouse style, and they add lots of history and charm to any room.
Ideas for a Vintage Farmhouse Exterior
The outside of your home is a great place to bring in some antique touches. Try these fun ideas for giving your home exterior a vintage farmhouse feel.
Use Antique Planters and Plant Stands by the Front Door
If you have a sheltered spot or porch by your front door, bring in an antique or vintage planter or plant stand to show off some flowers or greenery. This is a great use for a vintage piece, and it adds antique style to a modern front door without being overpowering. There are lots of styles of planters, and they're easy to find at many antique shops and vintage stores.
Try a Pretty Paint Color and Antique Door Hardware
Bright paint can make your front door feel fresh and modern, and antique hardware can add a historic touch. You can use reproduction hardware or choose real architectural antiques. Door knobs, door knockers, and house numbers are all ways to add this vintage or antique style. You can find antique door hardware at architectural salvage stores.
Display Antique Porch Furniture
Antique rocking chairs, wicker sets, and other patio furniture can add a lot of vintage charm to your home's exterior. Even if you have a modern house, these pieces will feel homey and old-fashioned. Mixing them with simple finishes and neutral colors will make let them mix with modern surroundings perfectly.
Use a Rustic Antique by the Door
Old ladders, farm tools, antique signs, and other rustic pieces can provide a feeling of historic beauty if you place them by your front door. There are lots of options for this type of display. Take a look at the wares displayed outside at antique shops in the summer. An old chair, a brightly-painted window frame, a wooden bench, or any other primitive item can be the perfect choice.
Hang Vintage Curtains Where They Will Be Seen
If you have a window near your front door, hang some beautiful vintage window curtains for an instant farmhouse style. This is a wonderful way to show off antique textiles, and it's a surprising touch that gives your home's exterior a dose of historic decoration. Choose a window or door that's easy to see from your front porch so people will notice the pretty textiles when they come to your home.
More Ideas for Vintage Farmhouse Decor
Every room of your home can look amazing if you mix eras and textures to create a layered vintage farmhouse look. These ideas can help.
Add History With Vintage Accessories
You can have antique farmhouse decor without investing in a lot of expensive, large pieces. Accessories can also create this look, and they are actually an important part of having a layered interior style. Consider displaying interesting collections, such as a jar of vintage marbles or a stack of rare books. Show off unique antique candle holders and vases too. Anything can make a great display if you place it in a vintage jar or jug. Shop your own home for vintage farmhouse decor ideas to display on a fireplace mantel or buffet.
Try a Vintage Office Chair
If you have a home office, you can give it an antique farmhouse look by using a vintage office chair. You can find them at consignment shops and thrift stores. If you choose one made of wood, it will introduce the natural element needed for a modern farmhouse interior.
Add Extra Seatings With an Antique Rocking Chair
If you want to add an extra seat to your living room or bedroom, an antique rocking chair can be the ideal choice. Whether you choose an upholstered chair or a wooden rocking chair, they don't take up too much space and offer a great place for guests to sit comfortably. You can find these chairs at antique stores and consignment shops.
Mix Eras With Some Mid-Century Furniture
The key to vintage farmhouse decor is not to try to replicate any era, but to mix antique and vintage pieces from different periods. Include some mid-century furniture next to your Victorian pieces and modern couch. Mid-century pieces are available at thrift stores and consignment shops, and they can serve as a bridge between older items and modern finishes in your home.
Add a Claw Foot Tub to the Bathroom
You can create a vintage bathroom by adding a clawfoot tub. Stick with the standard white or get creative and paint the exterior of the tub a fun, bright shade. Either way, you can buy vintage-style tubs new or search for resurfaced antique and vintage ones locally. Because of the weight, shipping these tubs is cost prohibitive most of the time.
Display Antique Toys for Playful Charm
Displaying antique toys can give a modern room a playful sense of history. For example, you can show off an antique dollhouse on a table in your foyer or place a vintage rocking horse near the fireplace. Even a collection of toy soldiers on a shelf or a stack of antique children's books in a bedroom can offer this little bit of childlike charm.
Use Architectural Antiques to Add History
Architectural antiques, such as moulding and trim from older houses, can give you instant vintage farmhouse decor. Hang stained glass windows from your window frames, use antique cabinet hardware, and incorporate decorative trim as wall art throughout your home. You can also use antique corbels to support shelves or range hoods in your kitchen.
Decorate With Old Books
Old books add instant nostalgia to a home. Even if you do most of your reading on an e-reader, antique books are still a beautiful addition. Stack them on a nightstand or end table, arrange them on a bookshelf, or use them anywhere you want to add a library feel to your vintage farmhouse. You can find rare books and antique tomes at speciality shops or antique stores.
Vintage Farmhouse Decor Gives Your Home a Collected Look
Decorating with antiques and vintage finds is a great way to give your home that lived-in, collected look. Shop your local antique store for more vintage farmhouse decor ideas. Almost anything can work if you incorporate it into your home in a thoughtful way.