Due to the popularity of stylized kitchenware in the atomic age, vintage Fire-King pattern identification can be somewhat complicated for those with an untrained eye. Considering that these durable Anchor Hocking dishes have both practical and aesthetic appeal to the likes of both amateur chefs and garage sale shoppers, it's prudent that you determine if your casserole dish is a true Fire-King before you give it away at your local yard sale.
Vintage Fire-King Pattern Identification
The Hocking Glass Company was established in 1905 and by the 1930s, it had become one of the most well-known glassware manufacturers in the United States. Renowned for their Depression glass sets, the newly minted Anchor Hocking company, circa 1937, embraced this cultural move towards buying colorful but practical everyday kitchenware. In the 1940s, they manifested this project by manufacturing bowls, pitchers, mugs, and plates in vibrant colors and patterns using a long-lasting, heat-resistant borosilicate material.
Often compared to Pyrex bowls and their vintage patterns, Anchor Hocking's line of Fire-King kitchenware became immensely popular. Taking inspiration from their colorful Depression glass, Anchor Hocking began to produce their borosilicate pieces in vibrant, richly pigmented shades. Among these included their most sought-after "Jade-ite" series, which produced dinnerware sets in a light-green hue.
Opaque Fire-King Kitchenware
Although translucent Fire-King kitchenware was beloved for its unique patterns, the Anchor Hocking's opaque Fire-King sets were by far the better sellers of the two styles. While these opaque sets came in a rainbow of colors, two of the company's most popular ones were the Jade-ite and Peach Lustre lines.
Jade-ite
Of the opaque Fire-King series, the Jade-ite remains the most popular for collectors. Produced between 1942 and 1956, this low-cost light-green milk glass was often given away at promotional events and in partnership with local businesses.
Peach Lustre
In addition to these colorful items, Anchor Hocking also introduced the Peach Lustre series. This milk glass featured dishes in a lovely shade of peach and finished with an iridescent glaze. Since the glaze made these pieces a bit more delicate, far fewer sets have survived to the 21st century intact.
Fire-King Patterns
While there were a finite number of colors available for Anchor Hocking to manufacture their Fire-King glassware in, there was absolutely no limit as to the variations of patterns they could design across the outsides of their dishes. Although these pieces are most often identified through visual confirmation of one of the Fire-King patterns, they can also be confirmed by locating the Anchor Hocking insignia (an anchor with an H) and/or a written attribution to either Fire-King or Anchor Hocking on the underside of every dish.
Primrose
One of the more limited series by Anchor Hocking, this pattern depicts a small collection of pink and red primroses. This beloved pattern is one of the company's most delicate and elegant and sits right at home on any kitchen countertop.
Meadow Green
Typical of mid-century color palettes, the Meadow Green pattern depicts an oscillating leafy scene, and was produced by the company between 1968 and 1976.
Wheat
The gold and silver highlights on the wheat pattern truly bring it to life, and makes it a favorite among modern collectors.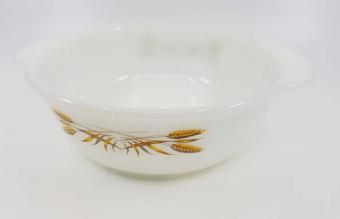 Forget Me Not
Another of the company's floral motifs, the Forget Me Not milk glass, illustrates a swirling duo of small, blue Forget Me Nots.
Fleurette
The historically feminine Fleurette pattern was another of Anchor Hocking's most popular sets, due in part to how they were perfect additions to any tea party or formal luncheon.
Fire-King Solid Glass Patterns
Fire-King patterns which decorate solidly colored glass are not as immediately attributable to the Anchor Hocking company; however, they did compete well with the burgeoning fiesta ware of the period and were produced in a variety of patterns and shades.
Shell
The shell pattern was molded to resemble the ridges of seashells and came in a variety of colors.
Sheaves of Wheat
In addition to their popular wheat milk glass, the sheaves of wheat pattern imprints interlocking grains of wheat stalks across the circumference of many colored dishes.
Alice
The Alice pattern was only produced between 1945 and 1949, and details a repeating floral motif that was released in only two color schemes - Vitrock (blue and white) and Jade-ite. This earlier Fire-King pattern is more reminiscent of traditional china and was produced in a limited number of dishes and cups.
Fish Scale
Another unique Fire-King pattern was made to mimic fish scales and reflects a minute texture to the edges of these dishes.
Fire-King Glassware Values
This glassware's impressive durability has ensured it would last well into the 21st century, but because these pieces are rather commonplace, they generally don't have a significant monetary value. Niche collectors enjoy the mugs created by the company for restaurant use, and the aforementioned Jade-ite series remains popular to this day. However, the larger the set, the more valuable it is. A single Jade-ite mixing bowl sold on Mercari for $28. Yet, a novelty set of black polka dotted Fire-King nesting bowls sold at auction for $240.
Vintage Fire-King Glassware for the Modern Collector
Ultimately, Fire-King values fluctuate based on the pattern rarity, the number of pieces in a given collection, and the sets' condition, but this glassware's long-lasting durability is what makes it a useful collectible for any chef's kitchen. Next, look at some vintage Corningware you might want to add to your collection.