Many people loved playing doctor as a kid, and for some, that urge never went away. Collecting vintage medical equipment is a growing hobby, and with its low-prices and easy access, virtually anyone can get started collecting right away.
Types of Collectible Vintage Medical Equipment
The hundreds of shows, books, films, and personal experiences that people have been exposed to over the years have demystified the intricacies of medical practice in such a way that the general public is familiar with medical tools from the past and present. Interestingly, despite the rigid nature of the medical industry (at least in terms of its disposal practices), old medical equipment isn't hard to find. Tons of urban explorers are documenting historic medical facilities and shining a light on the equipment they used.
Yet, the accessibility to antique stores and the abundance of medical-related collectibles means that many regular, non-collectors have picked up a historic medical piece or two. If you're one of these, or you're just starting to get into medical collecting, then here are a few of the main categories of items that you can expect to find.
Old Surgical Equipment
By far, the most popular type of vintage medical equipment is old surgical tools. Things like scalpels, bone saws, and the like will sell for about $50, and collectors love finding them because of their sinister quality. Additionally, sets of surgical equipment from pretty much any decade are more valuable than their individual counterparts, not only because of how many more pieces there are, but also because of how much cooler they look.
A few of the tools you can find in a standard vintage surgical kit are:
Scalpel
Forceps
Surgical scissors
Retractors
Syringes
Syringes get their own category because of how common a collectible they are. There are German, American, English, French, and so many more historic makers of these injectable tools, and people love getting a taste for what their ancestors used to have to endure through the tools that inflicted that pain. In particular, collectors like syringes in their cases, as well as those with needles still intact. By the mid-20th century, multi-use needles were far less common, so these make a unique and interesting collectible.
Medical Accessories
This category includes all of the accoutrements needed to perform general medicine. Things like gauze packets, tongue depressors, pen lights, and so much more are a quick and fun collectible to bring home.
Medical Bottles/Prescriptions
Not equipment in the traditional sense, medical glass bottles and prescription bottles from the 19th and 20th centuries are highly collectible. In particular, people like bottles that still have labeling intact, as well as those that have some of the medicine still preserved inside.
Notorious Medical Equipment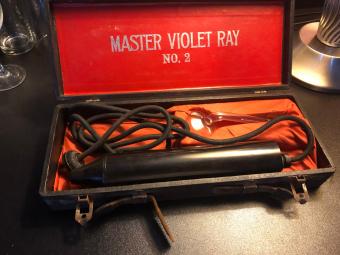 Things that fall into this category include pieces of medical quackery, which were popular into the mid-20th century. Think fad medical tools from the 1940s or 1950s that were said to promote anti-aging or to get rid of aches and pains through things like vibrations or shocks. Additionally, devices or tools that were used in infamous practices, such as lobotomies, are popular with niche audiences today. Ultimately, the modern age loves to collect the weird and taboo.
Vintage Medical Equipment Values
Medical tools are a really popular collectible, with entire museums dedicated to preserving them for future generations. Given the scholastic interest in medical history, many of the most remarkable, rare, and mint condition pieces of historic medical equipment are swept up by universities, public institutions, and museums.
This doesn't mean that there's nothing good out there for private collectors to snag. In fact, antique and vintage medical equipment is a uniquely abundant and affordable category of collectibles. Of course, there are outlier pieces that drive up mean averages, but the cost of vintage medical equipment isn't that high. For $20, you can grab yourself a cool slice of history.
The most valuable things in this category are antique goods; anything from the 20th century and later is substantially more affordable than their 19th, 18th, and 17th century counterparts. Interestingly, within the market for vintage medical equipment, items with unique labels and boxes/packaging intact can marginally increase their prices. Additionally, there's a huge interest in hack medical tools and/or medical quackery that even non-history or science fans fawn over, so they're a smart collectible to sell.
Generally, vintage medical equipment just isn't all that valuable, which is great for a buyer but not so great for a seller. Large kits filled with surgical tools and giant mechanical tools can sell for about $50-$100, while the large majority of pieces in online auctions and retailers will sell for around $15-$50.
Here's how some vintage medical equipment that was recently put to sale was priced:
Where to Buy and Sell Vintage Medical Equipment
Vintage medical equipment is an accessible collectible because there are medical practices in nearly every town, meaning that some pieces from an older practice might turn up in your local thrift store, antique shop, or estate sale. Because these pieces are usually not appraised, you can get away with dickering on a deal, so you might be able to collect these pieces for cheaper than you can get them online.
However, there's far more available at online auctions and retailers, making it many people's first option. Similarly, a few private collectors also host their own sales and acquisitions through independent websites.
Medical antiques are far more collectible and prevalent on the market than their later counterparts are, so you're more limited by where you can find these goods. However, when you're looking to buy and/or sell vintage medical equipment, look through these digital retailers and see which work best for you:
The Doctor Will See You Now
Get ready to get called into the doctor's office by turning your favorite lounge space into a quirky vintage medical room. From colorful bottles to sinister looking scalpels, you can find all manner of vintage medical tools for sale, and you're sure to find the right ones to take home with you.