Syroco Wood is the "I can't believe it's not butter" of the decorative world. This wood-like product has risen and fallen in popularity throughout the 20th century, and we're overdue for an uptick in interest. So, jump on the bandwagon early and discover the vintage New York décor that swept the nation.
Syroco Wood and Its Humble Beginnings
In 1890, a New York immigrant named Adolph Holstein founded the Syracuse Ornamental Company, better known as Syroco. According to Syracuse University, "They were best known for their molded wood-pulp products that resembled hand-carving." And thanks to Holstein's technique, Syroco could pump out thousands of products a quarter.
Over time, the company changed hands and got into the plastics business, but vintage SyrocoWood from the 1930s-1960s still fetches quite a fare at auctions today.
What Is Syrocco Wood?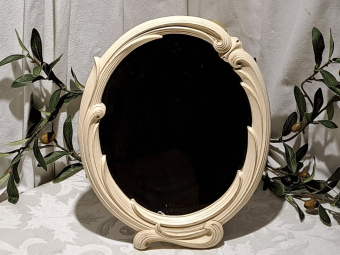 Syroco wood is a specialized wood pulp material that was created from a combination of ingredients (wood pulp and flour, to name a few). Thanks to their specific composition, the Syroco company could press the material into compression molds, which would solidify into shapes that resembled carved wood. After being pulled out of their molds, the various products could be painted and varnished to really sell the real-wood look.
What Types of Products Did They Make?
You'll find a ton of random Syroco wood pieces in thrift stores across America, but there are a few common pieces that they were more known for. These products include:
Mirrors
Clocks
Bookends
Shelves
Sconces
Cigarette/cigar boxes
Human figurines
Wall art
Mantel art
What Design Styles Did They Use?
Although there's not a distinctive Syroco style that you can identify, the vintage pieces you see coming to market the most often tend to be ones made in an ornamental or Hollywood Regency style. Not all of them are painted, but the ones that are tend to come in glittering gold tones. Just like with the manufactured carving, these pieces were made to look expensive despite not being made with expensive materials or using skilled techniques.
How Can I Identify a Syroco Wood Product?
Syroco wood was manufactured with many finishes, paints, and styles. So, the easiest way to identify that something's a genuine Syroco from the 1960s or later is to check the bottom for the customary black and gold label. Embossed in gold on a black sticker is the name "SyrocoWood." Underneath it are the words "Syracuse, N.Y." and "Made in U.S.A."
If it's earlier than that, you can look to find markings labeling it "Syroco" or "Syracuse Ornamental Company." Additionally, you should find product numbers starting with C or D.
How Much Are Vintage Syroco Wood Pieces Worth?
You'd be surprised at just how expensive these wealthy-imposter pieces are. Of course, you can find little boxes or figurines that only sell for $10-$20 online. But the mirrors, sconces, and clocks are worth quite a bit. When in pristine condition and from the 1930s-1960s, these Syroco wood decorations can sell for upwards of $500, on average. For example, one wind-up sunburst clock recently sold on eBay for $375.
On top of that, Syroco's Disney pieces from the mid-century do very well at auction. Naturally, this makes sense, seeing as Disney is one lucrative cash cow, and anyone who could license their characters was bound to make money on them. Today, these pieces are worth about $500-$1,000. Take, for instance, this Mickey Mouse radio clock that sold for $1,100 or this Geppetto Lamp that sold for $450.
Elevate Your Space With Vintage Syroco Wood Décor
You can easily thrift Syroco wood pieces because they're not too expensive and they're definitely not hard to find. Just browse through a local thrift store, and you're likely to find a few decorations waiting to get bought.
Yet, just because something was mass-produced doesn't mean it's not worth buying. There are far too many unique Syroco wood pieces just ripe for picking that can add some budgeted elegance to your home.
Here are some ways you can incorporate vintage Syroco wood into your modern décor:
Don't relegate your Syroco wood bookends to a bookshelf. Instead, pop them on either side of your floating shelves for you and your guests to admire.
Add a gold-painted Syroco wood mirror to your hallway or foyer to elevate the otherwise afterthought of an area.
Lean into old Hollywood glam by setting up wooden sconces around your living room. Bonus points if you've put in retro wallpaper behind them.
Get inspired by being a plant parent and hang up a few Syroco wood floral wall plaques.
Syroco Wood: Elevated Design on a Budget
Syroco wood looked your grandparents dead in the eye and said, "real-looking wood at a fake wood price." Just like how plastics developed out of the experimentation and consumer-oriented past, Syroco wood was born out of industrial age ingenuity and became a dominating presence in mid-century interior design. And, for a relatively small price, it can be a prominent feature in yours, too.