Welcome warmer weather with a spring mantel decor that brightens up your entire home. Style your fireplace mantel like a pro for a fun way to celebrate spring's return. Whether you're looking for a rustic mantel design, a modern and easy spring update, or farmhouse-style decorations for spring, a few expert tips will help you create a trendy spring focal point.
Use a Green Color Scheme
If you prefer a neutral style or subtle colors in your home, you can skip the vibrant or pastel spring mantel decor. An all-green color palette for your spring mantel will look timeless and simple in a beautiful way. You can even stick to green florals for a naturally neutral look.
Choose Contemporary Ceramics
Sleek and modern styles can still work well with traditional spring mantel decor elements. Look for contemporary materials like glazed ceramics, concrete, and marble in the shape of traditional spring elements like flowers, rabbits, and insects. Combine this with mostly neutral colors featuring a pop or two of color for a contemporary spring mantel that still feels warm and inviting.
Hang an Oversized Wreath
Spring is bright and bold, so bring those characteristics into your seasonal home decor. An oversized and striking spring wreath will make your mantel feel like an art feature in your home.
Add Painted Porcelain Details
Add a bit of timeless charm to your spring mantel decor with painted porcelain pieces. Vases, ginger jars, and antique platters in classic color combinations will give your spring mantel an effortlessly elegant style or tie in your coastal grandmother look.
Vary the Height of Your Decor
Decorative details in varying heights will give your spring mantel decor visually pleasing proportions when executed correctly. For a mantel beneath a mirror, art piece, or wreath, stick to small elements in the center and increase the height of your decor as you move outward. For mantels with a blank backdrop, vary the height of your decor in sections or go the easy route and place your tallest element directly in the center. A bit of asymmetry is also beautiful, so try leaving one side of your mantel weightier than the other for added interest.
Try a Statement Piece
Show off your daring style with a statement piece in the center of your spring mantel. Oversized floral arrangements, a large candle collection, or a spring-inspired sculpture will all draw the eye upward.
Include Candles With a Spring Twist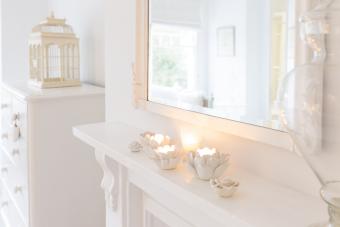 You may often think of candles on a mantel during the holiday season or on chilly autumn evenings. Keep your favorite scents and the unmatched coziness of a candle collection by adding a spring-inspired twist. Try brightly colored or pastel candles. Add candle holders featuring a spring motif. Look for floral, fruity, or fresh scents, so all of your senses get the memo that spring has arrived.
Feature Rustic Details
Whether you have a country, cottagecore, or modern farmhouse style, a couple of rustic details will elevate your spring mantel decor. Add an enamel or metal pitcher of florals, an antique mirror, or vintage style candle holders for a rustic spring style.
Include Elegant Glass Pieces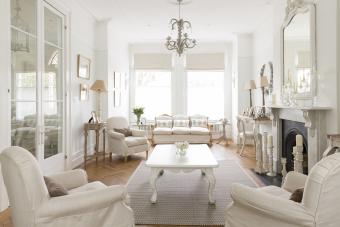 Make your mantel feel fresh, elegant, and high-end with a few glass components. Clean and clear glass will help your mantel feel more spacious and designer. A peek of bright green tulip stems through a glass vase full of flowers is the epitome of spring decor.
Add Warmth With Gold Details
A few gold details will elevate any style of decor, no matter the season. For a modern and maximalist approach, shining gold decorations will only further boost your glamorous style. For rustic or industrial styles, a brushed brass or antique gold finish will seamlessly blend with your other decor.
Bring Life to Your Mantel With Wildflowers
Embrace the wild and whimsical side of spring by using wildflowers in your mantel decor. Skip refined faux flower arrangements or expertly crafted bouquets in favor of the wondrously eccentric style of a vase full of wildflowers.
Hang a Boho Wreath
Amplify your bohemian style with simple spring elements that tie everything in your home together. A small spring wreath, amber glass vases, woven textures, and just a touch of fringe will breathe new life into your mantel just in time for warmer weather.
Use Colorful Glass & Ceramics
Bring vibrancy and color to your spring mantel with fun shades of glass or ceramic vases. Rich yellow, soft lavender, bright blue, and various shades of green all help your spring decor stand out. If you prefer less color, a white vase with an iridescent finish will boost your spring decor in a soft and subtle way.
Layer Feminine Elements
Full blooms and pretty pink details will instantly take your mantel from plain to sweet and springy. Use flowers with voluminous petals and feature blooms in soft colors. Include points of interest that complement your feminine decor like delicate glass, floral prints, gold accents, and porcelain pieces.
Follow the Less Is More Rule
When choosing your foundational mantel decorations, follow the less is more rule for a simple and classic style. Sleek, neutral, and plain decor help your seasonal pieces stand out.
Try a Tray of Trinkets
Small groupings of decor can work as well on a mantel as they do on a tabletop. Keep everything contained with a decorative tray. Balance your mantel by adding pieces to your tray with various heights. Too many objects of a similar size will leave your tray feeling cluttered, while a thoughtfully curated collection will add a designer touch.
Decorate With Bud Vases
If over-the-top floral arrangements aren't your style, a collection of bud vases might fit the bill. A single row of bud vases with various stems and single blooms feels effortless for a minimalist spring mantel.
Welcome Spring With Easy Mantel Decor
Enjoy the vivid colors and invigorating warmth of spring every time you walk past your fireplace. Seasonal florals, perfect color pairings, and designer details come together for a mantel that feels as refreshing as a breezy spring day.