Before you add that Jack-o'-lantern to your front porch, think about the planters your porch will sport in the early weeks of fall. With all the colors and blooms available during the fall, your home can truly stand out for the season. We have all the front porch fall planter ideas to convince you there's more to autumn florals than potted mums.
Add Aster to Your Fall Porch Display
We love the warm colors of chrysanthemums and pumpkins for a fall porch display. But a touch of aster brings a soft, cool tone to the mix that feels delicate among more robust blooms. Add the sweet purple petals to your fall florals to stand out (in a good way) among the more traditional porches in your neighborhood.
Fall Foliage Feels Rustic
If you're looking for non-floral options on your porch this fall, simple fall foliage is a classic. Seasonal fall leaves complement your harvest-themed porch decor and allow the focus to land on your lovely planters. Mix in a few red and yellow blooms if you're looking for that traditional autumn color palette.
Go Big With an Oversized Urn
There's nothing wrong with the classic porch planters of autumn, but you can have some serious fun with your outdoor decor by mixing up your planter vessels. An oversized urn (or maybe two) makes a statement on your front porch. Try this look for a contemporary vibe at the foot of your staircase or flanking each side of your front door.
Sunflowers Are Bright & Playful
Your porch planters deserve to be as bright and warm as you are. Show off your sunny personality with an abundance of sunflowers on your porch this fall. Sunflowers help us hold on to the warmth of summer while welcoming all the goodness in store for autumn.
Choose Pretty Petunias for Your Fall Planters
Mums may be the reigning queens of fall porch decor, but petunias play a large role as well. The red, purple, and yellow petunia varieties provide the timeless fall colors so many of us love to see each year. They're lovely in large planters, elegant in hanging baskets, and add movement to all your mixed fall planters.
Try Farmhouse-Themed Planters This Fall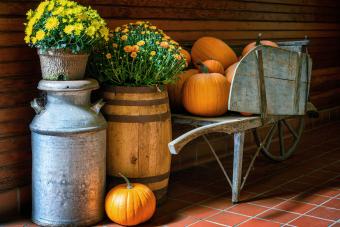 Creating the autumn aesthetic on your front porch is about much more than just the flowers you choose to feature. The planters themselves provide context for the style you're looking to achieve.
If you're rocking the farmhouse aesthetic inside your home, carry the look out on to your porch for autumn. Choose farmhouse-themed vessels like barrels, vintage dairy jugs, and rustic wheelbarrows to get the look.
Snapdragons Make a Statement
We're guessing not many of your neighbors will feature snapdragons on their fall porch displays this year. With so many fall flowers to choose from, the sensational snapdragon might be less popular in your neighborhood. Make a bold statement with the towering bloom and use them to create welcoming planters by your door this autumn.
Fall Leaves Just Make Sense
This may be a no-brainer, but fall leaves bring all those classic autumn colors to your porch planters. This is where your DIY planter skills might come into play. Use faux fall leaves — you can find them in most crafting stores — to make reusable fall planters or to add some autumnal personality to your real arrangements.
Jump on the Galvanized Trend
If you really want to embrace the rustic aesthetic this autumn, arrange your fall flowers in a galvanized tub. This works as fall decor for your porch or other parts of your garden. Mix and match all your favorite fall flowers for a cozy country autumn arrangement.
Goldenrod Is Darling for Your Fall Planter
Goldenrod strikes the balance between sweet and wild. Its blooms are delicate, while its foliage is a bit unruly and voluminous. The warm yellow works well with other fall colors, but the billowing flower is bold enough to stand on its own in your autumn planters.
Feature Fall-Flowering Heather
Add height, volume, and shape to your porch planters with a fall-flowering variety of heather. The colors are dreamy for the season, and the wildflower vibes of this flower fill out your urns, bowls, and baskets.
Celosia Is Eccentric & Charming
Be the envy of every porch on your street with elegant planters sporting celosia sprouts. The flame-like shape of these flowers is perfect for fall, and the colors add warmth to your porch display. Get ready to answer all the "what sort of flower is that" questions when guests catch sight of your charming potted celosia.
Do Mums Differently
Mums are a tried-and-true fall flower for porches and planters. If you want to embrace the timeless blooms for your own seasonal decor, display them with an edge, so you can still stand out.
Add fall flowers with more movement to your mum planters.
Choose a mum color that's used less often during autumn, like the lovely stark white variety.
Pop your mums into unique planters like cone baskets, modern urns, and rustic containers.
Step Up Your Fall Planter Game
From using seasonal florals and mixing in fall foliage to transforming your porch with a new planter for autumn, you have everything you need to make a statement this fall. As neighbors pass by and guests approach your entry, they'll fall in love with your autumn planters.