It's not every day that you break out the nice plates, centerpieces, and cloth napkins. Whether it's a special occasion, the holidays are coming up, or you're just feeling fancy, you can avoid spending tons of money by making your own DIY napkin rings.
When you've been decorating all day, the last thing you want to do is spend hours DIYing something as small as a napkin ring. Never fear, we've got a plethora of easy DIY napkin ring crafts that even the sleepiest host can tackle.
DIY a Simple Star Motif Napkin Ring
Let's start things off easy with a simple elastic and star craft. Head to the craft store and pick up some clear elastic bands (like the kind that will absolutely tear out your hair) as well as some thicker craft paper or cardstock. If you can free hand like a champ, draw a star shape to cut out and use as a stencil or print one out instead.
Then trace and cut out your stars and hot glue them to your small elastic bands. It's so easy, you could even enlist the kids to help you out.
Thrift Fashion Rings & Customize Them With Paint
If you don't want to waste any craft materials and love the unique look of a different ring decorating every napkin, then you should head to the thrift store. Look for chunky enamel or plastic fashion rings that're one solid color. Then, break out the craft paint and let the artistic inspiration take over as you paint different designs on each one. Go for a theme or personalize them to each guest's preferences.
Quick Tip
Give your painted rings a shiny finish by sealing them using acrylic paint sealer spray.
Repurpose Loose Film Into Napkin Rings
Take your movie nights up a notch by presenting a spread worthy of the silver screen. Decorate your napkins with photographic film rings. This is one of the easiest but immediately striking DIY napkin ring ideas any film buff can try.
Buy a roll of unused film or source some from your childhood days, and roll them around your napkins to find the right circumference. Then, snip the lengths and tape them on the inside with regular cello tape. To make your rings last longer, wrap up a few layers.
Crochet a Cute Set of Napkin Rings
More Details
Crochet is a decades-old craft that's been making a huge comeback. Practice your skills by making yourself reusable napkin rings using the variety of patterns available online. For example, you can buy a cute shell-stitch crochet ring pattern from etty2504's Etsy shop. Or, if you don't have the passion for fiber arts to tackle DIYing them yourself, you can always buy them pre-made from artisans across the internet.
Try Making Some Needlepoint Napkin Holders
More Details
Needlepoint is an embroidery technique that uses thin threads to stitch out designs on the top of a canvas. Just like with crochet, it's a methodical and soothing craft that many of us are taking up to calm our minds in this overstimulated online environment. Using holiday or seasonal themes, you can create cute, quick napkin rings.
All you need is colored thread, the needles, and pieces of canvas or other fabrics. It's a bit harder to find ready-made patterns online, but it's not impossible. For example, here's a PDF of a vintage set of flower napkin rings, holders, and coasters you can buy on Etsy.
Print Off a Custom Paper Napkin Holder
More Details
If you're more tech savvy than crafty, this is the DIY napkin ring for you. Instead of fussing around the craft store, print out a custom napkin holder for each guest or the event. Use a pre-made template or make your own. All it takes is a writing a few words, letting your printer do its thing, and cutting out and taping the paper strips into rings.
Embrace Autumn With a Burlap and Fallen Leaf Ring
Embrace everything autumn with this quick DIY napkin ring idea. Head outside and pick up a handful of the prettiest fallen leaves you can find. Make sure you stick with ones that haven't dried out too much (we don't want to be picking dried leaf bits out of our food).
Grab a length of burlap string, wrapping it a few times around your napkin, and tie it off with a bow. Then tuck your leaf into the layers for a light decorative touch.
Go for a Coastal Vibe With a Shell Napkin Ring
Take things in a coastal direction with this perfect summer evening dinner celebration decoration. If you've spent a few days at the beachside, grab a handful of seashells. No, you're not going to be leaving them to collect dust on your nightstand. Instead, use a Dremel or other dill to carve out a hole for the napkin to flow through. Just make sure you have someone on hand to pour water on the shell as you drill to prevent it from cracking.
Craft a Cute Beaded Napkin Ring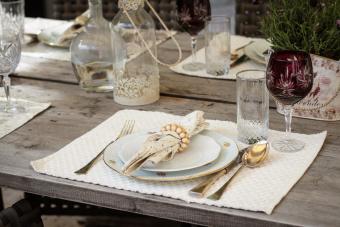 Take an afternoon to reconnect with your inner child by stringing a few beaded napkin rings. Remember how fun it was making friendship bracelets and necklaces for friends and family? It's just as entertaining to pick out the perfect bead or charm combination and string it up on elastic to make a beautiful set of napkin rings.
To make sure your rings last for a long time, use this tutorial to help you make the most secure knot possible.
Make Easter Sunday Special With Eggtastic Napkin Rings
Make Easter Sunday special with this advanced homemade napkin ring. You're going to need a few raw eggs, some dye, a rotary drill, and a pen/permanent marker. To make your egg-tastic napkin holders, you'll want to dye your raw eggs first (don't boil them, though).
After they're dry, draw a circle around the top and bottom of the egg for the napkins to go through. Then, under running water, take your rotary drill and start cutting along the line. The water should help keep the egg from cracking and rinse the yolk out as you go. Repeat the same process on the other end, thoroughly rinsing the egg. Once they're dry, they're ready to be strung up.
Ornaments Aren't Only Meant for the Tree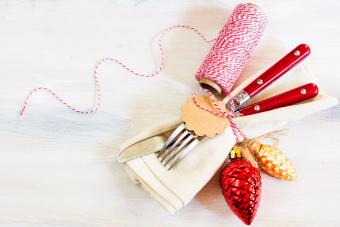 Put your holiday ornaments to good use with this quick DIY napkin ring holder. Take some string (or extra ribbon if it's lying around) and loop your ornaments through it. Wrap the length of string or ribbon around your napkins and tie them off with a pretty bow.
If you don't have any ornaments to spare, there's always a great selection of plastic ornaments at your local $5 and under store.
Homemade Napkin Ring to Create a Winter Wonderland
Serve up the winter holidays in your plate setting with this winter wonderland homemade napkin ring. If you don't have a real Christmas tree to trim some sprigs off of, you can buy artificial garland at any store during the holidays. While you're out, grab some ribbon and white spray paint.
Use some leftover ribbon and tie your napkins off with a cute bow. Then, take your sprigs for an outdoor bath in some white spray paint. This can give them that first snow kind of look. Once they're dry, slip them in between the string layers to finish it off.
The Tiny Details Matter
The tiny details can really tie a theme together and elevate your decorations from something Party City to paid party planner. Don't leave your place settings bare; zhuzh them up with these fun DIY napkin ring ideas. The best part? Once you've made the batch, you can use them over and over again!