A lot of old stuff gets banished to your grandparents' kitchen junk drawer, and you're bound to find at least one haphazardly folded copy of a state highways map there. Since the internet probably killed the map industry, what exactly are you supposed to do with all those old maps your parents refuse to get rid of? Instead of doodling the western hemisphere into oblivion, try your hand at using vintage maps to make these easy decorations and crafts that you'll want to show off.
Turn Old Maps Into Cute Book Covers
More Details
If you're a real bibliophile, then you know how much of a difference a dust cover can make. Dust covers will protect your favorite novels from getting dusty, grimy, and sun bleached. Instead of buying expensive leather covers, use the old map you found rolled up in the closet.
To make a dust cover for your book, all you'll need is a pair of scissors, an old map, and these step-by-step instructions from Dream a Little Bigger.
Spend an Afternoon Making Paper Airplanes
You're never too old to get a laugh out of sending a paper airplane flying through a long hallway. A creative way to make use of any old maps you have lying around is to make a few paper airplanes. Bonus points if you've got kids around so you can make a whole afternoon activity out of it.
Of course, there's all sorts of cool ways you can fold paper airplanes into shape. Here's a paper airplane folding guide to help you with the basics.
Decorate Your Scrapbooks With Vintage Maps
More Details
Social media and the endless expanse that is your camera's gallery have let us collect more pictures than ever, but the charming tangible element of scrapbooks is missing in this digital record-keeping. The social event that was sitting around a scrapbook and exploring the past through these small pieces of memory doesn't have to be a dead art.
Get inspiration from the few vintage maps you've held onto all these years, and use them in a new scrapbook. You can cut out whole countries, slash through them with patterned scissors, or frame your polaroids in defunct geography. The options are endless when you've got a roll of scrapbooking material and thousands of pictures at your fingertips.
Make an Origami Mobile
More Details
Baby mobiles are modern art pieces that you can situate above your baby's crib. Watch them coo over the softly swirling scenes above their head. Custom-made mobiles can cost hundreds of dollars (a drop in the bucket for the prices of baby-related items today). Don't break the bank on a soothing toy they'll grow out of in the first year or so. Instead, make your own!
You can find loads of different pre-built mobile kits online which include the frames and strings you need to connect your focal pieces to. Here's where your old maps come in handy. Using origami patterns or easy globe shapes, you can cut and fold different sized figures to hang on the mobile. And you'll feel so accomplished getting to see your hard work working in real time.
Use It to Line Cabinet Drawers, Doors, or Shelves
Cabinet liners are usually made with function rather than fashion in mind, and they come in a limited variety of colors and designs. But what's the point of getting to decorate your space if you're stuck with only a few options? Put your DIY skills to the test with this super simple liner tutorial from Organized Mamas' YouTube channel instead.
Literally all you need is some paper (substitute your old maps here), a pair of scissors, and a tape measure. And, if you're considering taking it to the next level and attaching it to the interior of your cabinet doors, you can use mounting squares that you can get at any hardware store.
Lean Into Sustainability by Making a Map Bouquet
More Details
Instead of having to replace the flowers in your vases every few weeks, make a more permanent centerpiece using old maps. Origami is an old Japanese tradition, and there are hundreds of origami flowers you can make out of paper using origami techniques. You don't have to have any experience with origami either; Origami-Instructions has 47 flower tutorials to choose from.
When in Doubt, Frame and Display Them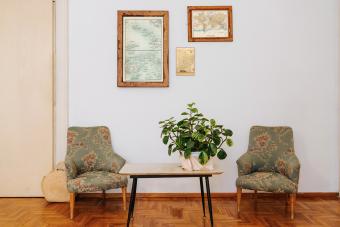 Although framing an old map isn't the most exciting option for putting them to use, don't count it out. You can really complement an older map with a thrifted picture frame or bring it up to modern standards with a new one. And, if you really want to make your map into art, you'll get it custom framed with colorful mats. After all, there's no room that wouldn't look better with a finely framed vintage map on display.
Make Map Ornaments for the Holidays
More Details
Holiday ornaments make for great gifts, especially for the travelers in your life. There are a couple of different ways you can make ornaments using old paper maps:
Cut out square map sheets and go to town creating snowflake patterns. Top them off with red ribbon hanging loops.
Buy a small batch of empty craft cork bottles and fill the inside with a rolled strip of the map.
You Can't Get Lost Making These Map Crafts
Old maps have a certain charm that keeps us from tossing them in the trash with our old trackball mouses and VCRs. But these beautiful depictions of the world weren't meant to be hidden away in a closet somewhere. So, find a way that fits with your vibe to incorporate vintage maps into your design. And if that means chopping them up and using them in an unusual way, then so be it!