Decorating with contact paper is an affordable way to turn everyday items into eye-catching room accents. With a little creativity, a roll of contact paper can be the cheapest, but best investment for your home decor project.
How to Use Decorative Contact Paper
Contact paper is long-lasting and easy to use. The key to success is to follow preparatory and application processes. Most contact papers are coated with a plastic to create an easy to clean surface. Some of the patterns are very lifelike replications of textures, such as wood, granite, marble, leather and other natural surfaces. This authentic look appeals to people who want to create the illusion of marble shelves without the cost. There are various decorative patterns, such as flowers, ivy and lattice-work designs that can be used to add a splash of color and even whimsy.
Surface Preparation
Before applying contact paper, be sure to prepare the surface. This step will help to make sure that the paper adheres to the surface that it is intended to cover.
Make sure the surface is clean and dry before applying contact paper.
If you wash or wipe down a surface before applying the paper, give it enough time to dry thoroughly.
Use sandpaper to smooth a surface before applying contact paper.
Measure and Cut Paper to Fit
The back of the paper is printed with ruler sides and a grid to help you cut the paper in a straight line.
Measure width and length of the surface you wish to cover.
Transfer these measurements to the back of the paper.
Using a pair of scissors, cut the desired paper length and width by using the ruler and grid lines on the back of the paper as guides.
Once you've cut the paper, double-check the length and width before peeling off the paper backing and apply to surface.
Some manufacturer tips for easy installation include:
Use a squeegee for smoothing the paper onto the surface to avoid unnecessarily pockets of air.
Release any trapped air bubbles by pricking with a small straight pin to release it.
Prepare surfaces and apply contact paper according to manufacturer's instructions.
Application Tips
To keep your contact paper from peeling up, apply it correctly. Here are some tips for applying contact paper:
As you apply the paper, run a ruler or straight edge along the front surface to push out any air bubbles as you go along.
After applying the paper, wipe it down with a rag to ensure that it is attached to the surface.
It's always better to cut your paper too large, rather than too short. Excess paper can be cut away with a utility knife for a finished edge.
Contact Paper Removal
If you decide to cover a wall or countertop with contact paper, be prepared for some heavy duty work to remove it.
Contact paper leaves a sticky residue behind. Only use it on objects you wish to be covered permanently.
The chemicals used to remove the residue can damage a surface, especially porous surfaces, such as wood.
It is possible to paint over contact paper if you use a primer.
Six Contact Paper Projects
There are many ways to uses contact paper for a quick and easy transformation of many household objects. Etsy is one of the best places to find decorative contact paper in a variety of floral designs.
#1 Decorate Armoire Doors
One of the easiest ways to give new life to a tired armoire is with paint and a pattern print contact paper. In this project, each door features three panels of varying shapes and sizes. This girl's room features an accent wall covered in a blue background with bouquets roses. The contact paper selected matches the colors as well as the theme, only with tiny pink buds.
You can recreate this project by selecting a wallpaper for one wall and a compatible contact paper pattern. The key to making this look is to select a contact paper pattern that is smaller than the wallpaper pattern. This technique prevent two different patterns from competing with each other.
Measure each panel and transfer to grid on back of the contact paper.
Cut along the grid lines and hold over the panel to check that it will fit.
Peel back the paper to expose the top edge of cut paper.
Work from the top down as you press the contact paper onto the panel while pulling the paper backing off. Work slowly, smoothing the paper onto the panel. You can use a wallpaper tool to press paper smooth, preventing air from being trapped.
Once your project is completed, add a few pillows, art objects and/or fabrics to carry these color combinations across the room, adding depth to your room design.
Pick up similar paper from these retailers:
AliExpress gives a nostalgic touch with the 17.7" x78.7" roll of Yazi blue rose flower contact paper. Price: Around $9.

Wallstickery features a red and yellow contact paper with a peel and stick backing. The PVC vinyl film finish is waterproof. Rolls are 19.7" x 118.10". Price: Around $30 per roll.
#2 Refrigerator Rejuvenated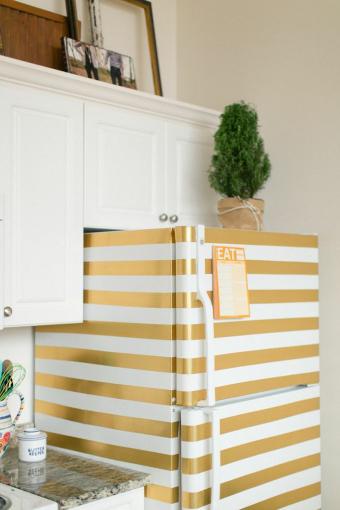 The Everygirl featured an interview titled Ruth Allen's New England Home Tour, where Anna Mathias revealed the eclectic chic of photographer Ruth Eileen. One of the photos highlights a DIY painting project that transformed a plain white refrigerator into a gold and white striped conversation piece.
You can recreate this stunning look by using gold contact paper cut into identical strips and applied to the refrigerator surface. You might decide that diagonal stripes better fit in your kitchen design. If gold isn't in your decor color palette, you could use multiple colors and alternate them for a different look. You may prefer to forego stripes and opt for a chevron pattern instead. Test out your ideas on paper to judge which effect your prefer.
Find similar metallic paper at these websites:
Design Your Wall sells a gold mylar contact paper in a 16.3 yard roll. They advertise that this paper won't stick to itself and can be repositioned. Price: Around $90.
Etsy gives a different spin on this project with glitter gold PVC contact paper roll that's 23.6" x 39". Price: Around $16.
#3 Transform Open Kitchen Cabinet Shelves
You can transform boring kitchen shelves with a beautiful patterned contact paper. This eye-catching example shared by Brittany aka Pretty Handy Girl demonstrates how amazing a little color and design can wake up a plain kitchen cabinet.
While Brittney used foam board and fabric, you can substitute this look with colorful decorative contact paper design. You may opt to use foam board instead of adhering the paper directly to the back wall. If so, you can follow Brittany's detailed instructions and substitute contact paper for fabric.
Pick up similar paper from these stores:
Target features a nice floral blue design available in 18"x 20' rolls. The water-based adhesive allows paper to be repositioned and removed without stickiness. Price: Around $6.

Walmart offers an 18" x 24' roll of pretty self-adhesive scrolling red pattern contact paper. This non-reflective vinyl paper can be removed easily. Price: Around $8.
#4 Staircase Risers
One way to perk up a rather mundane stairs case is with a little contact paper added to the risers. In this project, Grillo Designs creates a stunning look with a little contact paper added to every other riser for the best visual effect. The chevron pattern staircase in the photo demonstrates how the contact paper is applied so each pattern is repeated exactly like the previous riser.
If you wish to use more than one pattern, then you'll want to alternate the different patterns so to create uniform appearance. You may decide a faux colorful tile contact paper is more your style. You can mix these up with different colors and patterns for each riser.
Walmart chevron contact paper makes a bold statement in gray. This 1.5' x 10' contact paper comes in a 2-roll pack and features a PVC finish. Price: $9.99 for 2-roll pack.
Chic Shelf Paper offers a chevron patter that's available in 14 colors. Sizes available include rolls (120"W x 12"D, 120"W x 24"D), sheets (36"W x 12"D, 24"W x 24"D, 36"W x 24"D, 48"W x 24"D) and customized sizes. You can choose either laminated vinyl, matte paper or fine weave fabric. Prices: Starts around $12 (sheet) and $33 (roll); customized options have varying prices.
#5 Faux Marble Countertop
Tired of your sink or kitchen countertop? Don't want to invest in a costly replacement? Love the look of marble, but can't afford the real thing? Use this clever idea from Our Peaceful Planet for a cheap and great look solution by using marble designed contact paper.
You may prefer to use a wood grain or granite texture instead of a marble pattern. Some tile patterns might work well on the short backsplash to give a contrast to the countertop. Browse the available contact paper patterns and decide which best fits your home décor.
Etsy offers a marble look contact paper available in 20" x 6', 20" x 6.5', 20" x 8', 20" x 9.8' rolls. The paper is water resistant with a high gloss finish. Price: around $10 to $18.
Amazon: White gray marble with a glossy vinyl finish. 15.9" x 6.5' roll. Price: Around $13 discount saving when more than one roll purchase.
#6 Revived Medicine Cabinet
Using contact paper to revive a neglected and often overused medicine cabinet gives a wonderful surprise each time you open the cabinet door. If you have a double medicine cabinet or the man in your life has his own bathroom, this project can add a little masculine or feminine touch to each gender specific medicine cabinet. Personalizing your living space is always rewarding.
While this DIY project by Design Improvised used wallpaper, you can always substitute contact paper. If you're creative and don't want to cover the entire back wall of the cabinet, draw a few silhouettes of a favorite theme, such as deer, child on a swing, or a mountain forest, and trace onto decorative contact paper. These cutouts can then be place behind the shelves for a fun surprise each time you open the medicine cabinet door.
Walmart presents a cute granite floral design in green, red, purple and marigold colors. A single roll is 18" x 9' and has an easy to reposition adhesive. Price: $16.90.
Chic Shelf Paper offers the Floral Melange pattern that is available in rolls (120"W x 12"D, 120"W x 24"D), sheets (36"W x 12"D, 24"W x 24"D, 36"W x 24"D, 48"W x 24"D), and customized sizes. You can choose either laminated vinyl, matte paper or fine weave fabric.

Prices: Starts around $12 (sheet) and $33 (roll) with customized prices that vary.
Choosing Contact Paper Projects
There are many ways you can use contact paper (or peel and stick wallpaper) to transform objects and furnishings. Choose from a range of patterns and colors to add interest and style to your home décor.