You spend much of your life in the office, so make your workspace one you look forward to seeing each day. Fill your office cubicle with items and decor that reflect your personality and style. These cubicle decor ideas will make the workday more enjoyable and might just kick your productivity into overdrive. Trendy and stylish cubicle decor could be the key to your next big success.
Create Warmth With Fabric & Wallpaper
Give your cubicle a touch of warmth with decorative fabric or wallpaper. Your personality and style truly shine with a vivid pattern or sophisticated print on cubicle wall fabric. For a minimalist look, try a textured wallpaper in your favorite neutral or muted shade. Go bold with a colorful stripe or soft with a subtle floral. Whatever pattern you choose, make sure it's one that you truly love and one that helps you build on a cohesive style or color palette. If colors and patterns aren't your style, try a textured cubicle wall fabric or panels that look like wood or stone.
Choose a Color Palette
Spruce Up File Cabinets
More Details
File cabinets are the perfect blank canvas for adding your own style and personality to an office cubicle. Peel and stick shelf paper, and even some wallpapers, are perfect for adding flair to your standard gray file cabinets. If you like an eclectic look, you might choose novelty decals that suit your personal aesthetic.
Update Standard Office Supplies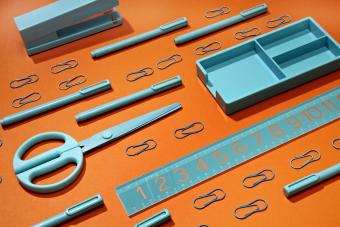 Skip the standard stapler! Add some personality to those everyday office supplies and bring in your own stylish tools. Use a similar style, color, or pattern across all your items to keep everything cohesive. Chic acrylic, leopard print, neon colors, or sophisticated stripes are just a few style choices for your office necessities. You might also try mixing and matching items that fit your aesthetic, like feminine florals with soft muted colors or streamlined styles with elegant neutrals.
Add Elegance With Gold Accents
Metallic details bring luxurious vibes to your drab office cubicle. Add gold details for effortless elegance in your office supplies, decorative accessories, and even your office chair or some of your tech items.
Use Plants for Texture & Air Quality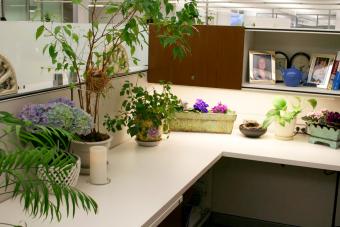 You might spend most of your day working indoors, but you can still appreciate nature from your desk chair. Plants that improve the air quality in your office area also bring vibrant color, interesting texture, and general good vibes to the space. Play with varying heights and use planters with personality to create a mini Zen garden in your office cubicle.
Roll in a Fun Chair
Select Soft & Inviting Details
Color and style elements are important points of interest in your office cubicle, but texture plays a large role in the aesthetic as well. With all the hard surfaces likely in your cubicle already, look for some softer textures you can introduce. Add a soft rug underfoot to ground the space. Bring in a cozy blanket or textured pillow for your desk chair. Choose linen-look wallpaper on the cubicle walls or cover your corkboard memo board in luxurious velvet or classy linen.
Play With Lighting
One of the biggest factors at play in causing your office space to feel gray and drab is the lighting. Most overhead office lighting includes fluorescents and cool-toned lights that feel sterile and downright sad. Bring some warmth to your workspace with accent lighting that feels natural. A sophisticated desk lamp brings warmth and style to your desk. A warm salt lamp counteracts all the cool, blue lighting from tech items. For a bit of cozy drama, a trio of flameless candles helps you feel right at home during the workday.
Embrace Trendy Dark Academia
A dark and moody interior design trend, dark academia is still timeless with its classic decor elements. Introduce this sophisticated trend to your office cubicle for a space that inspires thought and productivity. Dark, warm tones and touches of wood are the foundations of this style, so add those to your space on the cubicle walls or even with your desk accessories. Look for classic academia decor items that elevate the space like a mini globe, equestrian-style objects, stacks of books, and nature-inspired art pieces.
Make Tech Accessories Cute
From your computer keyboard to your headphones, choose office tech accessories that bring life to your workspace. Tuck those standard items away and replace them with colorful, chic, or streamlined items that fit your style and make your work a bit more exciting.
Use Luxe Materials
If you want an instant office upgrade, look for luxurious decor and materials to elevate your office cubicle. Marble, metallics, velvet, faux fur, and trendy acrylic or concrete bring an understated glam style to your standard cubicle space.
Choose Storage With Style
Increase storage space by adding a few decorative baskets or bins attached to one wall of your cubicle. Hang a wall organizer on the cubicle wall and add woven baskets, acrylic bins, or metal trays for decorative storage that's stylish and useful.
Inspire Creativity & Productivity in Your New Cubicle Space
With these office cubicle decor tips, you'll be amping up your productivity and finding new sources of inspiration throughout your workday. Design a space that feels unique to you and shows off your personal style to bring a little more joy to your Monday mornings.