Introduce a spring color palette to your home to breathe new life into your decor. Borrowing from the beauty of all you see around you in nature, these spring colors can give your home a lively seasonal update you may just want to keep around all year long.
Vibrant Spring Color Palette
Most spring colors are warm and bright like coral, yellow, turquoise, mint green, and peach. You might also see soft and cool spring shades like blush, sage, and robin's egg blue. Look for warm and clear spring neutrals in shades of warm gray, camel brown, and cream.
Sophisticated Color Pop
Easily update your neutral decor with a sophisticated pop of color. Add a rich and warm yellow in textile accents to bring spring vibes to your gray and cream furniture and walls. Canary yellow, mustard, and ochre will all brighten your home just in time for spring.
Bright & Warm Contrast
Slide in a few vivid accent furniture pieces to add life to your neutral decor. Mixing leather furniture in a warm camel shade with contrasting spring colors like yellow and turquoise will bring new life to your home interior.
Warm Neutrals
Use natural elements to bring spring neutrals to your home. Gray concrete, brown wood details, and cream-colored textiles create dynamic textures and warm color combinations just in time for spring.
Elegant Warmth & Contrast
If you love a luxurious and feminine look, a warm contrasting color palette is perfect for your home's spring update. Use soft sage and sweet blush alongside warm gray for a subtle contrast that's modern and regal. Incorporate your colors with luxurious textures like silk and velvet and highlight your palette with gold metal details.
Warm & Vibrant Blend
If a contrasting palette isn't your style, a monochromatic or blended look might be the choice for you. Try mixing bright shades of coral and peach alongside warm cream neutrals. Use your bright colors in window treatments, rugs, pillows, and accent furniture for a timeless look that's still fun and on trend.
Neutral & Natural
Stick to a classic and nature-inspired color palette by accenting your neutral home with green decor details. Shades of gray, cream, white, and beige are the perfect backdrop for pops of green color in sage, olive, lime, and any other green you can find.
Colorful Mix
Go for a daring and striking style with a color palette full of bright spring colors. Mix mustard yellow, turquoise, and blush for a stunning color scheme that packs a punch. If you want to keep your style subtle, use these colors in small accents like textiles, ceramics, and art, while keeping your other design elements neutral.
Pretty Pastels
Spring colors are bright and vivid, but they can also be soft and muted. Combine your favorite spring pastels for a sweet color palette that lights up your entire home. Look for complementing pastel combos for a balanced look. Try peach and sage, lavender and yellow, or blush and blue to give your home a soft yet stunning pastel makeover.
Cool Modern Tones
Most spring colors feel warm upon first glance, but when paired with cool neutrals, the icy undertones of those same colors are clear. If your current home decor contains a lot of gray, blue undertones, and shades of black, you can still embrace the spring color palette. Choose soft spring colors with slight cool undertones like blush, mint, or sage. Use these colors in small accents like glass, pillows, and throw blankets.
Rich & Warm
You can certainly embrace the cooler shades of spring, but if your home is best suited to warm colors, then your decorating possibilities are endless. Look for the rich and warm shades of spring to bring into your home. Add a warm mustard yellow blanket, vivid green glass details, gold lighting accents, and vibrant orange pillows. You can even use rich floral details to brighten up your space throughout the season. Try bright pink, bold red, and sunny yellow blooms in your home for an easy spring update.
Classic Color Combo
When in doubt, reach for the classic color combinations. Some color pairings will always be timeless, and tweaking them for spring is an effortless way to embrace the season. Swap a traditional green and blue pairing for a soft sage green and a springy robin's egg blue. This color combo works well with warm and cool colors, so you can use them alongside icy gray or warm beige.
Sunset Shades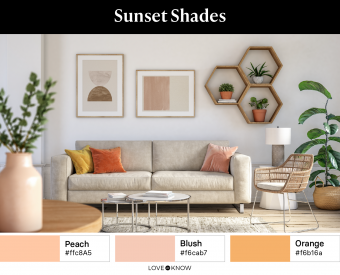 Create a luxurious and welcoming space with all the shades of a sunset. Spring's warmest colors will complement a home full of cream, beige, tan, or brown. Add details in shades of orange, mustard yellow, gold, coral, and peach for a sunset palette that will carry your home all the way to autumn.
Invite Spring Colors Into Your Home
Breathe new life into your space with shades of spring. Feel all the warmth, renewal, and joy of the season around every corner of your home. With a soft, warm, or vibrant spring color palette, your space will awaken all your energy just as winter fades away.