Scandinavian style embraces the minimalist motto of current interior design trends. The focus on functional beauty, clean lines, and subtle color continues to stand in the style spotlight. If you're looking to minimize clutter, maximize functionality, and design a sharp interior, Scandinavian style may be exactly what your home needs.
Use Neutrals With High Contrast
Work With Light Woods
For furniture, flooring, and cabinetry in the Scandinavian design style, light or washed wood tones are the go-to. White oak, pine, beech, and ash are all stylish choices for this minimalist design.
Leave Plenty of Open Space
Scandinavian design embraces the beauty of the blank canvas. Be sure to allow plenty of unoccupied space in your design plan to stick to the uncluttered principle of the Nordic style.
Add Geometric Details
Use subtle geometric applications for this interior style. Shelving, flooring patterns, rugs, throw pillows, and even architectural details are a great place to apply these Scandinavian design elements.
Mix Muted Neutrals
Though highly contrasting neutrals are a signature aspect of Scandinavian style, you also see a mix of muted neutrals. Medium brown tones, muddy grays, and off whites complement the soft warmth of the trend while remaining streamlined and uncluttered. Muted neutrals mix effortlessly so you can keep your warm beiges without losing your cool grays.
Feature Flat Panels on Furniture & Cabinets
The flat, smooth details of furniture and cabinetry in the Scandinavian fashion set it apart from other current trends. Flat door panels throughout this design style look contemporary and help elevate the minimalist essence of the trend.
Focus on Natural Light
Lighting fixtures are fun, but nothing beats the elegance and simplicity of natural light. Scandinavian and Nordic styles feature the presence of and focus on natural light. Try to enhance any natural light you have by choosing minimal window dressings, selecting light colors for walls, and angling furniture toward the incoming light in each room.
Showcase Sharp & Clean Lines
One of the most notable details in Scandinavian design is the commitment to sharp and clean lines in architecture, furniture, and prints. From coffee tables and sofas to printed rugs and decor, this design style strictly adheres to the streamline rule. You won't see flowing patterns or ornate furniture pieces. Even asymmetrical and rounded details still carry a clean and sharp essence.
Incorporate Welcoming Warmth
Though Scandinavian design centers on an appreciation for the streamlined, there is still a clear presence of warmth in the trend. This style maintains a minimalistic approach without compromising on comfort or hospitality. Keep your Scandinavian home welcoming by including small geometric prints, plenty of textiles, warm neutrals, and a mix of sharp and rounded edges.
Include Plenty of Textures
Scandinavian design is anything but boring, even with a mostly neutral approach. Texture is the star of this interior design showcase, and achieving Scandinavian style successfully requires knowing how to mix textures properly. Pay close attention to the scale of your textures and combine large, chunky weaves with small, soft knits. Wood, stone, and natural fibers blend effortlessly in the Scandinavian style.
Add Life & Color With Plants
Scandinavian design shows favor to smooth, streamlined, and uncluttered elements. But it also incorporates the free-flowing essence of plant life. Greenery helps elevate the natural details in the design trend and adds color and texture to your home.
Adhere to a Minimalist Style
Sticking to the basic principles of minimalist design will help you achieve a Scandinavian or Nordic look in your home. Focus on functionality, stick to simple pieces, and make room for plenty of negative space. Avoid clutter, busy patterns, or ornate details.
Select Smooth Finishes
Though mixing textures is important in Scandinavian style, incorporating plenty of smooth finishes is equally important. Smooth stone, metal, ceramic, and glass keep the clean and contemporary principle of this design trend at the forefront.
Choose a Pop of Color
Though Scandinavian design is mostly neutral, there is still plenty of room for accent colors in this trend. Stick to just one or two bold colors to showcase in design details like accent chairs, throw pillows, light fixtures, and small decor items.
Use Unique Light Fixtures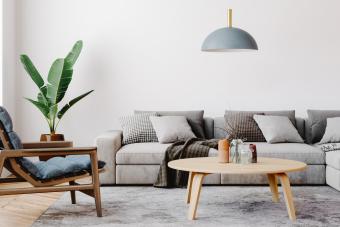 Light fixtures in Scandinavian design are an opportunity to have fun with color, texture, and shape. Incorporate a sleek metal, a bold pop of color, or unique shape for a striking light fixture that makes a statement without distracting from the simplicity of Scandinavian decor.
Replace Prints With Color Blocking
Aside from subtle geometric prints, the Scandinavian design style often lacks pattern. You can still add fun personality to your Scandinavian home with creative color blocking. Whether you're using contrasting neutrals or a couple of bold colors, the color blocking technique will add interest to your interior without using an abundance of pattern. You can color block a wall with an asymmetrical split between paint colors or color block a room with jet black furniture against a stark white wall. You can even color block in your kitchen with an accent island or two-tone cabinets.
Practice Simple Functionality
Scandinavian design promotes a focus on the functional rather than a need for the unnecessary. When planning your Scandinavian or Nordic home decor, always ask yourself about the functionality of each design element. Make sure the furniture is comfortable, large pieces serve a purpose, and small decorative items don't invite clutter. Also, remember that adding joy to your daily life is a functional part of some home decor pieces, so have fun with your choices. A vase of flowers, a shelf full of books, or a quirky art piece can all fit into Scandinavian design.
Focus on the Essence of Scandinavian Style
Whether you just want to incorporate a bit of Scandinavian style or you're looking to revamp your entire home, stick to the principles of the style in a way that works for you. Simplicity, function, and comfort are the main points of the Scandinavian trend that will transform your home.