Undoubtedly, we are all as quirky and special as those signature Easter candies that line the store shelves. While the number of Peeps, jelly beans, and chocolate rabbit options explodes each year, these are the ones that speak to the spirit and character of each sign in the Zodiac. Even for those indecisive Libras (what's better than a bag of jelly beans where you can have ALL the flavors?), you'll find these candies are perfect for each and every bunny.
Of course, you might want to know about your somebunny special, or perhaps you're bawking about what your sign is! Take a peep at the signs and their dates, then shower yourself and them with an eggseptional treat.
Aries - Reese's Chocolate Eggs
Independent, passionate for life Aries, always striving to be number one. And what's more iconic and number one at Easter than peanut butter eggs? As with pioneering Aries, it's these Easter eggs that brought us so many other quintessential holiday peanut butter shapes. It's fitting that these popular candies are a perfect match for friendly and outgoing Aries.
Taurus - Pastel Macarons
Taurus loves treats, and we say that with personal Taurus experience, but this sign doesn't just want to eat a handful of pastel candies. Luxurious, high-brow, treat-your-self Taurus will turn to an appropriately themed macaron. All about the here and now, Taurus will want to capitalize on these rare and hard-to-find bites. Doubly so for the Taurus that embarks on making their own Easter macarons.
Gemini - Sour Jelly Beans
Trickster, fun-loving, and social Gemini. We love you and all of your personalities, just like Gemini loves the surprise hidden in each sour jelly bean. The combination of pucker and sweet is the perfect antidote to their indecisive nature. There will be no dividing the beans by color or saving all of one flavor for last - oh no, Gemini will eat these by the handful.
Cancer - Candy Robin Eggs
Loyal and loving, Cancer deserves a reliable and predictable Easter candy. Just like Cancer, who glows when they're cared for and caring for others, these eggs are the perfect symbol for this nurturing sign. And who's more of a caregiver than a robin mama with her eggs? Don't worry, these aren't real.
Leo - Solid Milk Chocolate Bunny
Royal Leo, the lion king of the zodiac, deserves the king of Easter shapes: a rabbit. A milk chocolate bunny, and a solid one, is what Leo is all about. Generous and warm-hearted, unlike those hollow chocolate bunnies, their sometimes pompous personality is akin to those solid chocolate buns. In a good way, of course. Eat the ears first Leo!
Virgo - Pastel Chocolate Covered Almonds
Reliable and steadfast Virgo, they're a sign that knows what they want. And they want something they can enjoy year-round, but as with any holiday, they're going to lean into the vibes. Those colorful, pastel, chocolate-covered almonds are exactly what Virgo stands for: practical, all work, and just a hint of play.
Libra - Classic Jelly Beans
Like Gemini, Libra struggles with indecisiveness, but on a grander scale. Always wanting everything to be happy and maintain their easygoing demeanor, Libra wants nothing more than to not have to make any decisions that'll rock the boat. With jelly beans, Libra won't need to decide what flavor to enjoy - but they may group their jelly beans together by color before they savor them.
Scorpio - Easter M&Ms
Scorpio can get a bad rap for keeping their motives a secret. And what's more surprising than not always knowing what flavor of M&M you're helping yourself to? Especially when they're decorated in pastel Easter colors. Plain, peanut, peanut butter, who knows what your next handful will be? Like Scorpio, there's something magnetic and mysterious about this Easter candy.
Sagittarius - Bunny Peeps
Perhaps the most patient sign of all the zodiac, Sagittarius is also a little misunderstood, just like those bunny Peeps. (Peeps shaped like rabbits? Who knew?) Good-humored and straightforward, you can trust that with Sagittarius, what you see is what you get. You know what you're getting into when you open a tray of bunny Peeps, just like you know where you stand with friendly Sag. But be forewarned, Sagittarius is likely to stage a one-act, Peep-themed play (or at least a photo op) before enjoying their treat.
Capricorn - Chocolate Cream Egg
Practical yet ambitious, Capricorn is just like these classic Easter chocolate cream eggs. Capricorn thrives in a material world. They're an Earth sign like Taurus, after all. You'll need to be careful and patient when indulging in these chocolate eggs, because like Capricorn, they're unforgiving if you take too big of a bite.
Aquarius - Multi-Flavored Peeps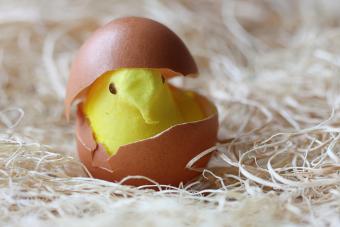 Eclectic Aquarius, bursting onto the scene with not just any old Easter candy. This abstract air sign is as unorthodox as the new flavors of Peeps. Revolutionary? So is that root beer flavor of Peeps. Unpredictable? What's more surprising than the next outlandish flavor of Peeps? We wouldn't be surprised if Aquarius is employed by the Peeps peeps and in charge of dreaming up new flavors.
Pisces - Dark Chocolate Rabbit
Ethereal, a touch sensitive, and always keeping the world at arm's length (because their imagination is better than reality), Pisces needs a treat that provides an indulgent escape. Good quality dark chocolate, in a festive shape that gives Pisces an excuse to indulge, is the perfect choice. What type of candy is so closely bound to affection than dark chocolate? Just like compassionate and loving Pisces.
Shooting for the Stars and Hopping Into Easter Treats
Looking to fill your cart with Easter treats? Shopping for the best Easter candy for that somebunny else in your life? Let the stars guide you as you hop to work. After all, there's something eggseptional about those once-a-year Easter candies.