Choosing a Burial Casket
Burial caskets come in a variety of sizes, designs, and materials, all of which fit the varied desires of a deceased individual. Look for a casket that honors your loved one by incorporating their personality and your budget. A list of funeral costs will tell you the average casket cost is $2,000, but prices range from $1,000 to $10,000. Check out the different features available in your casket choices before you buy so you're prepared for this difficult decision.
Split Couch Casket
A split couch casket is what you typically see at open casket funerals where only the person's head and maybe their upper body is visible. The top of the casket is split into two separate hinged sections so they can be opened independently of each other. This type of casket is used only when you plan to have a wake or funeral with an open casket and can cost anywhere from $1,000 to $10,000 depending on the materials and design.
Full Couch Casket
Full couch caskets are less common than split couch caskets and are typically used in cases where the casket will never be open to viewers. If a person was severely maimed in their death or your religious beliefs prohibit viewing the body, you'll want a full couch casket. Alternatively, if you'd like to display the deceased's entire body, the entire lid of a full couch casket opens as one piece. Since the top is one whole piece, these caskets can be slightly cheaper than a split couch casket, but not by much.
Tapered Casket
Standard caskets are rectangular, but many people use the terms "casket" and "coffin" interchangeably. A tapered casket, which is commonly called a coffin, features a tapered design at the foot end and has six sides instead of four. Tapered caskets are typically cheaper than regular caskets because they use less wood to manufacture them. Coffins generally cost about $900 and are only made from wood. Because of the simpler design, inexpensive casket plans are usually for coffin designs when you build your own.
Domed Lid Tapered Casket
While standard tapered caskets have a flat panel top, domed lid tapered caskets have a more ornate top. The lid of this casket features a rectangular dome to add space for the deceased and visual appeal. This type of casket will cost more than a typical tapered casket because of the extra wood needed to make the lid. Where a flat lid tapered coffin costs about $900, the domed lid version costs about $1,500.
Dark Stained Wood Casket
Caskets made from cherry wood or mahogany are two of the most popular styles because of their elegant look. These hardwood materials won't break down as quickly in the ground as softer woods and feature beautiful reddish tones. You can have any wood stained in these colors to save money, or buy the real thing. Because of their popularity and durability, mahogany and cherry wood caskets cost about $3,000 to $5,000 on average.
Light Stained Wood Casket
Oak and maple are other popular wooden casket colors and stains because of their traditional feeling. Maple and oak are both hardwoods that are durable and feature a lighter wood color. Light colored wood caskets can cost about $2,500 to $3,000 making them cheaper than dark wood caskets. You can also purchase a light wood such as a pine casket and stain in in maple or oak to bring out natural beauty of the wood.
Unfinished Wood Casket
Caskets used in natural or green burials are made of the simplest and most earthly materials such as unfinished pine. Green burial rules and regulations require the casket to be biodegradable and free of toxic chemicals. People who opt for green burials are the most common customers for unfinished wood caskets. You can have one built by a local carpenter or even learn how to build a casket from scratch which will cost at least $200 to $300 for just the wooden materials and up to another $200 to $300 dollars for hardware and lining materials.
Durable Metal Casket
About half of the caskets sold in the U.S. are made from metals. Steel is the most commonly used casket metal, but bronze and copper are options too. Advice on buying metal caskets includes shopping around to find the best prices before you buy as the price range for these can vary widely. For example, a 16 gauge steel casket costs about $3,000 while a 20 gauge steel casket is only about $1,300. Bronze caskets are priced more in the $5,000 to $7,000 range and copper caskets cost about $4,000.
Colorful Casket
Traditional caskets come in natural wood tones or shades of white. If your loved one had a bold personality and you want to send them off in style, consider a brightly colored casket. Standard casket colors include shades of gray, white, rose pink, gold, and baby or navy blue. If you want a bolder, more unique color you'll likely have to purchase a custom casket. Custom caskets will cost at least $1,000 extra for a custom interior and $1,000 for exterior customization on top of the original casket price.
Infant Sized Casket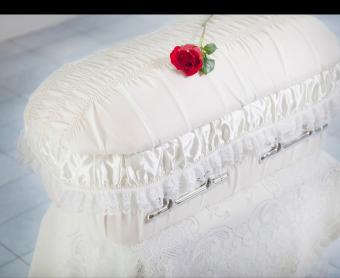 If you have lost a baby, infant caskets are the right size for your little boy or girl. Baby caskets are typically 17 inches and come in white to reflect innocence. You can still choose from full couch or split couch and the same types of material choices as adult-sized caskets. Baby caskets generally cost anywhere from $50 to $300 depending on the materials.
Military Burial Casket
Many caskets used for military burials are brilliant to reflect the honored life of the deceased hero. There are military caskets available to buy that incorporate colors and symbols from different branches of the military. These caskets typically feature metal handles and a glossy exterior. Military caskets cost about $2,000 to $3,000. You can also use any other standard casket as military burials always include an American flag draped over the casket.
Biodegradable Eco Casket
Biodegradable coffins decompose quickly and don't release any toxins into the environment as they break down. You can buy eco-friendly caskets from retailers like Final Footprint Caskets in materials such as willow, pine, cardboard, and bamboo. Biodegradable caskets are on the cheaper end with wicker costing $1,000 to $1,500, soft wood costing $500 and up, or cardboard costing $50 to $500.
The Right Final Resting Place
No matter what casket you choose, make sure it's right for the deceased and you. Do your best to follow their wishes and stick within your budget so you'll feel like you've chosen the right final resting place for them. Keep in mind you can decorate any casket with a beautiful flower spray and find cheap casket options for under $2,000 that still look respectful.