Let's set the scene: you call your friends, send them an IM, or text them that they have plans this coming weekend. It's time for a sleepover. You know how the script goes: you have them to bring their sleeping bags, their favorite snacks, and tell them to let you know what they want to drink.
Grab the popcorn, gather up the pillows, and don't forget the most important role: picking out the best sleepover movies to make the night the ultimate in fun. 
Classic and Timeless Sleepover Movies
From the screeching and giggling sleepovers of the early 80s to the sleepovers with prank calls and games of truth or die in the 90s (and the all-but-live-streamed sleepovers today), each and every one of these movies is a staple for sleepovers from generation to generation.
Our top three live rent-free in our head — unlike those late fees. 
Sixteen Candles — Screen queen of the 80s, no sleepover was or is complete without Molly Ringwald. And what's more bond-worthy than the angst that comes with turning 16 as a teenager? Bonding over the experience with friends in PJs takes the cake. 
Dirty Dancing — Young Patrick Swayze, the future Gilmore Girls matriarch, and Jennifer Grey gave us the teenage angst movie of our dreams. Not even Jerry Orbach can put Baby in a corner. 
10 Things I Hate About You — A baby-faced Joseph Gordon-Levitt, forever-young Heath Ledger, and zingy Julia Stiles take Shakespeare and turns it into a movie we can't help but quote, or hate. Not even close, not even a little bit, not even at all.
More classics you'll love: 
The Best of the Y2K Sleepover Movies
Hello, millennials. It won't take long for these sleepover movie quotes to start rolling off the tongue.
Remember running home from school on Friday, eager to make sure you had pizza rolls and the good soda pop ready to go for what was sure to be a sleepless night? You will once you pop these into the VCR of your memory, especially our top picks.
The Princess Diaries — Who didn't want to one day find out they were heir to a throne? Perhaps not awkward and endearing Mia Thermopolis. But with Julie Andrews as her grandmother, you know she can grow into her tiara. 
13 Going on 30 — Being 13 is tough, and not many would go back to that age. But what if you could skip those awkward years completely? Anne Hathaway lives out our dreams and shows us that you should be careful what you wish for. 
Titanic — So this may have been a movie you watched in the background, if only just to gush over Leonardo DiCaprio, but you also watched because there's nothing like a little forbidden romance. And then, as always, the debate about whether or not Jack could've fit on the door with Rose. 
More Y2K sleepover movies worth popping popcorn for: 
Instant Classic and Modern Sleepover Movies
Some movies become instant classics — the ones that resonate and stick in the hearts of tweens to twenties to fifties and beyond. And these are the films we can sit around the living room and share with friends, whether it's over wine or giggling over between TikTok videos and class schedules for the upcoming school year.
But three take the cake for ones that could never be forgotten. 
Mean Girls — Few movies have reached cult status and instant quote recognition the way Mean Girls has. And no other movie has captured the way navigating high school is like living a life with lions and wild animals the same way again. It's not just a regular movie, it's a cool movie, about friendship, heartbreak, and those high school mean girls. 
Bridesmaids — Perhaps more for the college-age or older crowd, we're all gotten stuck in something group project-esque in life, much like being a bridesmaid. Laughs, heartbreak, lifelong friendships, and opening yourself up; with this film, you'll laugh until you cry and cry until you laugh. 
The Notebook — Was it really a sleepover without watching Noah and Allie fall in love over and over again? And, naturally, after watching, you posted those sappy quotes everywhere you could on the internet. And fell asleep dreaming of a boy climbing a Ferris wheel to convince you to go on a date. 
More modern and instant classic sleepover films to fall in love with: 
Sleepover Movies For a Thrill
You know those movies you absolutely promised your mom you wouldn't watch at Angela's house? Yeah, these were those movies. And it's your jumping at every shadow in the corner that gives your sneaky sleepover movie-watching away. Relive those not-so-scary thrills and adventures, or enjoy them for the first time.
While so many inspired fear of the dark, three thrillers will never leave our imagination. 
I Know What You Did Last Summer — Based on the book of the same name by Lois Duncan, it left teens reeling over how to grapple with a night drive gone wrong. Freddie Prinze Jr. and Sarah Michelle Gellar stole our hearts and made us question ourselves about what we would do. 
Urban Legend — A year later, Urban Legend stoked teen and college-age fears even more. Not just one urban legend was enough; this was a movie that played into the fears of everyone at the sleepover. And you definitely didn't look too closely at any shadows for a week after. 
The Sixth Sense — While this movie is long past spoilers, it was irresistible to mimic Haley Joel Osment's iconic line, "I see dead people," with wide eyes in your own sleeping bag, safe and away from dead people. Maybe. You can never really tell, can you?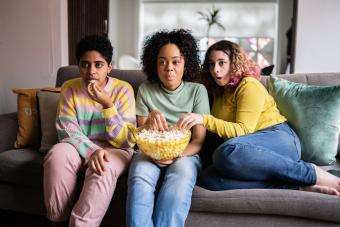 More thrillers perfect for watching in your sleeping bag: 
Singalong Sleepover Movies
Break out the hairbrushes! You're going to need a microphone when you pop these movies onto the tv for your sleepover. You'll be surprised how fast these take the sleepover into karaoke mode.
While all of these are earworms, there are three we can't imagine a sing-along sleepover without. 
Grease — John Travolta and Olivia Newton-John changed the world with just a single word: Grease. Sweet Sandy and wanna-be-tough guy Danny Zuko fall in love on vacation, part ways, and, by chance, meet again — but this time at high school. Pink Ladies, T-Birds, and strict teachers make for a movie that's seared in brains and songs that will always be top hits in our hearts. 
Moulin Rouge — A combination of classics and songs written just for the movie, it was hard to have a sleepover without singing everyone note of every song. Crying along, laughing along, and loving along with those hopeless romantics. 
Rent — From Broadway to the movie screen to the tv screen, few musicals have the reach like Rent. Straight to the heart, loving and singing Rent was a lifestyle for a few years and it's one that comes back so easily. 
More musical movies for your next sleepover or nostalgic movie night: 
Old Classics and New Laughs
From days of renting VHS to instantly buying and streaming, you don't need to wait for your next sleepover to relive these classics or treat yourself to a timeless movie. Quotable, singable, and re-watchable, these are the sleepover movies that are always made better with popcorn, your sleeping bag, and your BFFs.