While franchise movie marathons might be a thing of the past, we won't judge you if that's your perfect night in. But, you can also move into the future with some unique movie marathon ideas.  You might just wish you thought of them sooner. 
Franchise Movie Marathon Ideas for a Standard Screening
The most common way to have a movie marathon is to watch a series of films in either a trilogy, series, or franchise. Given we've got over 100 years of movie history to scour through, there are a ton of titles that fit the bill.
Here are just some of the many films you can put on for a throwback movie marathon:
Lord of the Rings Extended editions
Star Wars
Star Trek
Harry Potter
The Godfather Trilogy
James Bond
The Fast & Furious
Halloween
Saw
Scream
A Nightmare on Elm Street
Friday the 13th
Marvel Cinematic Universe
Jaws
Jurassic Park
Indian Jones
Pirates of the Caribbean
Rocky
Mission Impossible
Batman Trilogy
Toy Story
The Mummy
DC's Animated Movie Universe
Men in Black
Non-Franchise Movie Marathon Ideas Made for the Big Screen
Your standard franchise movie marathon can be a lot of fun. But if you want to really impress your friends with a cinematic experience, try out one of these non-franchise movie marathon ideas instead.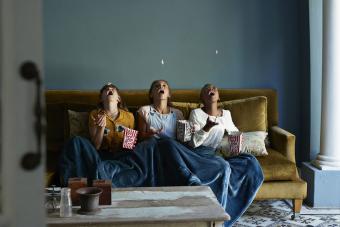 Best Picture Award Winners
While the Academy Awards is far from an impartial judge on quality movies, there are still a lot of bangers that won the Best Picture award. Spanning 100+ years, there are sure to be a few that catch your eye.
Some Best Picture award winners you might want to give a try are:
Casablanca
On the Waterfront
The Apartment
The Silence of the Lambs
Parasite
Everything Everywhere All at Once
Summer Blockbusters
For decades, the summer blockbuster was the event of the year for kids and teens. Bring back that breezy, out-of-school freedom with nostalgic classics like:
Jaws
Independence Day
Aliens
The Lost Boys
Twister
Barbie
A Night of Sequels
Sequels have a notoriously bad rap, and there is a reason for that. But sometimes a sequel comes out of the gate and surpasses the original by a landslide. Praise the movie sequel and pay homage to the ones that are better than the original with a marathon chock full of movies like these:
The Godfather Part II
Top Gun: Maverick
Toy Story 2
Star Trek II: The Wrath of Khan
The Dark Knight
Batman Returns
Stephen King Film Adaptations
If you know one name in horror lit, it's probably Stephen King. With such vivid imagery and inventive storytelling, it's no wonder his works have been adapted into movies time and time again.
From the good to the bad, these are a handful of the movies you could marathon on a Stephen King night:
Carrie
It
Misery
Pet Sematary
1408
The Green Mile
The Shawshank Redemption
Quick Tip
You can make your movie marathon night feel fresh by swapping seasons too. You don't just have to have a horror film fest in October when Halloween's on the horizon. Midsummer spookiness might be just the thing when you need a break from the rom-coms and summer flicks. 
Sundance Darlings
The Sundance Film Festival is an annual event that premieres some of the most thought-provoking, cinematically interesting movies of the year. If you want to really dig deep into the film school canon, host a movie marathon of Sundance darlings like:
American Psycho
Memento
Whiplash
The Blair Witch Project
Reservoir Dogs
Napoleon Dynamite
John Waters' Oeuvre
John Waters has quite the reputation, and his cinematic partnership with Divine has been both lucrative and boundary-breaking. If you're one for rebellious film-making, with some jaw-dropping content, then a John Waters movie marathon is a must.
Some of John Waters most iconic films include:
Pink Flamingos
Female Trouble
Polyester
Hairspray
Cry-Baby
Serial Mom
Who Let the Dogs Out?
If there's one thing that transcends generations, it's our love for animals. Gather up the kiddos and get inspired to host a Who Let the Dogs Out? movie marathon. While any canine film is in the running, these are a few franchises that you can't go wrong with:
Beethoven Series
Air Bud Series
Cats & Dogs Trilogy
5 Ways to Up Your Movie Marathon Game
A good movie marathon is only as good as the ambiance you create. Here are a few ways to turn a snooze-worthy movie into an enjoyable experience:
Send Fun Invites to Commemorate the Event
Remember how excited you used to get when a birthday party invitation would come in the mail? Let's bring back that excitement this year by crafting invites to give to your friends for the movie marathon. Use the movies on your list as inspiration for what kind of invite you work up. For example, if you're watching Jaws movies all day, you've got to take a shark bite out of every invite!
Prepare Themed Cocktails/Snacks
If TikTok's anything to go off of, people can't get enough of themed cocktails and food. From charcuterie boards to giant fishbowl drinks, the possibilities are endless. Food and drinks are the best way to turn a movie marathon into an immersive experience.
Set the Tone With Good Lighting
Want to wow your friends with a good movie marathon? Invest in sound-reactive light strips. You can put them all around the edge of the room and furniture and sync them up to the movie you're playing. It'll give it that 4-D movie theater quality on a budget.
Plan Physical Activities in Between Movies
If you're settling in for an all-day movie marathon, then you'll need to take a few breaks here and there. Get everyone's blood pumping and mind back in the zone by planning fun physical activities to do during your breaks. Find a great 10-minute stretch routine or challenge each other to a hula-hooping contest. It can be as low or high effort as you want!
Watch the Movies in Their Original Format
While 4K is super crisp, it's got nothing on the fuzziness of a VHS tape. So, one way you can add some ambiance is by watching the movies in their original formats. Go VHS, DVD, or digital depending on when they were released.
Make a Movie Marathon Even Better With These Ideas
A movie marathon isn't just about the movies! It's about the experience, the camaraderie, and the memories you make along the way. Plan the movie marathon of your dreams with these stellar movie ideas and tips.