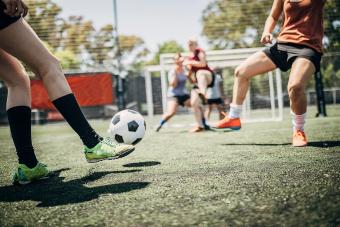 Grab your shin guards, roll up your socks, and lace up your cleats, team. These soccer team names are the twelfth man on your roster, ready to assist as you steamroll to the next goal. Cue the music and hit the pitch: it's time to make your mark with these team names. 
Funny and Clever Soccer Team Names
You may not be able to split the centers to clear a path to a goal, but you can split your sides and possibly theirs with these funny soccer team name ideas. 
The Goal Diggers
No Punt Intended
Fancy Footwork Fiasco
Red Card Life
Goalpost Gurus
The Bumbling Booties
Giggling Goalies
Red Card Rebels
Pitch Perfect
Corner Kings/Queens
And It Was All Yellow Cards
One Card, Two Card, Red Card
CTL ALT Defeat
Back That Pass Up
No Such Thing as Offsides
Half-Time Heroes
Bending It Like Beckham
[City Name] FC
Grape Expectations
Corner Kick Comets
No Grass, No Glory
Cleats R Us
Goal Oriented
Having a Ball
Kick in the Grass
Formerly in Shape
The Minions
Fun and Cool Soccer Team Names
Your team is definitely the cool kids on the block. If Fonzie played for a soccer team, it would be yours. After all, the only thing cooler than the Fonz are these cool soccer team names.
 The Offside Outlaws
Net Navigators
Hat Trick Heroes
Powerhouse FC
Skyline Strikers
Agile Aces
Striker Syndicate
Cleat Crusaders
Skywalker Strikers
Header Hunters
The Clever Cleats
Net Results
Oddballs FC
The Full Ninety
Free Kickers and Grinners
The Good, The Bad, and the Winning Goal
En Fuego
Quad Squad
End Game
Lower Your Expectations
Offside FC
Game Face
Passing and Harassing
Untouchables
Spitting Cobras
Rush Hour
Scoring Syndicate
Game of Throws
Avengers Assembled
The Lords of the Goals
Force Fielders
Ghostbustersr FC
Soccer Team Names for Adults
Adult soccer teams need a good name, too. And not just "Tuesday Night Team." Add a touch of personality to the team you're repping.
The Cleat Freaks
Oddball Ogres
Ball Busters
Punting Baxter
Not Washed Up Yet
Armchair Warriors FC
3rd Stringers
Sponsored By [Local Bar]
Weekend Warriors
The Stumblers
The Whistleblowers
Spin Cycle Squad
This Isn't a Peloton Class
Sharpshooters
Ball Brawlers
Red Card Raiders
Smoking Grass
Ryan Reynolds Buy Our Team
Let's Get A Drink Instead
Tailgaters
Average Savages
Wildcats
Soccer School Drop Outs
One Kick Wonders
Springfield Strikers
Winning Soccer Team Name Ideas
So maybe your team isn't the dominant force that you like to think it is, or maybe you are cruising your way to the ship to raise the cup. Either way you kick it, your soccer team needs a name. Don't be the Purple Parrots for the fourth year in a row; add a little pizzazz and fun for when you run onto the field.