Birthdays are made for other people to celebrate you, but Singles Awareness Day (SAD) is the time for you to celebrate you. All throughout the year, our attention's pulled in so many different directions that all too often, we forget who the most important person in our life is - ourselves. Whether you're celebrating SAD for another year or for the first time, we've brought together some of the best ways for you to spend your time toasting yourself.
What Is Singles Awareness Day?
Singles Awareness Day was first coined in 2001, but officially copyrighted in 2005. Since then, it's become an unofficial holiday that some single people commemorate every year. Of course, irony isn't lost on the singles, and SAD's celebrated on February 15, the day after Valentines. It's just keeping the tradition of other non-holidays before it, like Galentine's Day on February 13, and Friendsgiving on the Wednesday before Thanksgiving.
Celebrating Yourself Shouldn't Be Difficult
In our go-go-go society, where practically every moment's perfectly curated for social media canon-fodder, it's become harder and harder to give yourself the time to do what you want to do. Especially as you get older, and society implies that you're not achieving the proper milestones. If you haven't settled down by 30, the media purports that you've failed at being a good partner, or that there's something wrong with you. They couldn't be further from the truth.
Choosing to be single, or finding yourself single in February, means you get the special opportunity to subvert the saccharine and romantic gestures geared towards couples in the weeks leading up to Valentine's Day by treating yourself like you'd treat a partner. Getting yourself a gift, taking yourself out to your favorite restaurant, or watching a new movie are all easy ways to ring in SAD this year.
Show Yourself Some Appreciation With These Fun Ideas
If you're so lucky as to find yourself single on February 15, then it's your privilege to rebel against the system that lifts up relationships and sometimes forgets about people focusing on themselves. Take SAD to date yourself for once. We know you treat your partners like the Kings and Queens they are, but you are your greatest partner in life. So, buckle up and get ready to schedule yourself the best date you've ever had.
The best part of singles awareness day
is being aware that you're single. #KrakenRum #SinglesAwarenessDay pic.twitter.com/qnMA1AIRrd

— The Kraken Rum (@KrakenRum) February 15, 2022
Have an Old-Fashioned Movie Night
If you're a cinephile, then you take movie nights seriously. Whether it's a 2000s comedy kind of evening or you want to watch all of the slasher flicks your past partner was too grossed out to watch with you, you can put together a SAD movie night to be jealous of. This includes, but is not limited to, popcorn in a large bowl, movie theater butter at the ready, your favorite movie candies on hand, and the comfiest blanket draped over your legs.
Go to an Amusement Park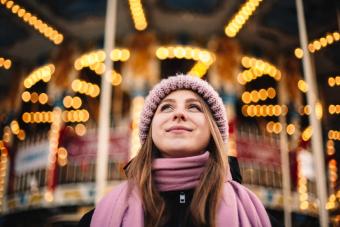 For some of you, racing down hundreds of feet in a speeding car down a tiny track is the height of entertainment. If that's the case, you should take yourself to an amusement park. Granted, this works best if you live somewhere warm where February won't give you frostbite. But, there's no quicker way to get through all your rides, and re-ride the ones you love the most as many times as you want, than hopping into the singles line. Maybe you'll even meet other singles to celebrate together.
Go Wild and Rearrange Your House
When you're in a relationship, you tend to keep the house the way it is. Diving into DIY projects requires a lot of energy, and half of that energy's going into maintaining an adult relationship. It also doesn't help that not every partner you have will have the same tastes as you. Being single is the time to decorate and rearrange your house in a way that is uniquely you. Put a mirror ball in the living room, set up coat hooks all around your bedroom walls to hold your hats and accessories, or paint a room in the craziest shade of yellow that you absolutely love. Spend SAD making your space feel like yours.
Give Yourself the Gift of a Shopping-Spree
If you're financially able, one way to spend SAD this year is by heading to your favorite retailer, picking up a basket or shopping cart, and letting yourself fill it up to the top with things. Although we know that retail therapy has its costs, there are sustainable ways for you to participate. Head to a plant nursery and fill a cart of flowers or go to a grocery store and fill up a cart of donations for a local food bank. Donate some of the clothing you no longer love to charity and buy yourself a new outfit or two. There are all sorts of ways to spend your money on a shopping-spree, and each of them should put a pep in your step.
Build a Photo Album Dedicated to Yourself
Because of modern-day selfies, we have more photos of ourselves as teens and adults than we ever did as kids. When you think about making a physical photo-album, you usually think about making one for a wedding or a baby shower, not so much just for commemorating one person's existence. Well, on SAD this year, you could collect all of those delightful (and sometimes cringy) photographs commemorating your past and put them into a photo album. Not only does this let you relive some of the greatest moments of your life, and probably some you completely forgot about, but it lets you remember who you once were and just how far you've come - which is a beautiful way to appreciate yourself on a day made to be all about you.
Singles Awareness Day Should Be All About You
In a world that prioritizes how we can be there for others, it's all too easy to forget about being there for ourselves. Singles Awareness Day is just one day out of the year that gives you the excuse to splurge and celebrate everything about you that makes you, you. It's not a declaration that you'll be single forever, it's just a day to intentionally focus on yourself. Take some time for self-care, fun, or just doing what makes you happy.