The gal pal day celebrated on the 13th of February every year, Galentine's Day is the opportunity to celebrate your besties before you dive into the romance of Valentine's Day. Use these Galentine's Day ideas to plan a perfect day out with the girls or throw an unforgettable Galentine's party. Show your squad how much you care. Romance has its place, but a day dedicated to loving your best girls calls for a celebration worthy of the occasion.
Celebrate With Charcuterie
The classic cuisine of a girls' night in, charcuterie is certainly in order for a Galantine's celebration. Make the spread extra fun by encouraging your girl gang to bring a variation of boards that are displayed with the holiday in mind. Chocolate-covered strawberries, deli meat flowers, and plenty of sweets will make this get together extra festive.
Have a Romantic Comedy Night
Romantic comedies are the bonding films of all gal gatherings. Bring laughs, and maybe a few tears, to your Galentine's movie night with a lineup of classic rom-coms. Ask your girls to bring their favorite movie or stick to fan favorites like Serendipity, When Harry Met Sally, Never Been Kissed, and Sweet Home Alabama.
Enjoy a Classic Brunch
Host the perfect girls-only brunch for your Galentine's get together. Have all your BFFs bring a brunch must-have, and don't forget the mimosas. Take turns sharing love advice or, better yet, what you love about each other, as you sip and snack.
Pamper Yourselves With Mani Pedis
Treat your girls, and yourself, to fresh manicures and luxurious pedicures during your bonding time. If you're feeling extra close to your squad, suggest matching polish and nail designs.
Have Formal Galentine's Day Tea
Take your Galentine's Day to the next level of luxury with a formal tea for yourself and the whole gang. Visit your local tea room for an authentic experience or host an afternoon tea at home for something cozy.
Find Caffeine on a Coffee Crawl
If there are too many coffee shops to choose from in your area or your gal pals can never decide on one place, hit them all! A coffee crawl through your town is a chance to try something at every stop as you enjoy quality time with your besties.
Get Prepared Together
There's never a bad time to learn self-defense. Why not take a class on Galentine's Day? Get your group together for some serious self-defense training to make the whole experience more fun. You might even find a discounted rate by bringing a large group.
Give Back Together
While you're celebrating your friendship, serve your community as a group. Get your girlfriends together for a community service project like helping at your local animal shelter, cleaning up parks, or working with youth or the elderly.
Stay Home & Bake
Keep your Galentine's cozy with a baking day. Encourage your friends to come in comfy clothes and bring their favorite dessert recipe. Spend the day baking, snacking on cookie dough, and laughing until you cry.
Rent a Lakehouse
If your Galentine's celebration is extending through the weekend, find a lake house for your entire squad to squeeze into. Spend your mornings watching the sunrise over the water and enjoy quiet evenings with glasses full of wine while you catch up on all of life's details.
Try Shopping With a Twist
Shopping is a classic way to celebrate your friendship on Galentine's, but try mixing it up a little. For this retail therapy session, you'll pick out full outfits for one another, hyping each other up all along the way. Once you each have your outfits together or reach your spending limit, it's time to go out to dinner while sporting your entire haul.
Get Fit Together
If you and your girls love a good sweat session, make it a part of your Galentine's Day. Take a spin class together or try hot yoga or kickboxing for a fun way to burn calories with your favorite gym goddesses.
Participate in a Progressive Dinner
Let all your gal pals play hostess with a progressive dinner for the whole gang. Have one person host each course, including drinks, appetizers, dinner, dessert, and even coffee. Everyone gets to pitch in, but no one feels overwhelmed by hosting.
Go Salsa Dancing
Put on your best flowy dresses and go to salsa night at your local dance club. Agree to only partner with each other and dance like no one is watching all night long.
Take a Wine Tour
Extend your wine tasting to as many stops as you like. Try all of your local wineries or breweries and be sure to take a bottle of your favorite home for a girls' night in.
Host a Chocolate Exchange
Whether homemade or store bought, get yours pals together for a chocolate exchange. Everyone selects a couple of chocolates from each box for their very own customized chocolate selection to take home.
Throw a Nostalgic Slumber Party
Before there ever was an official Galentine's Day, you spent quality time with your besties while telling secrets and giggling in the early morning hours. Tap into all the nostalgia of girlfriend gatherings past with a slumber party. Eat junk food, watch movies, and stay up late sharing stories and laughing.
Take a Flower Arrangement Class
Learn how to make your own Valentine's bouquet in a class with all your besties. Have fun learning a new skill together and make it extra entertaining by giving your bouquets to strangers who look like they could use a spark of joy.
Rent a Limo for the Day
Make your Galentine's Day luxurious by renting a limo big enough for the whole crew. Whether you're shopping, checking out a new town, or working your way through the best bars in town, a limo will make your celebrations memorable.
Enjoy an Empowerment Night
Have the whole gang over for a night of female empowerment. Rather than roasting one another, toasting one another is much more encouraging. Take turns allowing each person to have the spotlight and hear about how wonderful she is from all of her friends.
Buy Lingerie Together
Hype each other up with a lingerie shopping spree. Help your BFFs find the best colors and fits to make them feel gorgeous underneath their outfits. Even if the lingerie is just for yourselves, splurging on something lacy will make you feel beautiful.
Take a Scenic Bike Ride
Get your daily movement in with a group bike ride. Rent bikes at your local park and be sure to hit all the tourist spots and take plenty of selfies at every mile marker.
Honor Shania Twain
Let's go, girls! Host a Shania Twain night and advise all your guests to recreate an iconic Shania outfit. Spend the evening jamming out to her hits and watching her documentary. Throw in some Shania karaoke to find out who the biggest Shania fan is.
Celebrate Taylor Swift
They say Shania Twain walked so Taylor Swift could run. Grab all your fellow Swifties and spend an evening making Taylor's chai cookies, listening to all of her albums, and discussing your own song-worthy breakups.
See a Theater Show
Dive into your local performing arts culture and see a show together. Get dressed up and grab a light dinner before the show and then get drinks after to discuss your thoughts on the performance.
Organize a Book Exchange
Make hot tea and serve treats to your friends as you exchange your favorite books. You can try classic love stories, romance novels, or even self-improvement books for a February book club experience.
Release Your Exes Together
Spend your Galentine's getting rid of your past relationship keepsakes for good. Host a burning ceremony where all your girls bring their photos, gifts, or sentimental items from past relationships and say good riddance to your exes once and for all.
Have a Night Out Hollywood Style
Take a simple night at the movies to the next level by going full glam in classic Hollywood style and strutting your stuff like you're on the red carpet. Draw style inspiration from your favorite Hollywood stars and walk into the theater like the celebrities you are.
Satisfy Your Sweet Tooth
Nothing goes better with girlfriends than sweets. Grab your pals for a dessert crawl through your town where you hit all the best spots for treats. Challenge yourself to try something new at each stop.
Attend a Sip & Splatter
Get your creative juices flowing while you sip on your favorite red. Many wineries, coffee shops, and art galleries will host sip and splatter paint nights where you get to enjoy a glass of wine as a pro teaches you to paint.
Play Best Date/Worst Date
For a cozy night in or a conversation over brunch, play a few rounds of Best Date/Worst Date where you share your best and worst experiences while on a date. You can mix things up by writing them all down and trying to decide which friend went on which date.
Book a Photoshoot
Make a Galentine's memory you can cherish forever with a besties photoshoot. Book a photographer for a full session to capture all the fun and sass in your friend group. Be sure to dress in fun or simply fabulous outfits for the occasion.
Support Female-Owned Businesses
Make an impact with your Galentine's shopping spree by making stops at all the female-owned shops in your town. Don't forget to try coffee shops, restaurants, food trucks, bakeries, and bookstores.
Make Your Friendship Permanent
Go bold for your celebration and get tattoos together. You can each get a tattoo you've always wanted or decide on matching tattoos to commemorate your friendship.
Plan a Classic Spa Day
Galentine's calls for self-care. Book a group appointment for massages, facials, or the entire spa experience so you can practice luxurious self-care with your crew.
Grab Rooftop Drinks
Make your Galentine's toast extra special with a rooftop location. Many restaurants and clubs have a rooftop bar you can enjoy while overlooking the city with your closest friends.
Embrace the Great Outdoors in Luxury
Glamping involves all the fun of camping without the not-so-fun "roughing it." Rent a luxury RV or a fun yurt for a weekend of glamping with the girls. Be sure to pack plenty of snacks and drinks so you can stay in for the entire trip.
Celebrate Your Icons
Host a female hero party to celebrate all the female icons that inspire you. Have friends come dressed as their favorite real-life or even fictional female role model to celebrate the women that make you strive to be your very best.
Create Friendly Competition
Host a girls' game night, complete with drinks and snacks for lighthearted competition. Level up your gathering by replacing typical beer and chips with wine and elegant finger foods. Inspire plenty of laughs with silly games like charades or Twister.
Deliver Flowers to Other Women
Use your Galentine's gathering to show kindness to others. Deliver flowers, chocolates, or cards to widows, single moms, or neighbors you know deserve to feel special.
Have a Fondue Night
Every gal pal gathering needs plenty of cheese and chocolate. Have your besties bring their favorite fondue dipping treats and snack the night away.
Decorate Cookies Together
You don't have to be a professional cookie decorator to enjoy the process. Get your gals together for a cookie decorating party where you make your own heart-shaped treats and laugh all along the way. You can also include other cookie shapes like heels, lips, and even lingerie for extra fun.
Make Your Own Self-Care Essentials
Book a time to make your own bath bombs, candles, or essential oil mixtures at a local shop. Draw names among your friends so you can each make something with one of your gal pals in mind.
Attend a Conference Together
If you and your friends have a shared interest in business, fitness, self-improvement, or religion, you might grab a group package to a conference. You can learn how to be your own boss, how to improve your nutrition, or how to be the best version of yourselves, all while enjoying some quality time together.
Rent a Boat Together
Spend the day on the lake with a boat big enough for the whole gang. Bring a picnic and your most fabulous nautical outfit for a day of sailing or just enjoying the waves.
Binge Shows With Strong Female Casts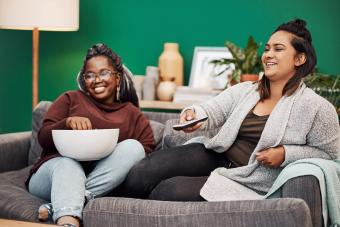 For a night in, binge your favorite shows with plenty of lovable female characters. Encourage your friends to sport their comfiest loungewear for an evening of binge watching classics like The Golden Girls, Pretty Little Liars, Designing Women, Scandal, or Gilmore Girls.
Have a Showing of Parks & Rec
The show that put Galentine's Day on the map, Parks & Rec, is a must see on February 13th. Invite friends over for a viewing of season two, episode 16 to celebrate the official start of Galentine's. To make things extra fun, assign each friend a female character from the show that they can use as inspiration for their party outfit.
Host the Perfect Galentine's Day Party
If your preferred way to celebrate your friendship is a classically structured party, make sure yours is the party everyone wants an invitation to. A classy Galentine's party is fun, elegant, and unforgettable for guests.
Make sure your gal pals know the dress code, whether it's comfy, cocktail, or themed.
Give yourself some grace and cater the party food. You can also pick up desserts from your local bakery.
Hand out party favors your guests will adore like mini bottles of Champagne, self-care kits, or gourmet chocolate-covered strawberries.
Use beautiful table settings to make your dining table look festive and elegant. Look for colored glass, heart-shaped plates, and rose gold cutlery.
Create a photo booth area with a backdrop perfect for selfies to encourage your guests to post memories of your fabulous party to social media.
Style the perfect Valentine's centerpiece for your table, complete with red flowers, pink candles, and plenty of lace details.
Make tasty Valentine's drinks that all of your guests will love and include a few mocktail options as well.
Let each of your guests know how much you appreciate their friendship with a simple, personalized gift like a coffee mug, water bottle, tote, or wine glass with their name or initials.
Celebrate Your Friendship With These Galentine's Day Ideas
Galentine's Day is ultimately all about your friendships. No matter what you do on this special day, make sure your girlfriends and female family members know how much you love them. Whether you're partying, shopping, or eating, spend at least a small portion of the day letting your girl gang know how much you cherish their presence in your life.