Adventure looks different for all of us. For some, it means literally jumping out of planes or exploring the depths of the earth. For others, it means trying something different for once and going outside their comfort zones. 
So if you're trying to plan an adventurous date, you have plenty of options to choose from, whether it's a first date or a 100th date. Find something exciting to do with your person that you'll both find exhilarating!
Adventurous Date Ideas for First Dates and Beyond
Whether you're planning a first date and want it to be epic, or just want to try something new and exciting with your current partner, any of these adventurous date ideas will guarantee your time together is unforgettable. These can be done in one day, no overnight stays or long-distance traveling required.
Go Ziplining
When was the last time you went ziplining as an adult? If it's been a while, look up ziplining spots to take your date! It's not quite as intense as say, skydiving, but will give you an exciting thrill. 
Mud Run
Get down and dirty with a mud run! This is a great idea for people who like running and don't mind getting dirty. From signing up for the race to relaxing together afterward, it's an awesome adventurous date idea. 
Plan a Scavenger Hunt
The great thing about scavenger hunts is that there are essentially no rules and you can do them anywhere for a fun date. Go for a walk around town with a list of things to find, from animals to classic cars to an older couple, still very much in love. So romantic!
Go on a Train Tour
Trains are inherently adventurous, and the perfect date idea for pretty much any time of year. Search for one-day train tours to plan something magical for you and your person.
Horseback Riding
Horseback riding can be really romantic, and in many areas, you can find guided horseback tours for something new and exciting to do with your date. 
Boat Tours
Whether you live near a place with boat tours or there's a location not too far away you'd like to explore with your love, a boat tour is a fun and comfortable way to spend time together and explore. 
Visit an Amusement Park
Roller coasters are a sure way to get that adrenaline up and have a blast. Just make sure your date actually enjoys amusement parks! 
Go Dancing in a Nightclub
For some of us, the idea of going to a real nightclub is pretty exciting and adventurous. Dancing is exhilarating, after all, so this can be a great place to spend time on a Saturday night. 
Canoeing
Get out into nature and do some canoeing together. Pack a picnic and some beverages for a cute date on the river. 
Rock Climbing
Reach new heights with your date on a rock climbing adventure. Indoor or outdoor, this'll get your heart rate up and make you feel like you're on top of the world. 
Try a New Sport
Depending on your date, playing a sport can be the perfect way to hang out together and get to see each other's competitive sides. Sports like golf, tennis, pickleball, and one-on-one basketball can all be done with just two people for a fun experience with your date.
Go Snorkeling or Scuba Diving
Get an in-person view of underwater creatures by going snorkeling or scuba diving for your date. This will give you plenty to talk about at dinner afterward!
Visit the Renaissance Fair
Renaissance fairs transport you back to medieval times for a day, and they're a lot of fun. They make for great date spots because you can do a little bit of everything — dress up in costume, watch jousting tournaments, participate in contests and games, try different treats, and enjoy some adult beverages. 
Volunteering
Some volunteer opportunities, like those that involve working outside or with animals, are a fun and rewarding way to spend time together while also giving back to the community. See what places near you could use some help, and ask your date to join you.
Mudbogging
I've never been mudbogging, but the people who do it seem to really enjoy it! You'll probably want to have some experience before you try this with a date. 
Explore Caves
Unleash your inner spelunker and explore caves! You can go on foot, or if you're really adventurous, try cave diving. This might not be the right date for anyone with claustrophobia, though.
Fishing Charter
See if there's a fishing charter near you to take your date on a fishing excursion. With any luck, you'll get to take home your catch and serve dinner for two.
Skiing or Snowboarding
In the winter time or year-round snowy locations, hit the slopes with your date. Cozy up on the chairlift, race each other down the hills, and of course, help each other up after wipeouts. But the best part is the hot chocolate (or red wine) by the fireplace at the end of the day.
Sing Karaoke
Head to a karaoke bar for the night to serenade each other and sing duets. Plus, it can be a lot of fun to watch other people belt out their favorite tunes. 
Geocaching
Geocaching has been around for a while and still makes for a simple date activity where you can explore as much as you want. Grab a coffee and set off on foot, bike, or car to find the coolest geocache knick-knacks. Since this just involves the two of you, this is a great date idea for introverts, too. 
Discovery Flights
See the world from a new perspective on a discovery flight date night! Many regional airports offer these for individuals or couples. Not only do you get to take a ride in an aircraft, but a certified instructor can also let you participate in piloting if you're interested. That's a date you'll never forget!
Try a New Type of Workout Class
There are endless types of fitness classes out there,  and they're getting more and more fun and out-of-the-box. Aerial yoga, trampolining, Parkour, adult gymnastics, or dance classes like swing dance and WERQ would be awesome to try out with your date and head to brunch after.
Go to a Local Event in Your City or a Nearby Town 
Local events are often underrated and could make for an amazing date night if you give them a chance. From concerts to craft shows to farmers' markets, there's something for everybody. My husband and I just discovered there's a live dinner theater place in our new small town, and now it's on our list to go to just to see what it's all about. 
Try Messy Art
Don't be afraid to color outside the lines. Messy art projects like paint splatter, paint pours, clay sculpting and more will make you feel like kids again in the best way. 
Ghost Hunting
It's probably best to know that your date is into paranormal stuff before you book a ghost-hunting adventure, but if they're into it, this would be an unforgettable date experience.
Rent a Boat 
Rent a boat for the day and have fun swimming, fishing, and exploring. Some lakes have restaurants on the water where you can dock your boat and stop for a romantic lunch or dinner. 
Paragliding
Get your adrenaline pumping on a paragliding adventure. Soaring through the skies will create an electric energy between you and your date.
Paint in Nature
 Spending time in nature can make you feel like you're on an adventure without too much intensity. Set up a pop-up "painting station" and enjoy each other's company while you paint scenes of nature. 
Go Tubing
Do whatever kind of tubing you like — down a lazy river, pulled behind a fast boat, or down a snowhill! You don't need too much skill to do this activity, but it's always a great time.
Enter a Contest 
See if there are any contests nearby that one or both of you could "compete" in. I'm talking baking contests, arm wrestling, eating contests, art, singing, poker tournaments — whatever! If it's a team activity, that makes it even more fun, but competing against each other will also make for some hilarious memories.
Quick Tip
If you don't know your date that well yet, it's best to ask them how much "adventure" they're really up for before you plan the date. If they have a massive fear of heights or don't enjoy sports or getting in front of crowds, some of these ideas won't be fun for them. Fun is the #1 goal!
Adventurous Date Ideas to Try When You've Been Dating for a While
Some date ideas are better for when you've been with someone longer-term. By now, you know and trust each other pretty well, so maybe you're looking to add some excitement or take an overnight trip.
A Long Bike Ride
Find a bike path and go on a day-long adventure! Some bike paths stretch for miles and miles through different towns, so you can stop somewhere for lunch and do some sightseeing. 
Camping
Camping will get you out into nature and open up a world of different adventures. So when you feel yourself getting tired of dinner-and-a-movie as your go-to date idea, a camping trip might be just what you need.
Road Trip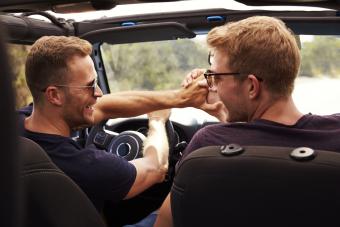 Take a road trip to somewhere you both haven't been. Set up your playlist, stop for coffee, bring along some snacks, and enjoy exploring together. 
Go Behind the Scenes of Your Favorite Show or Movie
This requires traveling for many of us, but if you and your partner have a favorite show or movie you watch and they offer set tours, cast meet-and-greets, or even live viewings, this would be an awesome date idea for the two of you.
Quick Tip
This one could even work for a first date if you're long-distance and want to meet up for something you both love.
Crash a Party 
When my husband and I were dating, we crashed a party or two, and those are still some of our favorite memories. I think this one is a bit more spur-of-the-moment and hard to actually plan, but keep your eye out for parties that seem crashable, and if the mood strikes, see if you can sneak in unnoticed.
Build a Treehouse
Treehouses were awesome when we were kids — there's something so exciting about being in your high-up hideout. But who says they're just for kids? Have fun building your very own adult treehouse to give you some childhood nostalgia without the pressure of a DIY project in your actual home. You'll be sitting in the treehouse K-I-S-S-I-N-G in no time. 
Buy Tickets for a Random Flight 
If you and your partner happen to have a free weekend and some extra cash to spend, see what last-minute flights are available and take a little trip. Even if it's somewhere you've never thought of visiting, it'll be a memorable experience to share.
Go Backpacking
For an adventurous weekend date, plan a backpacking hiking trip with your love. Make sure you have all the necessities though, and break in your shoes before you head out.
Get Tattoos
I'm not saying you need to get matching tattoos per se, but if you're both interested in getting some ink, this can be a fun activity to go do with your boo for an exciting date night. 
Try Couples Yoga
Yoga is often thought of as relaxing and zen (not necessarily adventurous), but a couples yoga date will help you feel physically, emotionally, and spiritually connected with your partner, testing your trust and communication as you try new yoga poses together. And that itself is pretty adventurous!
Stay in a Hobbit Airbnb
Although Bilbo Baggins initially wasn't a fan of adventures, he certainly had one of the greatest adventures of all! You'll feel like you're taking a real adventure when you stay in a Hobbit-themed Airbnb. There are a few across the country you can book for a magical weekend getaway with your date.
Try a New Type of Cuisine
Dare to stray from pizza night and try something neither you nor your partner have had before. Food is one of the best ways to bond, and in many cases, is indeed the way to someone's heart.
Visit the Animal Shelter  
Especially if you and your partner have been thinking about pet adoption, a trip to the animal shelter is a sweet date idea ... and the adventure is that you might come home with a new pet!
DIY Something Awesome
Ask your partner to help you out with a DIY project, whether you live together or not. Could be refinishing a piece of furniture, painting a fun mural, or building an outdoor firepit area. As long it's at least kind of fun and not super stressful, you can turn it into a date by making snacks, listening to fun music, and sharing a beverage or two once it's all over (or during, whatever you prefer).
Attend a Camp for Adults
I've been telling my husband lately that I miss the exciting adventure of going away to camp, and I'm pretty sure I'm not alone in that, because there are actual adult camps you can go to now. That might be on a future list of dates for us.
Weekend Music Festival
If you and your date don't mind crowds and love live music, a music festival might be just the excitement you're looking for. You could make a whole weekend out of it and camp out in a tent, or you can just go for one night to see the bands you really like. 
Take a Walk on the Wild Side
No matter what exciting activity you decide to do with your date, it's sure to be something they'll always remember. And if your relationship blossoms, those crazy dates will become some of your most cherished memories. After all, falling in love is one big adventure itself!