With every year comes the challenge of one-upping your last romantic birthday surprise for your boyfriend, girlfriend, or partner. From impromptu destination picnics to expertly decorated homemade cakes in the shape of their favorite things, ideas for celebrating your partner's birthday are a dime a dozen. But, with so many birthdays ahead of you, figuring out a way to keep each successive one exciting can take its toll - especially if you're prone to procrastination.
Although every relationship experiences its ups and downs, planning a unique birthday for your love to celebrate as a couple doesn't have to be one of them. So, whether you're in desperate need of a last-minute romantic birthday idea to wow your boyfriend or girlfriend, or you're looking for inspiration months ahead of time to surprise your husband or wife, each one of these recommendations will keep him or her happy for at least one more year. Just remember that the best ideas come straight from the heart.
Romantic Birthday Ideas For Couples of Every Kind
New and old couples alike can do with a few romantic birthday ideas to refuel their tank, especially when faced with planning something special for your husband or wife of several decades. While it's tempting to phone it in this year, you shouldn't let any of your birthday celebrations pass by, no matter what stage of the relationship you're in. From new boyfriends and girlfriends to long-term partners, these cute birthday ideas will suit just about everyone. Get inspiration for fun things to do, create cute birthday surprises with a romantic twist, and find the best ways to make him or her feel loved and appreciated on their special day.
Add Flowers to Their Garden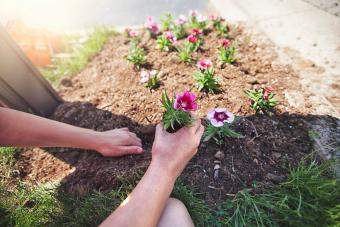 If your beloved is a proud plant parent, they'll love nothing more than waking up to some new additions to their indoor or outdoor garden. From huge leafy-green house plants to sprawling beds of perennials, you can give your lover a romantic display that'll speak to your devotion year after year. You can even add in garden decorations that feature hearts, the word "love," and little signs where you can write love notes or romantic phrases, if you want to be sickeningly sweet with your floral present.
Take a Birthday Trip to the Place Where You Met
This is especially a good idea if the two of you have been together for a while; it's a great way to relish in the joy of your old memories and make new ones with your favorite person. Visiting the place where you had your first date, first kiss, or first meeting is a birthday well-spent. Share new romantic memories at your old haunt with this birthday idea for couples; make it even more meaningful by preparing something sweet to say to your lover in advance.
Visit Local Food Trucks or Breweries
One of the most exciting developments in the culinary industry is the increase of cheap and delicious local cuisine. Food trucks bring quick and tasty meals practically to your front door and small restaurants that pack a big punch have been popping up all over. If your sweetie is a foodie, then taking a tour of the local food joints in your area, or a couple towns over, will be a birthday surprise they never forget.
Create Romantic Art Inspired by Your Love
Create loving works of art by decorating picture frames with hearts or your pet names for each other, writing the lyrics to your song on photo frame matting, or painting love notes on large canvases as a unique way to do something special for your partner's birthday. Whatever type of art you choose to make, be sure to tailor it to your partner's taste by picking out colors, fabrics, and decorations they like the most. After you create the work of art, hang it in the house when your lover is away as a romantic birthday surprise.
Memorable Surprise Ideas for a Romantic Birthday
A romantic birthday surprise for your boyfriend, girlfriend, partner, or spouse doesn't have to be some grand romantic gesture that takes you weeks to plan. Something simple can speak to the heart in just the same way that a weekend trip out of the country can. While frolicking through French vineyards sounds like a dream, your partner will love whatever small surprise you plan for them if you plan with him or her in mind. If you need a little inspiration, check out these surprise ideas that are sure to leave a lasting impression.
Go on a Hot Air Balloon Ride
Whether you're an early morning couple or a pair of night owls, one of the best ways to start or end a birthday is by floating along with the clouds in a hot air balloon. Typically, balloon rides start around sunrise or sunset, making them a perfect choice for starting or ending a special birthday celebration. A hot air balloon also makes for a stunning romantic surprise that couples will remember forever.
Recreate Scenes From Their Favorite Film or TV Show
If you're looking for romantic activities to do as a couple on his or her birthday, it can be challenging to come up with something new. Everyone has a movie they know like the back of their hand, and there's nothing you can do that's more sentimental than setting up a scene from one of your partner's favorite movies or series. In just the same way that Wes Anderson's iconic cinematic style was replicated by families and couples across the internet, you can bring a scene from their beloved movie to life using creativity and your imagination.
For example, you could plan an afternoon browsing through an English-style garden or visiting an old estate if they're favorite show is Bridgerton, or you could take them out for a night on the town in the greatest Y2K-era threads if they've always got Coyote Ugly on in the background. This is a cute way to show him or her you're really paying attention to things they're interested in, too; that's a romantic gift of its own.
Spend the Night at a Fancy Hotel
Getting away from the distractions of home for a night is a great way for anyone to to enjoy their birthday. To really show your partner that they're well taken care of and appreciated, book a room at one of the fanciest hotels around. Not only will the intimate setting itself contribute to the romantic ambiance, but enjoying all of the amenities the hotel has to offer is something couples can share together. Try to find a hotel near you that has nicer rooms, such as soft bedding, amazing views, or a Jacuzzi tub. Some hotels even have couples romance packages that include things like champagne and chocolates to take the celebration a step further.
Personalize Your Pantry to Their Taste
Turn your partner's pantry and fridge into a tribute to all of their favorites for a cute and romantic birthday surprise. Rearrange the shelves so you have some empty space along the front of each one, and add in your love's favorite snack foods, candies, drinks, and ingredients so that everything they first see they see is something they salivate over. Get even more personal by adding DIY custom labels featuring the reasons you love your partner for each food item, to really hammer in just how familiar you are with all of the ins and outs of what makes them, them.
At-Home Romantic Birthday Ideas for Him or Her
At home, romantic birthday ideas seem like a distant impossibility, especially if you've spent many years together with your husband or wife under the same roof. Well, you don't have to completely redecorate your space to put together a wonderful celebration for your beloved's birthday. Whether you'd like to spend a lot of money on a special treat, like hiring a personal chef for an evening, or you want to keep things simple, spending an intimate birthday at home doesn't have to be anything less than remarkable.
Commission a Birthday Photoshoot
If your partner has ever confessed about dreaming of being a model when they were younger, then hiring a photographer to come to your house and do a birthday photoshoot for them is a special way to show you listen and care. Whether they've always talked about wanting a few sensual pictures shot by a seasoned boudoir photographer or aspire for the cutest candids to add to their social media accounts, you can surprise your partner with memories they'll get to keep forever.
Serve Him or Her Breakfast in Bed on Their Birthday
Celebrating someone's birthday can be is often about giving them a break and waiting on them hand and foot serving the person. Few things say pampered service like breakfast in bed. Your birthday sweetheart will really appreciate this gesture of love, decked out with their favorite breakfast foods that you've cooked up yourself or grabbed from that breakfast spot you frequent all the time. Make it even more romantic spending time cuddling together after breakfast, playing couples games, or planning things to do as a couple the rest of the day.
Hire a Professional Chef to Cook Dinner
Cooking dinner for your partner is also a classic standard birthday idea, but you can up the ante by hiring a professional chef to make dinner for the two of you at home. A gift that transforms a simple celebration into a memorable event, finding that chef with the perfect palate will leave a lasting impression on your partner for years to come. Don't forget the candlelight and wine to make it as romantic as possible for your sweetheart's birthday.
Make a Large Donation in Their Name
For some people, the causes they support are nearly as important as the people they love and the hobbies that bring them joy. If your partner values giving back, one special surprise you can do for their birthday is donating time/money/goods to an organization in their name. They'll only love you more for supporting the causes they hold near and dear. To make it a more romantic birthday moment, snuggle up on the couch together and browse what the person's favorite charity is doing lately after you've told them about their surprise gift.
The Best Gift Is Something From the Heart
Enjoying a romantic birthday requires some planning, but seeing how happy it makes that special someone in your life means it's always worth the effort. Seeing as romance looks different to everyone, your idea of a breathtakingly romantic birthday may look different than another couple's birthday ideas, but so long as your partner loves it, that's all that matters.