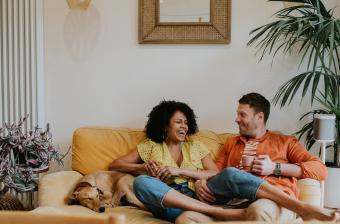 Mobile apps help connect us to friends, family, ourselves, and strangers across the world. Most importantly, they can help you connect on a much deeper level with your romantic partner. Whether you're in a newer relationship or have been married for years, here are some of our top picks for relationship-focused apps you may want to try.
Best Apps for Couples to Strengthen Your Connection
Relationships take work - if you've been in one, you know that by now. Even when things are going pretty well, it's natural to want to add some excitement or get closer to your partner again. Or maybe you want to strengthen the weaker spots in your relationship. Whatever you're hoping for, there are now plenty of apps that offer fun and helpful ways to reconnect with your lover - emotionally and physically.
Lovewick
Lovewick is like a cheat-sheet to help you learn pretty much everything about your partner. It takes your and your partner's demographics and histories into account to create a customized experience.
Draw question cards, plan future dates, and even save memories and milestones in your relationship that you can save and look back on for years.
Create wishlists that allow you to both express things you'd like to have or experience together, from trips to intimate activities
Save "forget-me-nots" to help you remember facts about each other, like favorite drink orders and shoe sizes.
Price: Free
Available on Apple and Google Play.
Honeydue
Budgeting and money management can be challenging for many couples. Honeydue helps with exactly that. Keep track of bills, bank accounts, and manage your spending in a way that helps you work together. This app will hopefully take some of the stress out of the financial side of your relationship.
Link your bank accounts to the app to track spending and income, only sharing the accounts you choose to share.
Add your monthly bills and keep track of any expenses you typically split between accounts.
Use the chat feature to discuss financial activity, right from the app.
Price: Free
Available on Apple and Google Play.
Lasting
Lasting is couples' counseling through an app. It's not meant to replace a real therapist, but it can be a good tool to help you tune things up.
Start with a relationship assessment that will gauge which aspects of your relationship need attention.
Listen to guided audio sessions or book live workshops that help you work through your problem areas.
Price: 7-day free trial, then $30/mo. or $89.99/6 mo.
Available on Apple and Google Play.
Luvzy
Luvzy is a virtual intimacy coaching app that helps you hack your love life. While there are other sex-focused apps out there like Intimately Us and Ultimate Intimacy, those apps mainly target Christian heterosexual married partners. What I love about Luvzy is that it's a space for all gender identities and sexual orientations. You tell the app what your preferences are and it'll create an experience tailored to you.
Record your emotional capacity and what's on your mind. You can even track your stress and fitness levels!
Get daily coaching tips for building intimacy with your partner (and yourself, because YOU are one half of your relationship and intimacy experience!)
Take quizzes to learn about your intimate desires and learn new techniques to spice things up.
Invite your partner to join you in your journey of sexual discovery. You'll both benefit from learning about yourselves and each other.
Price: Multiple subscription plans ranging from $2.99/week to $39.99/year.
Available on Apple and Google Play.
Evergreen
Evergreen uses the growth of a plant as a metaphor for your relationship. Pretty cute, right? Like a plant, your relationship needs:
Water: A little something every day to provide nourishment and express gratitude for each other.
Roots: Discussions about the foundation of a healthy relationship and how to keep yours strong.
Light: Shed some "light" on your relationship by understanding each other better.
Growth: Set goals to help you progress and grow more together every day.
Check the app daily to continue these exercises and make your plant grow. Plus, the app offers quizzes and games for fun ways to get to know each other.
Price: $9.99/mo. for two users or $49.99/year for two users.
Available on Apple and Google Play.
Love Nudge
Most of us know about love languages and maybe think we know what ours are. But Love Nudge quantifies it by asking you 30 quick questions to determine what things your partner does that mean the most to you.
You and your partner answer the same set of questions (separately) to find out what kinds of love languages are most important to you both.
Then, get ideas for how to successfully "speak" to your partner in their love language, whether it's getting them an unexpected gift or taking care of an errand for them.
Fill each other's love tanks by doing a few of these things to make them feel loved each day.
Price: Free, with the option to buy books on the 5 Love Languages to dive deeper into your understanding of them.
Available on Apple and Google Play.
Gottman Card Decks
Gottman Card Decks lets you draw "cards" to address different aspects of your relationship (aka, different "decks" of cards).
Ask questions that give your partner space to share, and you space to listen.
Learn statements that help you both express how you feel, or show empathy to each other.
Get idea cards to help you be more romantic and show appreciation to each other.
These cards can help you build a deeper connection with your partner beyond just asking each other fun questions.
Price: Free, but you can purchase physical card decks online.
Available on Apple and Google Play.
Paired
Paired provides you with thought-provoking questions on all topics of life for you and your partner to answer. This app boosts your communication and makes you a stronger couple - which I'm all for. But here's what makes it special:
Learn why the questions (and your answers) are important conversation topics.
Choose from over 103 "Question Packs" (categories).
Take quizzes to learn about each other.
Try exercises that'll bring you closer together.
Price: $6.25/mo. or $74.99/year.
Available on Apple and Google Play.
Between
Download a social media app that's just for you and your partner! Between lets you share schedules with each other, and even has its own chat feature. You can feel like you're living in your own little bubble that nobody else has access to. This could be a long-distance-relationship saver.
Share your schedules in a calendar
Send selfie-gifs
Send private chats and voice calls
Price: Free, with in-app purchases
Available on Apple and Google Play.
Get Closer to Your Partner With Fun & Helpful Couples Apps
Whether you're looking to spice up your intimacy, improve communication and conflict resolution, or are searching for fun date ideas to keep things fresh, try an app that's designed for couples just like you and your partner. You might be surprised by all of the information and resources you never knew existed. Not to mention, your partner will probably be excited that you want to go the extra mile to strengthen your bond with them.