Picking the dating profile pictures for guys, gals, and nonbinary pals can be universally anxiety inducing. As you scroll through picture after picture in your camera roll, you become convinced that no picture that's ever been taken of you before is good enough. While most women have been socially conditioned to cultivate a knowledge of how to take a good profile picture, a lot of men struggle to take one that exudes the same funny, charming, and goofy personality that they have. Yet, when you follow a few key rules when taking a profile picture, you'll see a marked difference in the number of matches that you have.
Technical Tips for Taking Profile Photos
A major component of taking a winning picture for your dating profile is to follow photography fundamentals. Taking into account your lighting, the photo's composition, and your color palette, among other factors, can turn any photo from amateur quality to studio perfect.
Lighting
Single-handedly, a make or break factor of taking a good picture is having quality lighting. You don't have to have multiple ring lights or light boxes set up to find a spot that shines a sun beam your way. Rather, try to always take a picture with the light source facing you; if it's behind you to some degree, you'll become shadowed in it and the focus of the photo will turn towards the edges of the frame and not on you - the central figure of the photo.
Composition
Photographic composition describes the way that items are arranged within the frame. While this encompasses a huge array of different composition styles, a go-to way to have a sharp photo is to think about the rule of thirds. This rule dictates that a photo should be able to be evenly divided into thirds, both vertically and horizontally. So, you should take up about an entire third of any photograph you take - especially if you're taking wide shots or full-body pictures.
Color Palette
Undoubtedly, you want to be the center of attention in your dating profile picture, and a quick way to make that happen is to wear a bold color and choose a richly toned background. Drab or bland colors aren't noticeable, and with the speed that people swipe through dating profiles nowadays, you need every bit of help you can get to catch someone's eye at the drop of a hat.
Video Snapshots
Another great hack for people who feel stiff in front of the camera is to have someone take a short video of them switching from one position to another. You can take that video and choose a single snapshot from it to use as your profile picture. This style can help a sense of activity and liveliness translate through to the person viewing your picture.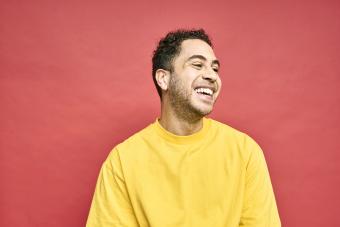 Planning the Perfect Shot
Just like Rome, a great photograph wasn't built in a day. Taking quality photos sometimes requires pre-planning, and here are some of the things you should consider when determining what you want your profile picture to say about you.
Candids Encourage Attraction
According to one 2016 scientific study, people comparing selfies to photos taken by another person consider those in the selfies to be "less attractive, less likable, and more narcissistic" than people in those taken by others. While a well-crafted selfie can be just as beautiful as a candid photo, if you find yourself not having a lot of matches and you're using a selfie, you might want to try having a friend take your photo and see how the candid fares for you.
Show It, Don't Say It
Instead of using your bio to explain everything about yourself, take your profile picture as an opportunity to illustrate bits and pieces of your personal life to others on your dating app or website. For example, if you're a big fan of craft beer, you could think about taking a picture with your favorite craft brewery in the background, or, if you're a huge Lord of the Rings fan, you could wear a subtle piece of merchandise to indicate your fantasy interests. As with film and television screenwriting, the idea is to show your audience the story, not tell it to them, and you can do the same with your dating profile picture.
Pets Are a Bonus, Not a Feature
A big mistake that pet lovers make is making their pet the feature of the photograph. No matter how much of a proud cat dad you are, holding up your orange tabby and blocking half of your own body and face with them isn't going to give potential suitors any idea of your sense of self - outside of the fact that you love your pet. However, animals can be a wonderful accent to a photograph by bringing a sense of liveliness to an otherwise still medium, just as long as they don't become the focal point of the shot.
Profile Picture Photoshoot Red Flags
Being individualistic and making sure your profile picture exudes your personality and style is incredibly important; however, your picture shouldn't include these red flags.
Shirtless pictures - Within the past few years, people have come to associate shirtless pictures with thirst traps meant to be more self-ingratiating than genuine, so stay away from blatantly showing off your physique.
Group pictures - Never choose a group photo for your dating profile picture; not only will it make suitors think you're hiding something from them, but they're also less likely to swipe on you because they have to do extra work to figure out which one you are.
Old pictures - Choose pictures of yourself that're pretty current and reflect your personal style as it is today; you don't want to be parading around with a picture that's a decade old, as this is a deceptive way to start a relationship.
Scenic pictures - While landscape photographs, especially those from exotic locales, are captivating, they make for terrible profile pictures since the point of a profile picture is putting a face to a name of the person you might want to talk to.
On-the-job pictures - It's better to take photos of yourself in your everyday life rather than ones when you're on the job. After all, any suitor's not going to be hanging out with you while you're on the clock.
First Impressions Mean Everything
A first impression can make or break a potential relationship, and most people form their first impressions within seconds. This means that the picture you choose for your dating profile is single handedly the most important piece to the digital dating puzzle, because it's the first thing that anyone sees. Thus, you want a profile picture that a suitor could see themselves living in; one that puts you in your best light, highlights your interests, and exudes your personality, and these useful tips should help guide you to crafting the most impeccable profile picture of the bunch.