If you look up tote bag in the dictionary, you'll discover it's "a large and strong bag." Its versatility makes the tote a functional and fashionable handbag option. Usually unfastened and made from cloth, tote bags come in a range of sizes and have a multitude of uses.
If you ask us, tote bags are more than just large bags for carrying stuff. They're a way to stash things at home, and they turn into a versatile pack or holdall at a moment's notice. There's no shortage of just what you can put into a tote bag. And with so many states and countries banning single-use plastic bags, these ideas are the perfect way to put your shopping tote bag collection to use. What's the purpose of having a tote bag if you can't toot your tote bag-loving horn?
Use a Tote Bag for Shopping
It might be self-explanatory, as tote bags are sometimes called shopping totes, but the tote bag is the perfect way of bringing shop-bought items home. Whether it's food from the grocery store, some deals for your closet, or the three books you couldn't say no to, tote bags are durable, sturdy, and allow you to transport your recent buys without a fuss.
Helpful Hack
Juggling all your splurges at the farmer's market or craft fair is no longer an issue with your tote bag that's ready to go.
Use Your Tote Bag for Work or School
Heading to school or college? Tote bags are a great place to keep your books on the way to class. Similarly, the standard tote size will fit in a laptop or the notes you need for important meetings at work. Oh, plus your notebooks, pen, and chargers. And headphones.
Whatever the purpose, you can buy totes in different colors and design variations to match your personal style, school colors, or vibe.
Carry Tote Bags as a Daytime Purse
As well as recyclable cloth, tote bags also come in leather or faux leather to function as an unassumingly perfect fashion accessory. Whether you're running errands or simply need a bag to hold all your personal items as you go to meet your girlfriends, opt for a large leather tote to make a serious style statement. Yes, that means it'll fit everything you need and then some. Which is great for when you're lacking pockets.
Use Your Tote as a Beach Bag
Leave your purse and backpack at home and away from the sand. Tote bags are great for day trips to the beach as a way of storing all your beach essentials, from your towel to sunscreen to water to the ever-important snacks and extra clothes. You can buy fun, printed designs with fabric handle variations, such as rope, to serve as your new beach BFF. Or you can use the one you got from your company retreat. Any tote bag is an excellent beach bag. Oh, and it's great for carrying all your shells (plus a little extra sand) home.
Use Your Tote Bag as Home Storage
If you recently invested in some cute and colorful totes, or you're lucky enough to have a stash but have no idea what to do with them, consider utilizing them as home storage. Hang them up on hooks in the bathroom as a way of keeping your toiletries all together. Find a home for them on your office shelf or bookshelf to hold all your stationary or your growing collection of notebooks. Or holiday decorations. And you can finally keep all your wrapping paper, bows, and tape in one place. Either way, tote bags are roomy, so they're particularly useful when it comes to storing possessions around the house.
Quick Tip
Looking for other things you can stash in your tote bags? Consider your flip-flop collection, left-over wine corks while you decide what to do with them, instruction manuals, spare blankets, stuffed animals, or anything that doesn't quite have an official space in your home. Kind of like my collection of scarves.
Use Your Tote Bag as a Picnic Bag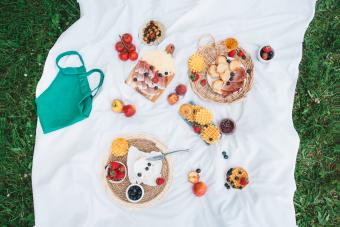 Want to take your family on a quick picnic in the park but leave your big, chunky basket at home? Enter the tote. If you invest in one that's large enough, you can fit all sorts of food and drink items in there. You could even use a smaller version as a lunch bag for work or school. The tote bag is your picnic basket on the go. Don't forget the napkins, though. No one wants to sport a mustard beard.
Use Your Tote Bag as a Gym Bag
For days where you just want to take a couple of essentials to the gym instead of a full-blown duffle bag, or stretching your already too full purse beyond what it's capable of, the tote bag is an ideal alternative.
Not only is the tote bag a dream for the traditional gym (although most gyms these days are stocked with shampoo and hairdryers), it's also wonderful for holding your towel and water if you're heading to an exercise class or going hiking. Either way, rest assured there's the perfect tote for any soccer game, pickleball match, or dance class.
Use Your Tote as a Travel Bag
If you're about to go away for the weekend, spend a quick night at a friend's, or need a trusty, spacious overnight bag you can use at a whim, then your tote is totally there for you. In this case, the bigger the size, the better. This will enable you to pack the maximum amount of items for all your travel needs. Better yet, you can bring several with you and not worry about how you'll carry them all at once. So long, suitcase with a weird wheel.
Helpful Hack
Keep a tote bag in your car, complete with a change of clothes and a toothbrush so you're always ready for any spontaneous adventure.
Use Your Tote as a Laundry Bag
Tote bags are a good way of storing your dirty laundry until you get the chance to wash it - or at least a better option than staring at the pile of laundry in the corner of your bedroom or bathroom. Invest in a small tote to serve as the perfect laundry companion while you're traveling, and keep your dirty clothes away from your clean clothes. Otherwise, grab a large torte to keep your laundry corralled in one place.
Use Your Tote Bag for Your Knitting
If you're a particularly creative person and you like knitting or doing crafts, a tote bag can easily hold all your equipment and keep it safe between uses. Keep your knitting needles, started projects, and yarn-to-be-used all in one place. No need to worry about accidentally frogging a project anymore. Speaking of crafts, you can turn a tote bag into the perfect trick or treat bag!
Store Your Towels and Sheets in a Tote Bag
Don't spend half your night hunting down a matching sheet set or change your sheets only to find you don't know where the pillowcases are. Keep all your sheets, towels, and bedding in a tote bag. Problem solved.
A Tote Bag Is a Gardener's Best Friend
As you putter around the yard, from bed to bed, and project to project, keep all your tools in a tote bag so you aren't combing the grass for where you left your gloves or hand shovel. That's more time for kicking back and admiring your work later.
Utilize the Versatility of Your Tote Bags
Tote bags can be used for multiple purposes and occasions. They also come in an abundance of varied designs. Whether you buy a couple or make them yourself, thanks to their reusable nature, totes will last you for years to come.