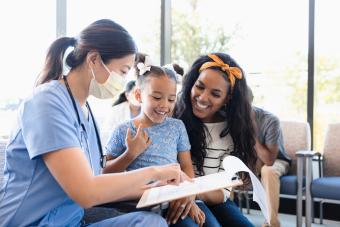 The purpose of a medical release form is to provide legal permission for an individual or organization charged with temporary care of your child or children to authorize necessary medical treatment; for example, when your child is at camp or at school. Without a signed medical release form, healthcare providers cannot provide medical care without your permission unless the situation is deemed an emergency medical condition.
When These Forms are Needed
Since there are many circumstances in which children face the possibility of being exposed to injuries or illnesses when their parents aren't around, medical release forms are necessary to ensure their safety. In many cases, parents are required to sign these types of forms before children will be allowed to participate in certain activities.
For example, medical release forms are usually required before youngsters can join school or community-based sports teams. They are also often mandated before field trips, scouting excursions, youth group activities, and more. It's important to be sure that there will not be a delay before medical treatment can be sought.
Authorizing Treatment
Additionally, every healthcare provider requires a release form prior to administering treatment to a minor. Any time a child is taken to the doctor, emergency room, or admitted to the hospital, the parent, legal guardian, or other responsible party will be required to sign a release authorizing treatment as well as assuming responsibility for payment for services rendered.
Using the Attached Form
You can download the form attached to this article or fill it out online. If you need help downloading the printable form, check out these helpful tips.
Individuals will need to sign the form after they print it out, even if they fill in the fields electronically.
Preparing a Medical Release Form
While the attached form or those listed above can be useful tools for drafting a medical release form that your organization or company can use, it's important to make sure that the final document you come up with is legally sound. Before using a new form, have an attorney review it to make sure that the form contains all the information necessary and that it protects both your interests and those of the children entrusted to your care.