Make the most of your home's square footage with creative under-bed storage ideas that maximize space and store all your necessities. DIY storage ideas and the best under-bed organizing products will have your bedroom decluttered in no time. Bed storage is your ticket to a tidier and more organized home.
Store Extra Bedding in Zipper Bags
Using your under-bed storage space to stash your spare bedding and linens just makes sense. See and grab a clean quilt or fresh set of sheets with a zipper storage bag that expands to hold bulky items. The window detail makes it easy to spot the bedding you're looking for.
Repurpose Old Drawers
This under-bed storage DIY is an easy way to repurpose old dresser drawers. Add wheels to the bottom of your drawers, ensuring the height fits neatly under your bed. Tuck in spare towels, shoes, and even kids' toys. You can also build your own drawer from plywood for a customizable solution.
Try Long, Flat Baskets
For under-bed storage that's as stylish as it is functional, beautiful baskets that are long and flat will fit perfectly. Choose baskets with woven lids for items you don't reach for often or use open baskets to stash bulky items you use regularly.
DIY a Platform Bed With Cubbies
This IKEA platform bed hack is perfect for gaining extra storage in kids' rooms. Create the structure of your bed using storage cubbies and a simple bed DIY. Use the space to store books, shoes, toys, and spare bedding.
Use Clear Boxes for Shoe Storage
Free some space in your closet by storing your shoes under your bed. These stylish acrylic shoe boxes are stackable and allow you to see each pair at a glance. Try arranging your boxes around the edges of your bed on each side and at the foot of the bed so you never have to waste time moving boxes around.
Choose Stylish Storage
Upgrade from your typical storage bins to a stylish option that matches your home's decor. A couple of ultra-thick storage boxes with leather details will inspire you to keep your bedroom organized all year long.
Make Use of Vintage Suitcases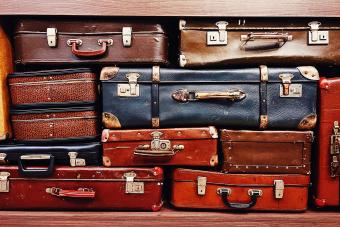 Under-bed storage can be just as fun as the rest of your home. Use vintage suitcases under your bed to stash your seasonal clothes, store spare linens, or keep important documents hidden. You can label the outside of each case to help you stay organized and keep every case turned with the handle out so you can access them easily.
Access Items Easily With Rolling Storage
Skip the scratches on your floor with rolling storage products under your bed. These are great for bulky items or storing your winter coats. You can also use them for kids' toys, your overflowing shoe collection, or in place of a traditional laundry hamper.
Stack Small Plastic Drawers
There is a ton of hidden storage space under your bed. Small stackable drawers can store your tinier items that need a place to land. This under-bed storage solution is great for toddler shoes, homemade first aid kits, and keeping your small clothing accessories tidy.
Build Your Own Under-Bed Drawers
Maximizing the space under your bed might just require a simple weekend DIY project. Under-bed drawers have endless storage possibilities, and they are perfect for helping a child keep their room tidy. With these handy drawers, grabbing an extra blanket in the middle of the night just got easier.
Make the Most of Your Space With Long Totes
Plastic totes are a go-to for storage. Choose totes that are long, flat, and clear to keep some of your rarely used items out of sight. Crafting supplies, holiday decor, seasonal clothing, and gift wrap all tuck away neatly in totes for easy access when you need them. Some totes even have wheels, perfect for under-bed storage.
Use a Collection of Small Bins
For tiny items that need their own tiny space, a collection of small bins will do the trick. This storage solution is great for tiny kids' toys like dolls, Lego bricks, and art supplies. You can also store shoes, hats, and other clothing items for quick access.